 Lifestyle center (retail)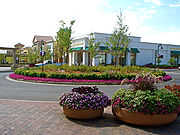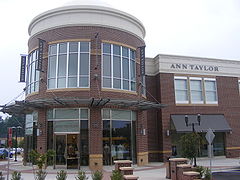 A
lifestyle center
is a shopping center or mixed-used commercial development that combines the traditional retail functions of a
shopping mall
Shopping mall
A shopping mall, shopping centre, shopping arcade, shopping precinct or simply mall is one or more buildings forming a complex of shops representing merchandisers, with interconnecting walkways enabling visitors to easily walk from unit to unit, along with a parking area — a modern, indoor version...
with
leisure
Leisure
Leisure, or free time, is time spent away from business, work, and domestic chores. It is also the periods of time before or after necessary activities such as eating, sleeping and, where it is compulsory, education....
amenities oriented towards upscale consumers. Lifestyle centers, which were first labeled as such by
Memphis
Memphis, Tennessee
Memphis is a city in the southwestern corner of the U.S. state of Tennessee, and the county seat of Shelby County. The city is located on the 4th Chickasaw Bluff, south of the confluence of the Wolf and Mississippi rivers....
developers
Poag and McEwen
Poag and McEwen
Poag and McEwen are a developer, manager, and leaser of lifestyle centers in the United States. They are recognized as one of the founders of the concept...
in the late 1980s and emerged as a retailing trend in the late 1990s, are sometimes labeled "boutique malls". They are often located in affluent
suburban
SubUrbia
subUrbia is a play by Eric Bogosian chronicling the nighttime activities of a group of aimless 20-somethings still living in their suburban Boston hometown and their reunion with a former high school classmate who has become a successful musician...
areas. While modern-day lifestyle centers are fairly new, open-air malls have been around for decades. One such mall is Friendly Shopping Center in
Greensboro
Greensboro, North Carolina
Greensboro is a city in the U.S. state of North Carolina. It is the third-largest city by population in North Carolina and the largest city in Guilford County and the surrounding Piedmont Triad metropolitan region. According to the 2010 U.S...
,
North Carolina
North Carolina
North Carolina is a state located in the southeastern United States. The state borders South Carolina and Georgia to the south, Tennessee to the west and Virginia to the north. North Carolina contains 100 counties. Its capital is Raleigh, and its largest city is Charlotte...
. The open-air mall opened in 1957 and has adapted to the look and layout of today's modern-day lifestyle centers. An expanded section of Friendly Shopping Center called "The Shops at Friendly Center" includes upscale retail and restaurant establishments such as Brooks Brothers and PF Chang's.
Lifestyle centers vs. traditional malls
The proliferation of lifestyle centers in the United States accelerated in the 2000s, with number going from 30 in 2002 to 120 at the end of 2004. Lifestyle centers are sometimes depicted as occupying the upscale end of the spectrum of commercial development, at the opposite end of the outlet mall, which typically caters to a wider range of income with bargain prices. The growth of lifestyle centers has occurred concurrently with an acceleration of the shutting down of traditional shopping malls, which typically require large sites over 70 acres (283,000 m²) at a time when land prices are escalating. Lifestyle centers usually require less land and generate higher revenue margins, often generating close to 500 dollars per square foot, compared to an average of 330 dollars per square foot for a traditional mall, according to the president of Poag and McEwen. Other advantages lifestyle centers have over traditional enclosed malls are savings on heating and cooling and quicker access for busy customers. Typical amenities at lifestyle centers include plush chairs instead of traditional plastic seating in common areas. Lifestyle centers typically look like strip malls turned outside in, and the formal storefronts don't face parking areas like in strip malls, but landscaped park like pedestrian areas, with storefronts facing each other against the pedestrian walkway or a low volume parkingless 2 lane road. A 2 lane road might go through the inside of the lifestyle center for drop offs and pickups, but no parking space is provided.
External links
List of lifestyle centers from USA Today

USA Today

USA Today is a national American daily newspaper published by the Gannett Company. It was founded by Al Neuharth. The newspaper vies with The Wall Street Journal for the position of having the widest circulation of any newspaper in the United States, something it previously held since 2003...