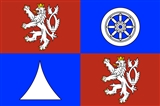 Liberec Region
Liberec Region
is an administrative unit (
Czech
Czech language
Czech is a West Slavic language with about 12 million native speakers; it is the majority language in the Czech Republic and spoken by Czechs worldwide. The language was known as Bohemian in English until the late 19th century...
:
kraj
Kraj
A kraj is the highest-level administrative unit in the Czech Republic and Slovak Republic. For lack of other English expressions, the Slavic term is often translated as "province", "region", or "territory", although it actually approximately means " country", or " countryside"...
) of the
Czech Republic
Czech Republic
The Czech Republic is a landlocked country in Central Europe. The country is bordered by Poland to the northeast, Slovakia to the east, Austria to the south, and Germany to the west and northwest....
, located in the northernmost part of its historical region of
Bohemia
Bohemia
Bohemia is a historical region in central Europe, occupying the western two-thirds of the traditional Czech Lands. It is located in the contemporary Czech Republic with its capital in Prague...
. Region borders with
Saxony
Saxony
The Free State of Saxony is a landlocked state of Germany, contingent with Brandenburg, Saxony Anhalt, Thuringia, Bavaria, the Czech Republic and Poland. It is the tenth-largest German state in area, with of Germany's sixteen states....
, (
Germany
Germany
Germany , officially the Federal Republic of Germany , is a federal parliamentary republic in Europe. The country consists of 16 states while the capital and largest city is Berlin. Germany covers an area of 357,021 km2 and has a largely temperate seasonal climate...
) and
Poland
Poland
Poland , officially the Republic of Poland , is a country in Central Europe bordered by Germany to the west; the Czech Republic and Slovakia to the south; Ukraine, Belarus and Lithuania to the east; and the Baltic Sea and Kaliningrad Oblast, a Russian exclave, to the north...
. It is named after its capital
Liberec
Liberec
Liberec is a city in the Czech Republic. Located on the Lusatian Neisse and surrounded by the Jizera Mountains and Ještěd-Kozákov Ridge, it is the fifth-largest city in the Czech Republic....
.
Districts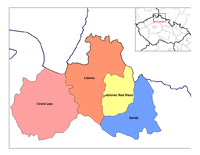 The Liberec Region has 4 districts (
okres
Okres
Okres refers to administrative entities in the Czech Republic and Slovakia...
y):
Cities and towns
The largest cities in Liberec region (with number of inhabitants):
Česká Lípa

Ceská Lípa

Česká Lípa a district seat and the largest city of the district bearing the same name. Česká Lípa can be reached easily from the north via Dresden, Bautzen, and the border crossing at Seifhennersdorf / Varnsdorf. Together with Liberec, being a higher administrative region, it is a part of Nisa...


38,830 (2005)
Chrastava

Chrastava

Chrastava is a town in northern Bohemia in the Czech Republic about 10 kilometre northwest of the regional capital Liberec. The town is situated on the Jeřice brook near to its confluence with the Lusatian Neisse...


5,961 (2001)
Frýdlant 7,608 (2005)
Jablonec nad Nisou

Jablonec nad Nisou

Jablonec nad Nisou is a town in northern Bohemia, the second largest town of the Liberec Region. It is known as a mountain resort in the Jizera Mountains, an education centre, and a centre of world-production of glass and jewellery...


44,822 (2006)
Liberec

Liberec

Liberec is a city in the Czech Republic. Located on the Lusatian Neisse and surrounded by the Jizera Mountains and Ještěd-Kozákov Ridge, it is the fifth-largest city in the Czech Republic....


, capital 105,240 (2008)
Semily

Semily

Semily is a town in the Semily District, Liberec Region, of northern Bohemia in the Czech Republic. It has about 9,000 inhabitants. One important landmark is the St Peter and Paul Church, from the beginning of the previous century. The town has two notable museums: the Museum and Regional Gallery...


9,029 (2006)
Turnov

Turnov

Turnov is a town on the Jizera river in the northern Czech Republic. It has about 14,500 inhabitants and lies in the southern part of Liberec Region. It is a traditional center for gemstone polishing, glass craftmanship and arts....


14,489 (2006)
External links