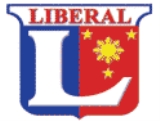 Liberal Party (Philippines)
The
Liberal Party of the Philippines
(
Filipino
Filipino language
This move has drawn much criticism from other regional groups.In 1987, a new constitution introduced many provisions for the language.Article XIV, Section 6, omits any mention of Tagalog as the basis for Filipino, and states that:...
:
Partido Liberal ng Pilipinas
) is a liberal party in the
Philippines
Philippines
The Philippines , officially known as the Republic of the Philippines , is a country in Southeast Asia in the western Pacific Ocean. To its north across the Luzon Strait lies Taiwan. West across the South China Sea sits Vietnam...
, founded by then senators Senate President
Manuel Roxas
Manuel Roxas
Manuel Acuña Roxas was the first president of the independent Third Republic of the Philippines and fifth president overall. He served as president from the granting of independence in 1946 until his abrupt death in 1948...
, Senate President Pro-Tempore
Elpidio Quirino
Elpidio Quirino
Elpidio Rivera Quirino was a Filipino politician, and the sixth President of the Philippines.A lawyer by profession, Quirino entered politics when he became a representative of Ilocos Sur from 1919 to 1925. He was then elected as senator from 1925–1931...
, and former 9th Senatorial District Senator
Jose Avelino
José Avelino
José Dira Avelino . The first President of the Senate of the First Republic of the Philippines under the presidency of Manuel Roxas. He was President Pro-tempore to President Manuel Quezon prior to the establishment of the Commonwealth.Avelino was born in a town called Calbayog in Samar to...
, on November 24, 1945 by a breakaway Liberal group from the Nacionalista Party. It is the current ruling party after the
election victory
Philippine presidential election, 2010
-Timeline:The COMELEC-mandated election period for this election was from January 10 to June 9, 2010.-2008:*August 26 - Then Metro Manila Development Authority Chairman Bayani Fernando announces bid for presidency....
of Benigno Aquino III as the
President of the Philippines
President of the Philippines
The President of the Philippines is the head of state and head of government of the Philippines. The president leads the executive branch of the Philippine government and is the commander-in-chief of the Armed Forces of the Philippines...
.