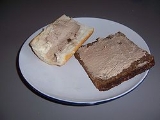 Leverpostej
Leverpostej
(ˈleʋɐpostaɪ̯,
lifrarkæfa
(
Icelandic
Icelandic language
Icelandic is a North Germanic language, the main language of Iceland. Its closest relative is Faroese.Icelandic is an Indo-European language belonging to the North Germanic or Nordic branch of the Germanic languages. Historically, it was the westernmost of the Indo-European languages prior to the...
),
leverpostei
(
Norwegian
Norwegian language
Norwegian is a North Germanic language spoken primarily in Norway, where it is the official language. Together with Swedish and Danish, Norwegian forms a continuum of more or less mutually intelligible local and regional variants .These Scandinavian languages together with the Faroese language...
),
leverpastej
(
Swedish
Swedish language
Swedish is a North Germanic language, spoken by approximately 10 million people, predominantly in Sweden and parts of Finland, especially along its coast and on the Åland islands. It is largely mutually intelligible with Norwegian and Danish...
), ,
maksapasteija
(
Finnish
Finnish language
Finnish is the language spoken by the majority of the population in Finland Primarily for use by restaurant menus and by ethnic Finns outside Finland. It is one of the two official languages of Finland and an official minority language in Sweden. In Sweden, both standard Finnish and Meänkieli, a...
) or
leverpastei
(
Dutch
Dutch language
Dutch is a West Germanic language and the native language of the majority of the population of the Netherlands, Belgium, and Suriname, the three member states of the Dutch Language Union. Most speakers live in the European Union, where it is a first language for about 23 million and a second...
) is a "
pâté
Pâté
Pâté is a mixture of ground meat and fat minced into a spreadable paste. Common additions include vegetables, herbs, spices, and either wine or cognac, armagnac or brandy...
" made of
pork
Pork
Pork is the culinary name for meat from the domestic pig , which is eaten in many countries. It is one of the most commonly consumed meats worldwide, with evidence of pig husbandry dating back to 5000 BC....
liver
Liver
The liver is a vital organ present in vertebrates and some other animals. It has a wide range of functions, including detoxification, protein synthesis, and production of biochemicals necessary for digestion...
and
lard
Lard
Lard is pig fat in both its rendered and unrendered forms. Lard was commonly used in many cuisines as a cooking fat or shortening, or as a spread similar to butter. Its use in contemporary cuisine has diminished because of health concerns posed by its saturated-fat content and its often negative...
, which is a popular
spread
Spread (food)
A spread is a food that is spread with a knife onto bread, crackers, or other bread products. Spreads are added to bread products to provide flavor and texture, and are an integral part of the dish, i.e. they should be distinguished from condiments, which are optional additions...
in northern Europe. Leverpostej is very similar to the German
Braunschweiger
Braunschweiger
Braunschweiger is a type of liverwurst which, if stuffed in natural casings, is nearly always smoked...
.
Danish leverpostej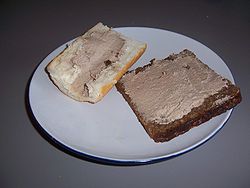 In
Denmark
Denmark
Denmark is a Scandinavian country in Northern Europe. The countries of Denmark and Greenland, as well as the Faroe Islands, constitute the Kingdom of Denmark . It is the southernmost of the Nordic countries, southwest of Sweden and south of Norway, and bordered to the south by Germany. Denmark...
the liver is formed into a paste to which herbs, salt, pepper and other desired seasoning are added. It is then put into a loaf pan and baked in an oven.
The leverpostej is sliced or spread on Danish dark
rye bread
Rye bread
Rye bread is a type of bread made with various percentages of flour from rye grain. It can be light or dark in color, depending on the type of flour used and the addition of coloring agents, and is typically denser than bread made from wheat flour...
(
rugbrød
Rugbrød
Rugbrød is a very commonly used bread in Denmark. The common rugbrød usually resembles a long brown rectangle, no more than 12 cm high, and 30–35 cm wide, although shapes and sizes may vary, as well as the ingredients...
) and eaten as an
open faced sandwich
Open sandwich
An open sandwich, also known as an open face/faced sandwich, Ulrich Sandwich, bread baser, or tartine, consists of a single slice of bread with one or more food items on top.- In various countries :...
. It might also be topped with any of a variety of
pickled
Pickling
Pickling, also known as brining or corning is the process of preserving food by anaerobic fermentation in brine to produce lactic acid, or marinating and storing it in an acid solution, usually vinegar . The resulting food is called a pickle. This procedure gives the food a salty or sour taste...
items, such as beets, onions, or cucumbers. It is also traditional to place a slice of
saltkød
on top of the leverpostejmad.
A more extravagant variation is the prepared Danish open face sandwich (
smørrebrød
) called
Dyrlægens natmad
(lit. "Veterinarian's midnight snack")— on a piece of dark rye bread, a layer of leverpostej is topped with a slice of corned beef (
salt kød
) and a slice of meat
aspic
Aspic
Aspic is a dish in which ingredients are set into a gelatin made from a meat stock or consommé. Non-savory dishes, often made with commercial gelatin mixes without stock or consommé, are usually called gelatin salads....
(
sky
). This is all decorated with raw
onion
Onion
The onion , also known as the bulb onion, common onion and garden onion, is the most widely cultivated species of the genus Allium. The genus Allium also contains a number of other species variously referred to as onions and cultivated for food, such as the Japanese bunching onion The onion...
rings and
cress
Garden cress
Garden cress is a fast-growing, edible herb that is botanically related to watercress and mustard, sharing their peppery, tangy flavor and aroma...
.
Leverpostej
is also served warm on rye bread, or sometimes on warm
baguette
Baguette
A baguette is "a long thin loaf of French bread" that is commonly made from basic lean dough...
s called Franskbrød. Traditional toppings include
bacon
Bacon
Bacon is a cured meat prepared from a pig. It is first cured using large quantities of salt, either in a brine or in a dry packing; the result is fresh bacon . Fresh bacon may then be further dried for weeks or months in cold air, boiled, or smoked. Fresh and dried bacon must be cooked before eating...
slices and
sautéed
Sautéing
Sautéing is a method of cooking food, that uses a small amount of fat in a shallow pan over relatively high heat. Ingredients are usually cut into pieces or thinly sliced to facilitate fast cooking. The primary mode of heat transfer during sautéing is conduction between the pan and the food being...
mushroom
Mushroom
A mushroom is the fleshy, spore-bearing fruiting body of a fungus, typically produced above ground on soil or on its food source. The standard for the name "mushroom" is the cultivated white button mushroom, Agaricus bisporus; hence the word "mushroom" is most often applied to those fungi that...
s.
Leverpostej
was introduced to Denmark in 1847 by a Frenchman in
Copenhagen
Copenhagen
Copenhagen is the capital and largest city of Denmark, with an urban population of 1,199,224 and a metropolitan population of 1,930,260 . With the completion of the transnational Øresund Bridge in 2000, Copenhagen has become the centre of the increasingly integrating Øresund Region...
. At that time it was considered a luxury item, and was expensive. Today it is a common and reasonably priced food item. Two surveys in 1992 showed that Danes rank
leverpostej
as their favorite sandwich cold cut.
Stryhn's, started in 1945 on
Amager
Amager
Amager is a Danish island in the Øresund. The Danish capital, Copenhagen, is partly situated on Amager, which is connected to the much larger island of Zealand by five bridges.-History:...
island, south of Copenhagen, is one of Denmark's major marketers of
leverpostej
. Their
Grovhakket
(lit. "Coarse mince") brand has been the most purchased leverpostej in Denmark during the past few decades.