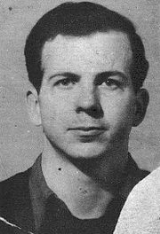 Lee Harvey Oswald
Lee Harvey Oswald
was, according to four government investigations,
These were investigations by: the Federal Bureau of Investigation

Federal Bureau of Investigation

The Federal Bureau of Investigation is an agency of the United States Department of Justice that serves as both a federal criminal investigative body and an internal intelligence agency . The FBI has investigative jurisdiction over violations of more than 200 categories of federal crime...


(1963), the Warren Commission

Warren Commission

The President's Commission on the Assassination of President Kennedy, known unofficially as the Warren Commission, was established on November 27, 1963, by Lyndon B. Johnson to investigate the assassination of United States President John F. Kennedy on November 22, 1963...


(1964), the House Select Committee on Assassinations (1979), and the Dallas Police Department.
the sniper who
assassinated
Assassination of John F. Kennedy
John Fitzgerald Kennedy, the thirty-fifth President of the United States, was assassinated at 12:30 p.m. Central Standard Time on Friday, November 22, 1963, in Dealey Plaza, Dallas, Texas...
John F. Kennedy
John F. Kennedy
John Fitzgerald "Jack" Kennedy , often referred to by his initials JFK, was the 35th President of the United States, serving from 1961 until his assassination in 1963....
, the
35th President of the United States
, in Dallas,
Texas
Texas
Texas is the second largest U.S. state by both area and population, and the largest state by area in the contiguous United States.The name, based on the Caddo word "Tejas" meaning "friends" or "allies", was applied by the Spanish to the Caddo themselves and to the region of their settlement in...
, on November 22, 1963.
A former
U.S. Marine
United States Marine Corps
The United States Marine Corps is a branch of the United States Armed Forces responsible for providing power projection from the sea, using the mobility of the United States Navy to deliver combined-arms task forces rapidly. It is one of seven uniformed services of the United States...
who had briefly (October 1959 – June 1962) defected to the
Soviet Union
Soviet Union
The Soviet Union , officially the Union of Soviet Socialist Republics , was a constitutionally socialist state that existed in Eurasia between 1922 and 1991....
, Oswald was initially arrested for the shooting murder of police officer
J. D. Tippit
J. D. Tippit
Tippit attended a Veterans Administration vocational training school at Bogata, Texas, from January 1950 until June 1952. He was then hired by the Dallas Police Department as a patrolman on July 28, 1952...
, on a Dallas street approximately 40 minutes after Kennedy was shot.