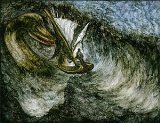 Lake monster
A
lake monster
or
loch monster
is a purported form of fresh-water-dwelling
megafauna
Megafauna
In terrestrial zoology, megafauna are "giant", "very large" or "large" animals. The most common thresholds used are or...
appearing in
mythology
Mythology
The term mythology can refer either to the study of myths, or to a body or collection of myths. As examples, comparative mythology is the study of connections between myths from different cultures, whereas Greek mythology is the body of myths from ancient Greece...
,
rumor
Rumor
A rumor or rumour is often viewed as "an unverified account or explanation of events circulating from person to person and pertaining to an object, event, or issue in public concern" However, a review of the research on rumor conducted by Pendleton in 1998 found that research across sociology,...
, or local
folklore
Folklore
Folklore consists of legends, music, oral history, proverbs, jokes, popular beliefs, fairy tales and customs that are the traditions of a culture, subculture, or group. It is also the set of practices through which those expressive genres are shared. The study of folklore is sometimes called...
, but whose existence lacks scientific support. A well known example is the
Loch Ness Monster
Loch Ness Monster
The Loch Ness Monster is a cryptid that is reputed to inhabit Loch Ness in the Scottish Highlands. It is similar to other supposed lake monsters in Scotland and elsewhere, though its description varies from one account to the next....
. Lake monsters' depictions are often similar to some
sea monster
Sea monster
Sea monsters are sea-dwelling mythical or legendary creatures, often believed to be of immense size.Marine monsters can take many forms, including sea dragons, sea serpents, or multi-armed beasts. They can be slimy or scaly and are often pictured threatening ships or spouting jets of water...
s. They are principally the subject of investigations by followers of the study of
cryptozoology
Cryptozoology
Cryptozoology refers to the search for animals whose existence has not been proven...
and
folklore
Folklore
Folklore consists of legends, music, oral history, proverbs, jokes, popular beliefs, fairy tales and customs that are the traditions of a culture, subculture, or group. It is also the set of practices through which those expressive genres are shared. The study of folklore is sometimes called...
.
Explanations
Many skeptics consider lake monsters to be purely exaggerations or misinterpretations of known and natural phenomena, or else fabrications and hoaxes. Most lake monsters have no evidence besides alleged sightings and controversial photographs and a large portion are generally believed not to exist by conventional
zoology
Zoology
Zoology |zoölogy]]), is the branch of biology that relates to the animal kingdom, including the structure, embryology, evolution, classification, habits, and distribution of all animals, both living and extinct...
and allied sciences. Misidentified sightings of
seals
Pinniped
Pinnipeds or fin-footed mammals are a widely distributed and diverse group of semiaquatic marine mammals comprising the families Odobenidae , Otariidae , and Phocidae .-Overview: Pinnipeds are typically sleek-bodied and barrel-shaped...
,
otter
Otter
The Otters are twelve species of semi-aquatic mammals which feed on fish and shellfish, and also other invertebrates, amphibians, birds and small mammals....
s,
deer
Deer
Deer are the ruminant mammals forming the family Cervidae. Species in the Cervidae family include white-tailed deer, elk, moose, red deer, reindeer, fallow deer, roe deer and chital. Male deer of all species and female reindeer grow and shed new antlers each year...
, diving
water bird
Water bird
The term water bird or waterbird is used to refer to birds that live on or around water. Some definitions apply the term especially to birds in freshwater habitats, though others make no distinction from birds that inhabit marine environments. In addition, some water birds are more terrestrial or...
s, large
fish
Fish
Fish are a paraphyletic group of organisms that consist of all gill-bearing aquatic vertebrate animals that lack limbs with digits. Included in this definition are the living hagfish, lampreys, and cartilaginous and bony fish, as well as various extinct related groups...
such as giant
sturgeon
Sturgeon
Sturgeon is the common name used for some 26 species of fish in the family Acipenseridae, including the genera Acipenser, Huso, Scaphirhynchus and Pseudoscaphirhynchus. The term includes over 20 species commonly referred to as sturgeon and several closely related species that have distinct common...
s or
wels catfish
Wels catfish
The wels catfish , also called sheatfish, is a large catfish found in wide areas of central, southern, and eastern Europe, and near the Baltic and Caspian Seas. It is a scaleless fresh and brackish water fish recognizable by its broad, flat head and wide mouth...
,
log
Logging
Logging is the cutting, skidding, on-site processing, and loading of trees or logs onto trucks.In forestry, the term logging is sometimes used in a narrow sense concerning the logistics of moving wood from the stump to somewhere outside the forest, usually a sawmill or a lumber yard...
s,
mirage
Mirage
A mirage is a naturally occurring optical phenomenon in which light rays are bent to produce a displaced image of distant objects or the sky. The word comes to English via the French mirage, from the Latin mirare, meaning "to look at, to wonder at"...
s,
seiche
Seiche
A seiche is a standing wave in an enclosed or partially enclosed body of water. Seiches and seiche-related phenomena have been observed on lakes, reservoirs, swimming pools, bays, harbors and seas...
s, light distortion, crossing boat
wake
Wake
A wake is the region of recirculating flow immediately behind a moving or stationary solid body, caused by the flow of surrounding fluid around the body.-Fluid dynamics:...
s, or unusual
wave
Wave
In physics, a wave is a disturbance that travels through space and time, accompanied by the transfer of energy.Waves travel and the wave motion transfers energy from one point to another, often with no permanent displacement of the particles of the medium—that is, with little or no associated mass...
patterns have all been proposed to explain specific reports. Social scientists point out that descriptions of these creatures vary over time with the values and mood of the local cultures, following the pattern of folk beliefs and not what would be expected if the reports were of actual encounters with real animals.
According to the Swedish
naturalist
Natural history
Natural history is the scientific research of plants or animals, leaning more towards observational rather than experimental methods of study, and encompasses more research published in magazines than in academic journals. Grouped among the natural sciences, natural history is the systematic study...
and author Bengt Sjögren (1980), the present day belief in lake-monsters is associated with the legends of
kelpie
Kelpie
The kelpie is a supernatural water horse from Celtic folklore that is believed to haunt the rivers and lochs of Scotland and Ireland; the name may be from Scottish Gaelic cailpeach or colpach "heifer, colt".-Description and behaviour:...
s. Sjögren claims that the accounts of lake-monsters have changed during history. Older reports often talk about horse-like appearances, but more modern reports often have more reptile and dinosaur-like-appearances, and Sjögren concludes that the legends of kelpies evolved into the present day legends of lake-monsters where the monsters changed the appearance since the discovery of
dinosaur
Dinosaur
Dinosaurs are a diverse group of animals of the clade and superorder Dinosauria. They were the dominant terrestrial vertebrates for over 160 million years, from the late Triassic period until the end of the Cretaceous , when the Cretaceous–Paleogene extinction event led to the extinction of...
s and giant aquatic reptiles from the horse-like water-kelpie to a dinosaur-like reptile, often a
plesiosaur
Plesiosaur
Plesiosauroidea is an extinct clade of carnivorous plesiosaur marine reptiles. Plesiosauroids, are known from the Jurassic and Cretaceous Periods...
.
Other widely varied theories have been presented by believers, including unknown species of giant freshwater
eel
Eel
Eels are an order of fish, which consists of four suborders, 20 families, 111 genera and approximately 800 species. Most eels are predators...
s or surviving aquatic, prehistoric reptiles, such as
plesiosaur
Plesiosaur
Plesiosauroidea is an extinct clade of carnivorous plesiosaur marine reptiles. Plesiosauroids, are known from the Jurassic and Cretaceous Periods...
s. One theory holds that the monsters that are sighted are the occasional full-grown form of an amphibian species that generally stays juvenile all its life like the
axolotl
Axolotl
The axolotl , Ambystoma mexicanum, is a neotenic salamander, closely related to the Tiger Salamander. Larvae of this species fail to undergo metamorphosis, so the adults remain aquatic and gilled. It is also called ajolote...
. Cryptozoologist
Bernard Heuvelmans
Bernard Heuvelmans
Bernard Heuvelmans was a Belgian-French scientist, explorer, researcher, and a writer probably best known as "the father of cryptozoology"...
held throughout his life that plesiosaur-type sighting were actually an unknown species of long-necked seal.
In many of these areas, especially around
Loch Ness
Loch Ness
Loch Ness is a large, deep, freshwater loch in the Scottish Highlands extending for approximately southwest of Inverness. Its surface is above sea level. Loch Ness is best known for the alleged sightings of the cryptozoological Loch Ness Monster, also known affectionately as "Nessie"...
,
Lake Champlain
Lake Champlain
Lake Champlain is a natural, freshwater lake in North America, located mainly within the borders of the United States but partially situated across the Canada—United States border in the Canadian province of Quebec.The New York portion of the Champlain Valley includes the eastern portions of...
and the Okanagan Valley, these lake monsters have become important tourist draws.