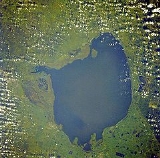 Lake Okeechobee
Lake Okeechobee
locally referred to as
The Lake
or
The Big O
, is the largest freshwater
lake
Lake
A lake is a body of relatively still fresh or salt water of considerable size, localized in a basin, that is surrounded by land. Lakes are inland and not part of the ocean and therefore are distinct from lagoons, and are larger and deeper than ponds. Lakes can be contrasted with rivers or streams,...
in the
state
U.S. state
A U.S. state is any one of the 50 federated states of the United States of America that share sovereignty with the federal government. Because of this shared sovereignty, an American is a citizen both of the federal entity and of his or her state of domicile. Four states use the official title of...
of
Florida
Florida
Florida is a state in the southeastern United States, located on the nation's Atlantic and Gulf coasts. It is bordered to the west by the Gulf of Mexico, to the north by Alabama and Georgia and to the east by the Atlantic Ocean. With a population of 18,801,310 as measured by the 2010 census, it...
. It is the seventh largest freshwater lake in the United States and the second largest freshwater lake contained entirely within the lower 48 states. Okeechobee covers 730 square miles (1,890.7 km²), approximately half the size of the state of
Rhode Island
Rhode Island
The state of Rhode Island and Providence Plantations, more commonly referred to as Rhode Island , is a state in the New England region of the United States. It is the smallest U.S. state by area...
, and is exceptionally shallow for a lake of its size, with an average depth of only 9 feet (3 m).