 Kyrenia District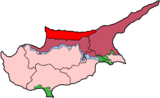 Kyrenia District
is one of the six
districts of Cyprus
Districts of Cyprus
Cyprus is divided into six districts , whose capitals share the same name:The districts are further divided up into municipalities.-See also:* List of cities, towns and villages in Cyprus* ISO 3166-2:CY* Districts of Northern Cyprus-External links:*...
. Its main town is
Kyrenia
Kyrenia
Kyrenia is a town on the northern coast of Cyprus, noted for its historic harbour and castle. Internationally recognised as part of the Republic of Cyprus, Kyrenia has been under Turkish control since the Turkish invasion of Cyprus in 1974...
. It is the smallest of Cyprus' districts, and is the only one fully controlled by the
Turkish Republic of Northern Cyprus
Turkish Republic of Northern Cyprus
Northern Cyprus or North Cyprus , officially the Turkish Republic of Northern Cyprus , is a self-declared state that comprises the northeastern part of the island of Cyprus...
, recognised only by Turkey.
A district administration in "exile" exists on the
Republic of Cyprus
Cyprus
Cyprus , officially the Republic of Cyprus , is a Eurasian island country, member of the European Union, in the Eastern Mediterranean, east of Greece, south of Turkey, west of Syria and north of Egypt. It is the third largest island in the Mediterranean Sea.The earliest known human activity on the...
controlled part of the island, near
Ledra Palace
Ledra Palace
The Ledra Palace Hotel is located in central Nicosia, Cyprus, and until 1974 was one of the largest and most glamorous hotels of the capital. The Hotel was built in 1949 and had a de luxe rating. All rooms had hot and cold water, central heating and a telephone. Facilities included a conference,...
, while the TRNC district has a
kaymakam
, which is Savaş Orakçıoğlu at the moment.