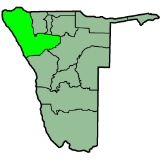 Kunene Region
Kunene
is one of the thirteen
regions of Namibia
Regions of Namibia
The administrative division of Namibia is tabled by Delimitation Commissions and accepted or declined by the National Assembly. The First Delimitation Commission chaired by Judge President Johan Strydom suggested in 1992 that Namibia be divided into 13 Regions, a number that has not been amended...
and home to the
Himba
Himba
The Himba are an ethnic group of about 20,000 to 50,000 people living in northern Namibia, in the Kunene region . Recently they have built two villages in Kamanjab which have become tourist destinations...
ethnic group. Compared to the rest of Namibia, it is relatively underdeveloped. This may be due to the mountainous inaccessible geography and the dryness that significantly hinders
agriculture
Agriculture
Agriculture is the cultivation of animals, plants, fungi and other life forms for food, fiber, and other products used to sustain life. Agriculture was the key implement in the rise of sedentary human civilization, whereby farming of domesticated species created food surpluses that nurtured the...
.
The largest town and capital is
Opuwo
Opuwo
Opuwo is the capital of the Kunene Region in north-western Namibia. The town is situated about 720 km north-northwest from the capital Windhoek, and has a population of 5,100...
.
The region's name comes from the Kunene River which forms the northern border with
Angola
Angola
Angola, officially the Republic of Angola , is a country in south-central Africa bordered by Namibia on the south, the Democratic Republic of the Congo on the north, and Zambia on the east; its west coast is on the Atlantic Ocean with Luanda as its capital city...
.
Kunene's western edge is the shores of the
Atlantic Ocean
Atlantic Ocean
The Atlantic Ocean is the second-largest of the world's oceanic divisions. With a total area of about , it covers approximately 20% of the Earth's surface and about 26% of its water surface area...
.