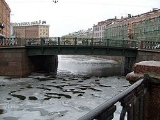 Kokushkin Bridge
Fyodor Dostoevsky
Fyodor Dostoevsky
Fyodor Mikhaylovich Dostoyevsky was a Russian writer of novels, short stories and essays. He is best known for his novels Crime and Punishment, The Idiot and The Brothers Karamazov....
's
Crime and Punishment
Crime and Punishment
Crime and Punishment is a novel by the Russian author Fyodor Dostoyevsky. It was first published in the literary journal The Russian Messenger in twelve monthly installments during 1866. It was later published in a single volume. This is the second of Dostoyevsky's full-length novels following his...
starts with a mention of the bridge:
K. bridge
here means Kokushkin bridge.
In
Mikhail Lermontov
Mikhail Lermontov
Mikhail Yuryevich Lermontov , a Russian Romantic writer, poet and painter, sometimes called "the poet of the Caucasus", became the most important Russian poet after Alexander Pushkin's death in 1837. Lermontov is considered the supreme poet of Russian literature alongside Pushkin and the greatest...
's unfinished novel
Shtoss
, the main character, the artist Lugin, looks for
Shtoss House
near Kokushkin Bridge.
It is conceivable that Lermontov took the actual
Zverkov House
as the prototype of Shtoss House. Zverkov House was a famous apartment house near Kokushkin Bridge.
In 1829, the then young and unknown
Nikolai Gogol
Nikolai Gogol
Nikolai Vasilievich Gogol was a Ukrainian-born Russian dramatist and novelist.Considered by his contemporaries one of the preeminent figures of the natural school of Russian literary realism, later critics have found in Gogol's work a fundamentally romantic sensibility, with strains of Surrealism...
rented a room in that house, where he wrote
Evenings on a Farm Near Dikanka
Evenings on a Farm Near Dikanka
Evenings on a Farm Near Dikanka is a collection of short stories by Nikolai Gogol, written from 1831-1832. They appeared in various magazines and were published in book form when Gogol, who had spent his life in Ukraine up to the age of nineteen, was twenty two. He put his early impressions and...
, as commemorated by a plaque on the house. Gogol liked to place the characters in his writings in real locations that he had visited. In
Diary of a Madman
Diary of a Madman (story)
Diary of a Madman is a farcical short story by Nikolai Gogol. Along with The Overcoat and The Nose, Diary of a Madman is considered to be one of Gogol's greatest short stories. The tale centers on the life of a minor civil servant during the repressive era of Nicholas I...
, Gogol sends Poprishchin over the Kokushkin Bridge to the Zverkov House.