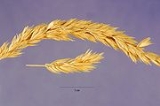 Koeleria macrantha
Koeleria macrantha
is a species of
grass
Poaceae
The Poaceae is a large and nearly ubiquitous family of flowering plants. Members of this family are commonly called grasses, although the term "grass" is also applied to plants that are not in the Poaceae lineage, including the rushes and sedges...
known by the common name
prairie Junegrass
. In the UK it is known as Crested hair-grass. It is native to much of North America, from
Alaska
Alaska
Alaska is the largest state in the United States by area. It is situated in the northwest extremity of the North American continent, with Canada to the east, the Arctic Ocean to the north, and the Pacific Ocean to the west and south, with Russia further west across the Bering Strait...
to
California
California
California is a state located on the West Coast of the United States. It is by far the most populous U.S. state, and the third-largest by land area...
, from northern Mexico to the
Eastern United States
Eastern United States
The Eastern United States, the American East, or simply the East is traditionally defined as the states east of the Mississippi River. The first two tiers of states west of the Mississippi have traditionally been considered part of the West, but can be included in the East today; usually in...
. It occurs in a large number of habitat types, especially
prairie
Prairie
Prairies are considered part of the temperate grasslands, savannas, and shrublands biome by ecologists, based on similar temperate climates, moderate rainfall, and grasses, herbs, and shrubs, rather than trees, as the dominant vegetation type...
.
Description
Koeleria macrantha
is a short, tuft-forming perennial bunchgrass, reaching heights from 20 to 70 centimeters. The leaves are basal and up to about 20 centimeters long. The
inflorescence
Inflorescence
An inflorescence is a group or cluster of flowers arranged on a stem that is composed of a main branch or a complicated arrangement of branches. Strictly, it is the part of the shoot of seed plants where flowers are formed and which is accordingly modified...
is nearly cylindrical and may taper somewhat toward the tip. It holds shiny tan spikelets which are sometimes tinted with purple, each about half a centimeter long.
It is a good forage for many types of grazing animals. It is classified as a severe
allergen
Allergen
An allergen is any substance that can cause an allergy. In technical terms, an allergen is a non-parasitic antigen capable of stimulating a type-I hypersensitivity reaction in atopic individuals....
in humans with grass allergy.
Gardens
Koeleria is used as an exceptionally low-maintenance
lawn
Lawn
A lawn is an area of aesthetic and recreational land planted with grasses or other durable plants, which usually are maintained at a low and consistent height. Low ornamental meadows in natural landscaping styles are a contemporary option of a lawn...
and
turf grass
Golf course turf
Golf course turf is the grass covering golf courses, which is used as a playing surface in the sport of golf. The grass is carefully maintained by a greenskeeper to control weeds, insects and to introduce nutrients such as nitrogen fertilization...
. It is not suitable for high-traffic use due to its slow growth rate. It is often used for golf course roughs.
External links