 Knut Reiersrud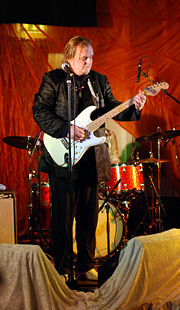 Knut Reiersrud
is a
Norwegian
Norway
Norway , officially the Kingdom of Norway, is a Nordic unitary constitutional monarchy whose territory comprises the western portion of the Scandinavian Peninsula, Jan Mayen, and the Arctic archipelago of Svalbard and Bouvet Island. Norway has a total area of and a population of about 4.9 million...
blues
Blues
Blues is the name given to both a musical form and a music genre that originated in African-American communities of primarily the "Deep South" of the United States at the end of the 19th century from spirituals, work songs, field hollers, shouts and chants, and rhymed simple narrative ballads...
guitarist. His work also incorporates elements of Norwegian traditional music and African music. He lives in
Oslo
Oslo
Oslo is a municipality, as well as the capital and most populous city in Norway. As a municipality , it was established on 1 January 1838. Founded around 1048 by King Harald III of Norway, the city was largely destroyed by fire in 1624. The city was moved under the reign of Denmark–Norway's King...
. He has collaborated extensively with the Norwegian organist
Iver Kleive
Iver Kleive
Iver Kleive is a Norwegian composer and organist. He is known for his composing style which is a fusion of traditional church music with other musical idioms such as blues, jazz, and Norwegian folk music. He has appeared in nearly 200 recordings as a studio musician, composer and...
.
He also plays the
harmonica
Harmonica
The harmonica, also called harp, French harp, blues harp, and mouth organ, is a free reed wind instrument used primarily in blues and American folk music, jazz, country, and rock and roll. It is played by blowing air into it or drawing air out by placing lips over individual holes or multiple holes...
,
mandolin
Mandolin
A mandolin is a musical instrument in the lute family . It descends from the mandore, a soprano member of the lute family. The mandolin soundboard comes in many shapes—but generally round or teardrop-shaped, sometimes with scrolls or other projections. A mandolin may have f-holes, or a single...
,
langeleik
Langeleik
The langeleik also called langleik is a Norwegian stringed folklore musical instrument, a droned zither.-Description:The langeleik has only one melody string and up to 8 drone strings....
,
oud
Oud
The oud is a pear-shaped stringed instrument commonly used in North African and Middle Eastern music. The modern oud and the European lute both descend from a common ancestor via diverging paths...
, and Turkish
saz
Baglama
thumb|180px|Cura and bağlamaThe bağlama is a stringed musical instrument shared by various cultures in the Eastern Mediterranean, Near East, and Central Asia....
.
Discography
1982 - Rooster Blues Hot Club Records

Hot Club Records

Hot Club Records is a Record company established 1982, by guitar player Jon Larsen. More than 350 released CDs, DVDs and books, mostly jazz related.Some artists on Hot Club Records: Chet Baker, Philip Catherine, Warne Marsh, and the poet Jan Erik Vold....



1993 - Roots To Scandinavian Blues (with Nappy Brown

Nappy Brown

Napoleon Brown Goodson Culp better known by his stage name Nappy Brown, was an American R&B singer. His hits include the 1955 Billboard chart #2, "Don't Be Angry" and "Night Time Is the Right Time"...


) Hot Club Records

Hot Club Records

Hot Club Records is a Record company established 1982, by guitar player Jon Larsen. More than 350 released CDs, DVDs and books, mostly jazz related.Some artists on Hot Club Records: Chet Baker, Philip Catherine, Warne Marsh, and the poet Jan Erik Vold....



1991 - Blå koral
1993 - Tramp (released in the U.S. in 1994 under the title Footwork)
1995 - Klapp
1998 - Soul of a Man
2001 - Sweet Showers of Rain
2011 - One Drop Is Plenty (with Mighty Sam McClain

Mighty Sam McClain

Mighty Sam McClain is an American Grammy nominated soul blues singer and songwriter.-Life and career:As a five year old, he began singing in his mother's Gospel Church...


)