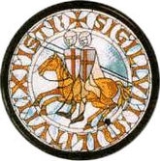 Knights Templar
The
Poor Fellow-Soldiers of Christ and of the Temple of Solomon
, commonly known as the
Knights Templar
, the
Order of the Temple
or simply as
Templars
, were among the most famous of the
Western Christian
Western Christianity
Western Christianity is a term used to include the Latin Rite of the Catholic Church and groups historically derivative thereof, including the churches of the Anglican and Protestant traditions, which share common attributes that can be traced back to their medieval heritage...
military order
Military order
A military order is a Christian society of knights that was founded for crusading, i.e. propagating or defending the faith , either in the Holy Land or against Islam or pagans in Europe...
s. The organisation existed for nearly two centuries during the
Middle Ages
Middle Ages
The Middle Ages is a periodization of European history from the 5th century to the 15th century. The Middle Ages follows the fall of the Western Roman Empire in 476 and precedes the Early Modern Era. It is the middle period of a three-period division of Western history: Classic, Medieval and Modern...
.
Officially endorsed by the Catholic Church around 1129, the Order became a favored charity throughout Christendom, and grew rapidly in membership and power.