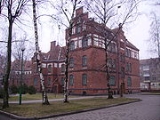 Klaipeda University
Klaipėda University
is a university in the
Lithuania
Lithuania
Lithuania , officially the Republic of Lithuania is a country in Northern Europe, the biggest of the three Baltic states. It is situated along the southeastern shore of the Baltic Sea, whereby to the west lie Sweden and Denmark...
n seaport
Klaipėda
Klaipeda
Klaipėda is a city in Lithuania situated at the mouth of the Nemunas River where it flows into the Baltic Sea. It is the third largest city in Lithuania and the capital of Klaipėda County....
.
Overview
The University was formally founded on January 1, 1991 by a decree of
Seimas
Seimas
The Seimas is the unicameral Lithuanian parliament. It has 141 members that are elected for a four-year term. About half of the members of this legislative body are elected in individual constituencies , and the other half are elected by nationwide vote according to proportional representation...
(Lithuanian Parliament). The new university incorporated existing institutions of higher education in the city. At its inception, it comprised 3,000 students and three faculties (Humanities and natural sciences, Marine Engineering, and Pedagogy). It has since grown to seven faculties and eight institutes: faculties of Natural Science and Mathematics, Humanities, Marine Engineering, Art, Pedagogy, Social Sciences, and Health Sciences; Maritime Institute, Seascape Institute, Institute of Continuing Studies, Coastal Research and Planning Institute,
Institute of Baltic Sea Region History and Archaeology
Institute of Baltic Sea Region History and Archaeology
The Institute of Baltic Sea Region History and Archaeology ) is a scientific subdivision of Klaipėda University. The institute was established in 2003 on the basis of former Centre of History of Western Lithuania and Prussia ....
, Institute of Regional Policy and Planning,
Mechatronics
Mechatronics
Mechatronics is the combination of mechanical engineering, electronic engineering, computer engineering, software engineering, control engineering, and systems design engineering in order to design, and manufacture useful products. Mechatronics is a multidisciplinary field of engineering, that is...
Institute, and Musicology Institute. Having 9,700 students and 600 persons in educational staff (in 2006), the University offers 67 undergraduate (bachelor degree), 4 specialized professional, 48 graduate (master's degree), and 3 postgraduate (doctoral) study programs.
Historic structures of University campus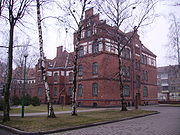 Klaipėda University occupies a former
cantonment
Cantonment
A cantonment is a temporary or semi-permanent military or police quarters. The word cantonment is derived from the French word canton meaning corner or district, as is the name of the Cantons of Switzerland. In South Asia, the term cantonment also describes permanent military stations...
. The territory of 23.6 hectares (58.3 acre) has 6 Neo-Gothic buildings that are declared monuments of architecture. In the first half of the 20th century these two–four storey red brick buildings, erected in 1904–1907, were a place of two residential blocks for servicemen, a chapel-canteen-club, HQ and a guardhouse, a residential block for officers and an accouterments storehouse. In different periods it was a place for German, French, Lithuanian and Russian troops. Historic researches of these structures was completed in 1994.
Students and studies
Klaipėda University offers a developed three-level study system: 67 bachelor, 4 specialized vocational, 48 master, 3 doctoral study programs. It also offers 7 international study programs for foreign students. Its location in a seaport determined that the university develops academic programs not found in other Lithuanian universities, including marine environment research and engineering of marine transport, hydrology and oceanography, port technologies and engineering, history and languages of
Lithuania Minor
Lithuania Minor
Lithuania Minor or Prussian Lithuania is a historical ethnographic region of Prussia, later East Prussia in Germany, where Prussian Lithuanians or Lietuvininkai lived. Lithuania Minor enclosed the northern part of this province and got its name due to the territory's substantial...
and Baltic region, ecological engineering, landscape architecture, underwater archaeology.
Rectors
Prof. Donatas Švitra (1991–1993)
Prof. Stasys Vaitekūnas (1993–2001)
Prof. Vladas Žulkus

Vladas Žulkus

Vladas Žulkus is a Lithuanian archaeologist. In October 2002 he was elected rector of Klaipėda University.- Biography :...


(since 2002)
External links