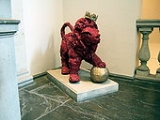 King's College London Students' Union
King's College London Students' Union (KCLSU) is one of
England
England
England is a country that is part of the United Kingdom. It shares land borders with Scotland to the north and Wales to the west; the Irish Sea is to the north west, the Celtic Sea to the south west, with the North Sea to the east and the English Channel to the south separating it from continental...
's oldest
students' union
Students' union
A students' union, student government, student senate, students' association, guild of students or government of student body is a student organization present in many colleges and universities, and has started appearing in some high schools...
. KCLSU is an independent
charitable
Charitable organization
A charitable organization is a type of non-profit organization . It differs from other types of NPOs in that it centers on philanthropic goals A charitable organization is a type of non-profit organization (NPO). It differs from other types of NPOs in that it centers on philanthropic goals A...
organisation, being a registered Charity with the Charity Commission, and exists solely to further the interests of its members, the approximately 23,500 students who are at
King's College London
King's College London
King's College London is a public research university located in London, United Kingdom and a constituent college of the federal University of London. King's has a claim to being the third oldest university in England, having been founded by King George IV and the Duke of Wellington in 1829, and...
. The Strategic Plan defines the mission of KCLSU is to help "Every student to have a great experience at King's".
History
KCLSU has a long but murky history with records being piecemeal or in the memories of current and past Union officers. An early honour board in the main building dates from 1908 with the name of the first President of the KCL Union Society, the predecessor of today's KCLSU. The most famous President of KCLSU was Sir Ivison Macadam who was President in 1922 and became the first President of the newly merged National Union of Students.
Following the various mergers and de-mergers of colleges in the
University of London
University of London
-20th century:Shortly after 6 Burlington Gardens was vacated, the University went through a period of rapid expansion. Bedford College, Royal Holloway and the London School of Economics all joined in 1900, Regent's Park College, which had affiliated in 1841 became an official divinity school of the...
with King's, many collegiate students' unions records have been misplaced or are possibly stored in the College's archives.
Mascot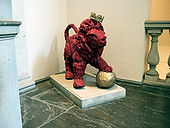 KCLSU's official
mascot
Mascot
The term mascot – defined as a term for any person, animal, or object thought to bring luck – colloquially includes anything used to represent a group with a common public identity, such as a school, professional sports team, society, military unit, or brand name...
is Reggie the Lion. In his early years, he would often be paraded on sports grounds by teams to support matches. There are three "Reggies" in existence: the original, on display in KCLSU's Student Centre at the Strand Campus, a
papier-mâché
Papier-mâché
Papier-mâché , alternatively, paper-mache, is a composite material consisting of paper pieces or pulp, sometimes reinforced with textiles, bound with an adhesive, such as glue, starch, or wallpaper paste....
Reggie outside the Great Hall at the Strand Campus (pictured), and a small
sterling silver
Sterling silver
Sterling silver is an alloy of silver containing 92.5% by mass of silver and 7.5% by mass of other metals, usually copper. The sterling silver standard has a minimum millesimal fineness of 925....
incarnation displayed during graduation ceremonies. In 2003-04 he celebrated his 80th birthday, which was celebrated by a reunion of students' union officers from years past. In September 2009 the crown from the papier-mâché Reggie in the Strand Campus was stolen by first year Medical students from RUMS and is now housed in the bar of the Huntley Street Union.
Being such an easily liftable mascot that was often seen in public, Reggie was an obvious target for marauding students from other institutions. In the 1970s, Reggie was buried upside-down in a pit near
Waterloo Station
Waterloo station
Waterloo station, also known as London Waterloo, is a central London railway terminus and London Underground complex. The station is owned and operated by Network Rail and is close to the South Bank of the River Thames, and in Travelcard Zone 1....
, which was filled with concrete; the tip of his tail remained visible. Later, he was lost for many years in the 1990s, and not recovered until he was found in a field. Having been restored at the cost of around £15,000, Reggie has been placed on display in a glass case in the "Lion's Walk", Macadam Building (Strand campus) in 2002, after being filled with concrete to prevent theft, particularly by
University College London
University College London
University College London is a public research university located in London, United Kingdom and the oldest and largest constituent college of the federal University of London...
(UCL) students who, prior to his burial and dumping, had also castrated him. (King's students had also stolen one UCL mascot, Phineas and, in an apocryphal legend, allegedly played football with the head of another,
Jeremy Bentham
Jeremy Bentham
Jeremy Bentham was an English jurist, philosopher, and legal and social reformer. He became a leading theorist in Anglo-American philosophy of law, and a political radical whose ideas influenced the development of welfarism...
).
Reggie is often styled His Royal Highness, but there is no recent policy on the matter, and this convention has fallen into disuse as mascotry in London has declined.
Student media
Roar (named in honour of Reggie the Lion) is KCLSU's monthly tabloid newspaper. It carries stories, reviews and features on a range of topics, reporting on student news, clubs and societies, as well as coverage of the arts, music and fashion. It has a blog
here
KCL Radio is the SRA award winning Student Radio Station run by and for King's students, currently podcasting weekly and live streaming special events on their
website
.
Services and facilities
The primary role of KCLSU is to provide student representation and advocacy. The Academic Advice service provides much of the individual advice and representation to students regarding academic issues and misconduct, while the democratic structures - which are made up of the elected Student Council (which includes Liberation Officers), and full time Student Officers, who take a sabbatical year to work - enable the Union as a whole to express an opinion on almost any matter. However, like other students' unions, KCLSU does not affiliate to any political party or religious group.
KCLSU also provides almost all the sports clubs, societies and volunteering opportunities available at King's with over 50 sports clubs, 150 societies and thriving student-led Community Engagement and volunteering projects. In 2003-04, King's came top in the
University of London Union
University of London Union
The University of London Union is the university-wide students' union for the University of London...
overall sporting leagues and the medical school (which, like others, are permitted their own, separate teams) came third, showing the dedication to sporting excellence in London.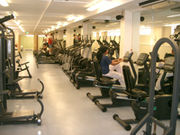 In recent years, KCLSU has waxed and waned as a service provider as the numbers of students at King's increased due to the various mergers of different colleges, but also as the spending profile of students has changed with the introduction of tuition fees in 1997, a drive towards a healthier lifestyle and now with the introduction of
top-up fees
Top-up fees
Tuition fees were first introduced across the entire United Kingdom in September 1998 as a means of funding tuition to undergraduate and postgraduate certificate students at universities, with students being required to pay up to £1,000 a year for tuition...
in 2006-07. Following the closure of the student bar at
St Thomas' Hospital
St Thomas' Hospital
St Thomas' Hospital is a large NHS hospital in London, England. It is administratively a part of Guy's & St Thomas' NHS Foundation Trust. It has provided health care freely or under charitable auspices since the 12th century and was originally located in Southwark.St Thomas' Hospital is accessible...
in 2005 due to Health and Safety reasons, KCLSU currently operates two bars, one nightclub, over 5 rooms of indoor Student Activity Space, the King's shop, and a gym.
In October 2005, KCLSU was awarded the
Investors in People
Investors in People
Launched in 1991 Investors in People is a business improvement tool administered by UK Commission for Employment and Skills and supported by the Department for Business, Innovation and Skills ....
standard. In January 2006, due to increased student concern for the global community, KCLSU took its two-year Fairtrade University campaign as a major priority. In March 2006, the Fairtrade Foundation awarded King's College London Fairtrade University status.
Venues
KCLSU offers students three different venues:
The Waterfront bar
and
Tutu's night club
are situated in the Macadam Building on the Strand campus and
Guy's Bar
at Boland House on Guy's Campus at London Bridge. These establishments offer students social interaction at wallet-friendly prices. Tutu's has hosted multiple artists over the years such as: Feist, Alanis Morissette, A Camp, Vampire Weekend, Bloc Party and Lacuna Coil.
Politics
Although KCLSU is not affiliated to any political party, it is still a political organisation. Those involved in union politics are reflective of the most active students and draw upon the student make-up at King's. In recent years the political affiliation of the President has tended to see-saw between Labour, Independent and Conservative. In 2006/07 the President was
Labour
Labour Party (UK)
The Labour Party is a centre-left democratic socialist party in the United Kingdom. It surpassed the Liberal Party in general elections during the early 1920s, forming minority governments under Ramsay MacDonald in 1924 and 1929-1931. The party was in a wartime coalition from 1940 to 1945, after...
but from 2006 there was a gradual shift to the right until in 2008-2009 saw a
Conservative
Conservative Party (UK)
The Conservative Party, formally the Conservative and Unionist Party, is a centre-right political party in the United Kingdom that adheres to the philosophies of conservatism and British unionism. It is the largest political party in the UK, and is currently the largest single party in the House...
elected, suspended, and then finally impeached for alleged racist comments at a NUS training event. 2009-2011 saw the re-election of a two term President, Ryan Wain, who is regarded by many as a member of the progressive left. Before 2006 the student elected as President was a
Conservative
Conservative Party (UK)
The Conservative Party, formally the Conservative and Unionist Party, is a centre-right political party in the United Kingdom that adheres to the philosophies of conservatism and British unionism. It is the largest political party in the UK, and is currently the largest single party in the House...
from 2003 to 2005, though from 1999–2003, the President was
Labour
Labour Party (UK)
The Labour Party is a centre-left democratic socialist party in the United Kingdom. It surpassed the Liberal Party in general elections during the early 1920s, forming minority governments under Ramsay MacDonald in 1924 and 1929-1931. The party was in a wartime coalition from 1940 to 1945, after...
. However, there has not been a strong history (at least in recent years) of declaring political leanings during election campaigns. Indeed, it is generally accepted that declaring affiliation to a political party is seen by many KCLSU members as a negative. In the recent past, several candidates for President have avoided mentioning party memberships where possible.
KCLSU and the College are increasingly taking a role of partnership when it comes to issues of common concern such as accommodation and facilities, and anything particularly related to the 'student experience'. Some students, however, have decried this policy as capitulating to the establishment and called for a return to more vocal and active campaigning on issues of contention, e.g. accommodation. Other students have voiced approval for this approach as they see it as taking a pragmatic approach to getting the desired outcomes, while leaving petty and party politics behind.
Student political groups
The rise in right-wing tendencies was reflected by the deratification of the
Labour
Labour Students
Labour Students is a student organisation affiliated to the British Labour Party.Membership comprises affiliated college and university clubs . Membership of Labour Students is through membership of a university or college Labour Club. Affiliation is open to any Labour Club generally supportive of...
and
Liberal Democrat
Liberal Democrat Youth and Students
Liberal Youth is the youth and student group of the Liberal Democrats, a political party in the United Kingdom.Liberal Democrat members who are under 26 years old or attending higher education institutions are automatically members of Liberal Youth if they agree to share this information at...
student societies at the end of the 2003-04 academic year because of lack of activity and fewer members than the required minimum for a student group. The
Conservative
Conservative Future
Conservative Future, abbreviated to CF, is the youth movement of the Conservative Party in the United Kingdom for members aged up to 30 years old.Founded in 1998, Conservative Future is the largest political organisation on British campuses...
Society increased its membership that year, with the then-KCLSU President-elect Michael Champion at its head. Michael Champion was also the Societies Officer at the time with responsibility for societies and with shared responsibility for making recommendations on ratifications and de-ratifications. In early 2005, fresh applications for Labour and Liberal Democrat student groups were put forward and approved with close monitoring.
The Labour and Liberal Democrat Societies were again deratified during the 2006/07 academic year because of a lack of members and having held no events for their members. However, in early 2008, the Labour Society was restarted under a new committee, and continues to this day.
A 'Back Boris' campaign group was ratified in Summer 2011 to begin as a society for the 2011-12 academic year, as well as a branch of the Socialist Worker Society: showing that political activity across the spectrum has gained momentum over the last couple of years, bucking the relatively apathetic trend of the past.
Union Governance
The
governance
Governance
Governance is the act of governing. It relates to decisions that define expectations, grant power, or verify performance. It consists of either a separate process or part of management or leadership processes...
of KCLSU
http://www.kclsu.org/about_structure.php
has changed much in its history.
Past structures included a proportionally elected Student Representative Council (similar to a 'parliament') with a 14-strong directly elected 'cabinet', known as the
Executive
Executive (government)
Executive branch of Government is the part of government that has sole authority and responsibility for the daily administration of the state bureaucracy. The division of power into separate branches of government is central to the idea of the separation of powers.In many countries, the term...
Committee ('Exec') who are also the
Trustee
Trustee
Trustee is a legal term which, in its broadest sense, can refer to any person who holds property, authority, or a position of trust or responsibility for the benefit of another...
s of the union. Five Executive Officers are full-time, taking a '
sabbatical
Sabbatical year
Sabbatical or a sabbatical is a rest from work, or a hiatus, often lasting from two months to a year. The concept of sabbatical has a source in shmita, described several places in the Bible...
' year either at the end or in the middle of their degree. They were informally described as the 'sabbatical officers' ('sabbs') but in theory hold no more constitutional weight on the Exec than the part-time officers.
This structure then changed to a 30 strong, cross campus, un-proportionally elected Student Council from 2006-7 until 2010-11. The SC was made up of students still studying on their course, and so representation was a voluntary activity. The SC was supported by and worked with four elected full time Student Officers (still often referred to as Sabbs).
For the 2010-11 academic year, Student Council evolved into a 50 strong cabinet of cross campus elected students. Within the 50, councillors have specific or open roles, with the council being made up as follows:
30 General Representatives - who work with all students in mind
7 Campaign Officers - who work to represent particular 'constituencies', or causes, identified as under represented by KCLSU Officers in the summer 2011
4 Liberation Officers - who work to represent 'oppressed' groups, as identified by the NUS: Women, LGBT, Disabled and BME students
5 NUS delegates - who will attend the NUS annual conference in the Spring, as well as working to represent students at King's throughout the year to Council
4 Academic Board reps - who alongside attending and representing students at Council, also represent students at the College's 4 Academic Boards.
Background
In 2004, KCLSU launched the most ambitious, wide-ranging and grassroots review of student union governance in modern British students' unions. For the first time, a management consultant (formerly a student union General Manager) and a leading firm of charity lawyers worked together to truly examine the nature of the legal relationship between the College and the Union, where the responsibility lay and how best to serve the interests of students. The report was published in early 2005 and suggested a set of proposals that would truly reflect the balance of responsibility and authority within the students' union.
Trustee board
One key proposal involved a slimmed down Trustee board, including non-sabbatical student Trustees and part-time non-student Trustees, in a ratio of 2:1 students and non-student and 2:1 part-time and full-time, with complete Executive power vested within them. The Student Representative Council being the ultimate decision-making body could not be continued as it was incompatible with how the Union actually operated and also Charity law.
Standing committees
The role of the part-time Executive Officers, who in the main held portfolio roles, was not envisaged within the new Trustee board, which would meet far less frequently than the Executive presently does (on the order of months between meetings, rather than weeks). This would help the Trustees focus on strategic decisions, rather than get bogged down in operational detail, which ought to be left to the permanent staff. However, the creation of more "standing committees" or groups that are able to operate and campaign with less regulation and central bureaucratic interaction was approved and the Chairs of these committees would take over the main role of what the part-time officers currently do.
Timescale
Due to the current lengthy legislative process (on behalf of both the Union and the College) that is needed to approve a change in the 'Constitution and Regulations' of KCLSU (the ultimate governing document), the new governance proposals will be implemented over 2005-06 with elections in Spring 2006 for the new system which began operation on 1 August 2006, for academic year 2006-07.
Current Trustees
Student Officers

Hannah Barlow - President
Simisola Smith - VP Academic Affairs
Holly Walsh - VP Student Activities and Facilities
Fran Allfrey - VP Student Media & Engagement
Student Trustees

Oliver Adebayo
Andrew Feneley
Fazley Wali Ahmed

Lay Trustees

Mike Hansen
Steve Rhodes
Seb Elsworth
Matt Atkinson
Donkey From Shrek
Trustees 2009-2010
Student Officers

Ryan Wain - President
Emilie Tapping - VP Academic Affairs
Annushka Amar - VP Student Activities and Facilities
Natasha Wynarczyk - VP Student Media & Engagement
Student Trustees

Oliver Adebayo
Rebecca Samuels
Andrew Feneley
Linda Sjoblom

Lay Trustees

Mike Hansen
Steve Rhodes
Seb Elsworth
Matt Atkinson
Trustees 2008-09
Sabbatical Trustees 2008-09

Christopher Mullan - President
Emily Rowe - VP Academic Affairs
Tony Sebastian - VP Lash & Banter
Pete Ellender - VP Student Media & Engagement - Acting President

Student Trustees 2008-09

Natasha Tanczos
Jo Myer
Ingrid Francis
Tayab Hasan

Lay Trustees

Mike Hansen
Steve Rhodes
Amanda Thompson
Matt Atkinson
Former Sabbatical Officers
| | | | | | |
| --- | --- | --- | --- | --- | --- |
| Position | 2007-08 | 2006-07 | 2005-06 | 2004-05 | 2003-04 |
| President | Adam Farley | Daryn McCombe | Matthew Pusey | Michael Champion | David Dunne |
| VP (Education & Representation) | Jo Williams | Jo Williams | Emma Wynne | Rajesh "Josh" Joshi | Polly Mackwood |
| VP (Student Activities) | Tom AbouNader | Adam Farley | Francesca Doran | Benjamin Philip | Toby Boon |
| VP (Media & Publications) | Pete Ellender | Ed Drummond | Sneha Solanki | Samantha Williams | Alexi Duggins |
| VP (Sites & Services) | Not Applicable | Not Applicable | Lee Peterson | Lee Peterson | Caris Hickey |
| | | | |
| --- | --- | --- | --- |
| Position | 2010-11 | 2009-10 | 2008-09 |
| President | Ryan Wain | Ryan Wain | Christopher Mullan/ Pete Ellender |
| VP Academic Affairs | Emilie Tapping | Emilie Tapping | Emily Rowe |
| VP Student Activities and Facilities | Kia Alam | Annoushka Amar | Tony Sebastian |
| VP Student Media and Engagement | Natasha Wynarczyk | Natasha Wynarczyk | Pete Ellender |
External links