 Killisnoo, Alaska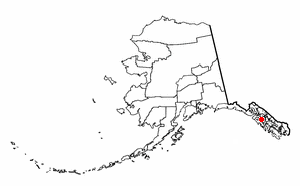 Killisnoo
is an
unincorporated community
Unincorporated area
In law, an unincorporated area is a region of land that is not a part of any municipality.To "incorporate" in this context means to form a municipal corporation, a city, town, or village with its own government. An unincorporated community is usually not subject to or taxed by a municipal government...
on
Killisnoo Island
Killisnoo Island
Killisnoo Island is a small island in the Alexander Archipelago in southeastern Alaska, at . It is located just off the central west coast of Admiralty Island, south of the city of Angoon...
in the Hoonah-Angoon Census Area in the
U.S. state
U.S. state
A U.S. state is any one of the 50 federated states of the United States of America that share sovereignty with the federal government. Because of this shared sovereignty, an American is a citizen both of the federal entity and of his or her state of domicile. Four states use the official title of...
of
Alaska
Alaska
Alaska is the largest state in the United States by area. It is situated in the northwest extremity of the North American continent, with Canada to the east, the Arctic Ocean to the north, and the Pacific Ocean to the west and south, with Russia further west across the Bering Strait...
, near
Angoon
Angoon, Alaska
Angoon is a city on Admiralty Island in Hoonah-Angoon Census Area, Alaska, United States. At the 2000 census the population was 572, by the 2010 census the population had declined to 459...
which is on
Admiralty Island
Admiralty Island
Admiralty Island is an island in the Alexander Archipelago in Southeast Alaska, at . It is 145 km long and 56 km wide with an area of 4,264.1 km² , making it the seventh largest island in the United States and the 132nd largest island in the world. It is one of the...
. Killisnoo is located at 57°30′N 134°34′W.
History
Killisnoo Island has long been inhabited by Tlingit people. In the late 1800s, the Northwest Trading Company built a fish processing plant at Killisnoo and many Tlingit moved from nearby Angoon and other areas to Killisnoo to work at the plant. The plant was destroyed in a fire in 1928 and most of the residents left Killisnoo.
Like Angoon, Killisnoo has a less-rainy climate than most of southeastern Alaska, which is why Killisnoo is now the home of a fishing and hunting establishment by the name of Whaler's Cove Lodge.