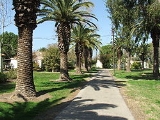 Kibbutz
A
kibbutz
is a
collective community
Intentional community
An intentional community is a planned residential community designed to have a much higher degree of teamwork than other communities. The members of an intentional community typically hold a common social, political, religious, or spiritual vision and often follow an alternative lifestyle. They...
in
Israel
Israel
The State of Israel is a parliamentary republic located in the Middle East, along the eastern shore of the Mediterranean Sea...
that was traditionally based on
agriculture
Agriculture
Agriculture is the cultivation of animals, plants, fungi and other life forms for food, fiber, and other products used to sustain life. Agriculture was the key implement in the rise of sedentary human civilization, whereby farming of domesticated species created food surpluses that nurtured the...
. Today, farming has been partly supplanted by other economic branches, including
industrial plants
Factory
A factory or manufacturing plant is an industrial building where laborers manufacture goods or supervise machines processing one product into another. Most modern factories have large warehouses or warehouse-like facilities that contain heavy equipment used for assembly line production...
and high-tech
enterprises
Business
A business is an organization engaged in the trade of goods, services, or both to consumers. Businesses are predominant in capitalist economies, where most of them are privately owned and administered to earn profit to increase the wealth of their owners. Businesses may also be not-for-profit...
. Kibbutzim began as utopian communities, a combination of
socialism
Socialism
Socialism is an economic system characterized by social ownership of the means of production and cooperative management of the economy; or a political philosophy advocating such a system. "Social ownership" may refer to any one of, or a combination of, the following: cooperative enterprises,...
and
Zionism
Zionism
Zionism is a Jewish political movement that, in its broadest sense, has supported the self-determination of the Jewish people in a sovereign Jewish national homeland. Since the establishment of the State of Israel, the Zionist movement continues primarily to advocate on behalf of the Jewish state...
. In recent decades, some kibbutzim have been privatized and changes have been made in the communal lifestyle. A member of a kibbutz is called a
kibbutznik
.
In 2010, there were 270 kibbutzim in Israel.