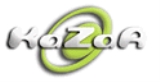 Kazaa
Kazaa Media Desktop
started as a
peer-to-peer file sharing
Peer-to-peer file sharing
P2P or Peer-to-peer file sharing allows users to download files such as music, movies, and games using a P2P software client that searches for other connected computers. The "peers" are computer systems connected to each other through internet. Thus, the only requirements for a computer to join...
application using the
FastTrack protocol
FastTrack (protocol)
FastTrack is a peer-to-peer protocol that was used by the Kazaa, Grokster, iMesh, and Morpheus file sharing programs. FastTrack was the most popular file sharing network in 2003, and used mainly for the exchange of music mp3 files. The network had approximately 2.4 million concurrent users in 2003...
licensed by Joltid Ltd. and operated as Kazaa by
Sharman Networks
Sharman Networks
Sharman Networks is a company headquartered in Australia and incorporated in Vanuatu. It owns the rights to the KaZaA file sharing software...
. Kazaa is now running under license as a legal music subscription service by Atrinsic, Inc.
Kazaa Media Desktop was commonly used to exchange
MP3
MP3
MPEG-1 or MPEG-2 Audio Layer III, more commonly referred to as MP3, is a patented digital audio encoding format using a form of lossy data compression...
music files and other file types, such as videos, applications, and documents over the internet. The Kazaa Media Desktop client could be downloaded free of charge; however, it was bundled with
adware
Adware
Adware, or advertising-supported software, is any software package which automatically plays, displays, or downloads advertisements to a computer. These advertisements can be in the form of a pop-up. They may also be in the user interface of the software or on a screen presented to the user during...
and for a period there were "No spyware" warnings found on Kazaa's website. During the past few years, Sharman Networks and its business partners and associates were the target of copyright-related lawsuits, related to the copyright of content distributed via Kazaa Media Desktop on the FastTrack protocol.
History
Kazaa and FastTrack were originally created and developed by
Estonia
Estonia
Estonia , officially the Republic of Estonia , is a state in the Baltic region of Northern Europe. It is bordered to the north by the Gulf of Finland, to the west by the Baltic Sea, to the south by Latvia , and to the east by Lake Peipsi and the Russian Federation . Across the Baltic Sea lies...
n programmers from BlueMoon Interactive and sold to
Niklas Zennström
Niklas Zennström
Niklas Zennström is an entrepreneur best known for founding several high-profile online ventures with Janus Friis including Skype and Kazaa. More recently he founded the investment group Atomico and has become a significant figurehead for entrepreneurs in the tech sector.-Career:Zennström started...
and
Janus Friis
Janus Friis
Janus Friis is a Danish entrepreneur best known for co-founding the file-sharing application KaZaA, and the peer-to-peer telephony application Skype. In September 2005, he and his partner Niklas Zennström sold Skype to eBay for $2.6B...
(who were later to create
Skype
Skype
Skype is a software application that allows users to make voice and video calls and chat over the Internet. Calls to other users within the Skype service are free, while calls to both traditional landline telephones and mobile phones can be made for a fee using a debit-based user account system...
and later still
Joost
Joost
Joost is an Internet TV service, created by Niklas Zennström and Janus Friis . During 2007-8 Joost used peer-to-peer TV technology to distribute content to their Mozilla-based desktop player; in late 2008 this was migrated to use a Flash-based Web player instead.Joost began development in 2006...
and
Rdio
Rdio
Rdio is an ad-free music subscription service available in the United States, Canada and Brazil. It is available as a website and also has clients for the iPhone, iPod Touch & iPad, Android, BlackBerry and Windows Phone mobile devices, which can play streaming music or cache songs for offline...
). Kazaa was introduced by the
Dutch
Netherlands
The Netherlands is a constituent country of the Kingdom of the Netherlands, located mainly in North-West Europe and with several islands in the Caribbean. Mainland Netherlands borders the North Sea to the north and west, Belgium to the south, and Germany to the east, and shares maritime borders...
company Consumer Empowerment in March 2001, near the end of the first generation of P2P networks typified by the shutdown of
Napster
Napster
Napster is an online music store and a Best Buy company. It was originally founded as a pioneering peer-to-peer file sharing Internet service that emphasized sharing audio files that were typically digitally encoded music as MP3 format files...
in July 2001.
Initially, some users of the Kazaa network were users of the
Morpheus
Morpheus (computer program)
Morpheus was a file sharing and searching peer-to-peer client for Microsoft Windows, developed and distributed by the company StreamCast, that originally used the Opennap protocol, but later supported many different peer-to-peer protocols...
client program, formerly made available by MusicCity, but once the official Kazaa client became more widespread, Kazaa developers used its automatic update ability to shut out Morpheus clients by changing the protocol in February 2002, when Morpheus developers failed to pay license fees. Morpheus later became a client of the
gnutella
Gnutella
Gnutella is a large peer-to-peer network which, at the time of its creation, was the first decentralized peer-to-peer network of its kind, leading to other, later networks adopting the model...
network.
Lawsuits
Consumer Empowerment was sued in the
Netherlands
Netherlands
The Netherlands is a constituent country of the Kingdom of the Netherlands, located mainly in North-West Europe and with several islands in the Caribbean. Mainland Netherlands borders the North Sea to the north and west, Belgium to the south, and Germany to the east, and shares maritime borders...
in 2001 by the Dutch music publishing body,
Buma/Stemra
BUMA/STEMRA
BUMA/STEMRA are two private organizations in the Netherlands, the Buma Association and the Stemra Foundation that operate as one single company that acts as the Dutch collecting society for composers and music publishers.- History :The Buma Association was set up by Dutch music authors and...
. The court ordered Kazaa's owners to take steps to prevent its users from violating copyrights or else pay a heavy fine. In October 2001 a lawsuit was filed against Consumer Empowerment by members of the music and motion picture industry in the USA. In response Consumer Empowerment sold the Kazaa application to
Sharman Networks
Sharman Networks
Sharman Networks is a company headquartered in Australia and incorporated in Vanuatu. It owns the rights to the KaZaA file sharing software...
, headquartered in
Australia
Australia
Australia , officially the Commonwealth of Australia, is a country in the Southern Hemisphere comprising the mainland of the Australian continent, the island of Tasmania, and numerous smaller islands in the Indian and Pacific Oceans. It is the world's sixth-largest country by total area...
and incorporated in
Vanuatu
Vanuatu
Vanuatu , officially the Republic of Vanuatu , is an island nation located in the South Pacific Ocean. The archipelago, which is of volcanic origin, is some east of northern Australia, northeast of New Caledonia, west of Fiji, and southeast of the Solomon Islands, near New Guinea.Vanuatu was...
. In late March 2002, a Dutch court of appeal reversed an earlier judgment and stated that Kazaa was not responsible for the actions of its users. Buma/Stemra lost its appeal before the Dutch Supreme Court in December 2003.
In 2003, Kazaa signed a deal with Altnet and
Streamwaves
Streamwaves
Streamwaves is an online music service launched in 1999. Founded during file sharing service Napster's legal troubles, Streamwaves was the first company to license major label masters for a subscription service, and the first company to launch a subscription service with major label...
to try to convert users to paying, legal customers. Searchers on Kazaa were offered a free 30 second sample of songs for which they were searching and directed to signup for the full featured Streamwaves service.
However, Kazaa's new owner, Sharman, was sued in Los Angeles by the major record labels and motion pictures studios and a class of music publishers. The other defendants in that case (Grokster and MusicCity, makers of the Morpheus file-sharing software) initially prevailed against the plaintiffs on summary judgment (Sharman joined the case too late to take advantage of that ruling). The summary judgment ruling was upheld by the Ninth Circuit Court of Appeals, but was unanimously reversed by the
US Supreme Court
Supreme Court of the United States
The Supreme Court of the United States is the highest court in the United States. It has ultimate appellate jurisdiction over all state and federal courts, and original jurisdiction over a small range of cases...
in a decision titled
MGM Studios, Inc. v. Grokster, Ltd.
MGM Studios, Inc. v. Grokster, Ltd.
MGM Studios, Inc. v. Grokster, Ltd. 545 U.S. 913 is a United States Supreme Court decision in which the Court unanimously held that defendant P2P file sharing companies Grokster and Streamcast could be sued for inducing copyright infringement for acts taken in the course of marketing file sharing...
Following that ruling in favor of the plaintiff labels and studios, Grokster almost immediately settled the case. Shortly thereafter, on 27 July 2006, it was announced that Sharman had also settled with the record industry and motion picture studios. As part of that settlement, the company agreed to pay $100 million in damages to the four major music companies—Universal Music, Sony BMG, EMI and Warner Music—and an undisclosed amount to the studios. Sharman also agreed to convert Kazaa into a legal music download service. Like the creators of similar products, Kazaa's owners have been taken to court by music publishing bodies to restrict its use in the sharing of
copyright
Copyright
Copyright is a legal concept, enacted by most governments, giving the creator of an original work exclusive rights to it, usually for a limited time...
ed material.
While the U.S. action was still pending, the record industry commenced proceedings against Sharman on its home turf. In February 2004, the Australian Record Industry Association (ARIA) announced its own legal action against Kazaa, alleging massive copyright breaches. The trial began on 29 November 2004. On 6 February 2005, the homes of two Sharman Networks executives and the offices of Sharman Networks in Australia were raided under a court order by ARIA to gather evidence for the trial.
On 5 September 2005, the Federal Court of Australia issued a landmark ruling that Sharman, though not itself guilty of copyright infringement, had "authorized" Kazaa users illegally to swap copyrighted songs. The court ruled six defendants—including Kazaa's owners
Sharman Networks
Sharman Networks
Sharman Networks is a company headquartered in Australia and incorporated in Vanuatu. It owns the rights to the KaZaA file sharing software...
, Sharman's Sydney-based boss
Nikki Hemming
Nikki Hemming
Nikki Hemming is the CEO and part owner of Sharman Networks and President of LEF Interactive, an agency based in Sydney, Australia, responsible for promoting and developing Kazaa, a peer-to-peer file sharing network, since 2002...
and associate
Kevin Bermeister
Kevin Bermeister
Kevin Bermeister has developed substantial businesses in the computers, multimedia and Internet industries. He established Ozisoft in 1982 which was one of the first interactive multimedia companies. By 1990 Ozisoft was Australia's largest video games distributor...
—had knowingly allowed Kazaa users illegally to swap copyrighted songs. The company was ordered to modify the software within two months (a ruling enforceable only in Australia). Sharman and the other five parties faced paying millions of dollars in damages to the record labels that instigated the legal action.
On 5 December 2005, the Federal Court of Australia ceased downloads of Kazaa in Australia after Sharman Networks failed to modify their software by the December 5 deadline. Users with an Australian IP address were greeted with the message "Important Notice: The download of the Kazaa Media Desktop by users in Australia is not permitted" when visiting the Kazaa website. Sharman planned to appeal the Australian decision, but ultimately settled the case as part of its global settlement with the record labels and studios in the United States.
In yet another set of related cases, in September 2003, the
RIAA
Recording Industry Association of America
The Recording Industry Association of America is a trade organization that represents the recording industry distributors in the United States...
(trade association of the music industry) filed suit in civil court against several private individuals who had shared large numbers of files with Kazaa; most of these suits were settled with monetary payments averaging $3,000. Sharman Networks responded with a lawsuit against the RIAA, alleging that the terms of use of the network were violated and that unauthorized client software (such as Kazaa Lite, see below) was used in the investigation to track down the individual file sharers. An effort to throw out this suit was denied in January 2004. However, that suit was also settled in 2006 (see above). Most recently, in Duluth, Minnesota, the recording industry sued Jammie Thomas, a 30-year-old single mother. On October 5, 2007, Thomas was ordered to pay the six record companies (Sony BMG, Arista Records LLC,
Interscope Records
Interscope Records
Interscope Records is an American record label owned by Universal Music Group that currently operates as one third of UMG's Interscope-Geffen-A&M label group.-History:...
, UMG Recordings Inc., Capitol Records Inc. and Warner Bros. Records Inc.) $9,250 for each of the 24 songs they had focused on in this case. She was accused of sharing a total of 1,702 songs through her Kazaa account. Along with attorney fees, Thomas may be responsible for owing as much as a half a million dollars. Thomas testified that she does not have a Kazaa account, but her testimony was complicated by the fact that she had replaced her computer's hard drive after the alleged downloading took place, and later than she originally said in a
deposition
Deposition (law)
In the law of the United States, a deposition is the out-of-court oral testimony of a witness that is reduced to writing for later use in court or for discovery purposes. It is commonly used in litigation in the United States and Canada and is almost always conducted outside of court by the...
before the trial.
Ms. Thomas-Rasset appealed the verdict and was given a new trial. In June of 2009 that jury awarded the recording industry plaintiffs a judgment of $80,000 per song, or $1.92 million. This is less than half of the $150,000 amount authorized by statute.
The federal court found the award "monstrous and shocking" and reduced it to $54,000. The recording industry offered to accept a settlement of $25,000, with the money going to charities that support musicians. Apparently undaunted, Ms. Thomas-Rasset was able to obtain a third trial on the issue of damages. In November 2010 she was again ordered to pay for her violation, this time $62,500 per song, for a total of $1.5 million. At last word, her attorneys were examining a challenge to the Constitutional validity of massive statutory damages, where actual damages would have been $24.
Bundled malware
The early Kazaa Media Desktop had been suspected of installing
malware
Malware
Malware, short for malicious software, consists of programming that is designed to disrupt or deny operation, gather information that leads to loss of privacy or exploitation, or gain unauthorized access to system resources, or that otherwise exhibits abusive behavior...
onto users' computers. Sharman, Kazaa's home company, claimed that the products were not adware and did not collect personal user information. At one time, the part of the Kazaa code which was considered adware was an optional part of the Kazaa program. Since the allegations surfaced, the code was bundled into the main Kazaa software, and it was not possible to uninstall it. Also, spyware detection and removal software frequently failed to delete the code without special actions taken by the PC user. Spyware components detected and deleted by removal programs often rendered Kazaa unusable and required reinstallation of the program. This forced the user to allow these programs on their computer to keep KMD working.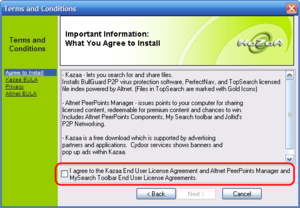 Malware installed by Kazaa included the following:
Cydoor

Cydoor

Cydoor Desktop Media is an Israeli adware company. Cydoor originally placed ads only in software programs such as Kazaa, but has now expanded into running ads on websites as an advertising network....


(spyware): Collects information on the PC's surfing habits and passes it on to Cydoor Desktop Media

Cydoor

Cydoor Desktop Media is an Israeli adware company. Cydoor originally placed ads only in software programs such as Kazaa, but has now expanded into running ads on websites as an advertising network....


.
B3D (adware): An add-on which causes advertising popups if the PC accesses a website which triggers the B3D code.
Altnet (adware): A distribution network for paid "gold" files.
The Best Offers

The Best Offers

The Best Offers is an adware program that tracks visited web pages to display pop-under advertising similar to the user's browsing habits. It came bundled with Kazaa Media Desktop, and many other programs.-External links:...


(adware): Tracks your browsing habits and internet usage to display advertisements similar to your interests.
InstaFinder (hijacker): Redirects your URL typing errors to InstaFinder's web page instead of the standard search page.
TopSearch

TopSearch

TopSearch is adware developed by the company called AltNet Inc.-Removal:This software can be removed by most anti-spyware programs, such as Ad-Aware and Spybot - Search & Destroy.-External links:* *...


(adware): Displays paid songs and media related to your search in Kazaa.
RX Toolbar

RX Toolbar

RX toolbar is a toolbar for Internet Explorer that came bundled with Kazaa Media Desktop. It has been labeled spyware by many antispyware products. It tracks your browsing habits to display related links depending on what websites you visit....


(spyware): The toolbar monitors all the sites you visit with Microsoft Internet Explorer and provides links to competitors' websites.
New.net

New.net

New.net is an alternate DNS root system which is enabled via NewDotNet, a DNS hijacker application, which is usually bundled with legitimate software...


(hijacker): A browser plugin that lets you access several of its own unofficial Top Level Domain names

Top-level domain

A top-level domain is one of the domains at the highest level in the hierarchical Domain Name System of the Internet. The top-level domain names are installed in the root zone of the name space. For all domains in lower levels, it is the last part of the domain name, that is, the last label of a...


, e.g., .chat and .shop. The main purpose of which is to sell domain names such as www.record.shop which is actually www.record.shop.new.net.
As a result of these additional components,
CNET's
CNET
CNET is a tech media website that publishes news articles, blogs, and podcasts on technology and consumer electronics. Originally founded in 1994 by Halsey Minor and Shelby Bonnie, it was the flagship brand of CNET Networks and became a brand of CBS Interactive through CNET Networks' acquisition...
Download.com
Download.com
Download.com is an Internet download directory website, launched in 1996 as a part of CNET. Originally, the domain was download.com.com. The domain download.com attracted at least 113 million visitors annually by 2008 according to a Compete.com study....
site stopped the distribution of KMD in April 2004.
The KMD was also known not to uninstall completely, leaving behind several executables, files, and the KMD installer. It also left behind all the malware initially installed. In an effort to remove the files left behind, Merijn Bellekom (the creator of
HijackThis
HijackThis
HijackThis is a freeware enumerating tool for Microsoft Windows originally created by Merijn Bellekom, and later sold to Trend Micro. The program is notable for targeting browser-hijacking methods, rather than relying on a database of known spyware. It scans a user's computer quickly, and displays...
) created KazaaBeGone, attempting to remove any remnants left behind by KMD's
uninstaller
Uninstaller
An uninstaller, also called a deinstaller, is a utility software designed to remove other software or parts of it from a computer. It is the opposite of an installer.-Components:...
program.
Transitional period
Kazaa's legal issues ended after a settlement of $100 million in reparations to the recording industry. Kazaa, including the domain name, was then sold off to Brilliant Digital Entertainment, Inc. Kazaa now operates as a monthly music subscription service allowing users to download unlimited songs.
Some users still use the old network on the unauthorized versions of Kazaa, either Kazaa Lite or Kazaa Resurrection, which is still a self-sustaining network where thousands of users still share unrestricted content. This fact was previously stated by Kazaa when they claimed their FastTrack network was not centralized (like the old Napster), but instead a link between millions of computers around the world.
However, in the wake of the bad publicity and lawsuits, the number of users on Kazaa Lite has dropped dramatically. They have gone from several millions of users at a given time to mere thousands.
Without further recourse, and until the lawsuit was settled, the RIAA actively sued thousands of people across the USA for sharing copyrighted music across the network. College campus networks were also a focus of the RIAA's many lawsuits. Many of these cases are still in the process of being settled or are headed for trial. Although the lawsuits were mainly in the United States, other countries also began to follow suit.
Variations
This section is limited to those programs which are based on the official Kazaa Media Desktop client. For other FastTrack-compatible clients, see FastTrack.
Kazaa Lite
Kazaa Lite
Kazaa Lite can refer to one of many third-party modifications of Kazaa, a peer-to-peer file-sharing computer program. These clients are unauthorized modifications of the Kazaa Media Desktop application, which typically exclude malware and may provide additional features.-Background:The first...
was an unauthorized modification of the Kazaa Media Desktop application which excluded adware and spyware and provided slightly extended functionality. It became available in April 2002. It was available free of charge, and as of mid-2005 was almost as widely used as the official Kazaa client itself. It connected to the same FastTrack network and thus allowed to exchange files with all Kazaa users, and was created by third party programmers by modifying the
binary
Binary file
A binary file is a computer file which may contain any type of data, encoded in binary form for computer storage and processing purposes; for example, computer document files containing formatted text...
of the original Kazaa application. Later versions of Kazaa Lite included
K++
, a memory patcher that removed search limit restrictions, and set one's "participation level" to the maximum of 1000. Sharman Networks considers Kazaa Lite to be a
copyright
Copyright
Copyright is a legal concept, enacted by most governments, giving the creator of an original work exclusive rights to it, usually for a limited time...
violation.
After development of Kazaa Lite stopped,
K-Lite v2.6
,
Kazaa Lite Resurrection
and
Kazaa Lite Tools
appeared. Unlike Kazaa Lite, which is a modification of an old version of Kazaa, K-Lite v2.6 and later require the corresponding original KMD executable to run. K-Lite doesn't include any code by Sharman: instead, it runs the user's original Kazaa Media Desktop executable in an environment which removes the malware, spyware and adware and adds features.
In November 2004, the developers of K-Lite released
K-Lite v2.7
, which similarly requires the KMD 2.7 executable.
Currently, other clean variants use an older core (2.02) and thus, K-Lite had some features that others didn't have. K-Lite included multiple search tabs, a custom toolbar, and autostart, a download accelerator, an optional splash screen, preview with option (to view files you are currently downloading), an IP blocker, Magnet links support, and ad blocking, although the clients based on the 2.02 core abstract these functions to third-party programs.
Kazaa Lite Tools
was an update of the original Kazaa Lite, with modifications to the third-party programs included, it is newer and includes more tools.
Kazaa Lite Resurrection
(
KLR
) appeared almost immediately after Kazaa Lite development was stopped in August 2003. KLR was a copy of Kazaa Lite 2.3.3.
See also
External links
"Malware prevalence in the KaZaA file-sharing network". Seungwon Shin, Jaeyeon Jung, and Hari Balakrishnan

Hari Balakrishnan

Hari Balakrishnan is a Professor in the Department of Electrical Engineering and Computer Science at MIT. He is well-known for his contributions to computer networks and networked computer systems, including overlay and peer-to-peer networks, Internet routing and congestion control, wireless and...


. 2006.