 Kaunas University of Medicine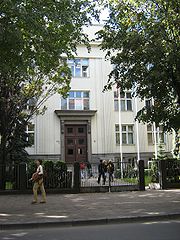 Lithuanian University of Health Sciences
) is a
medical school
Medical school
A medical school is a tertiary educational institution—or part of such an institution—that teaches medicine. Degree programs offered at medical schools often include Doctor of Osteopathic Medicine, Bachelor/Doctor of Medicine, Doctor of Philosophy, master's degree, or other post-secondary...
in
Kaunas
Kaunas
Kaunas is the second-largest city in Lithuania and has historically been a leading centre of Lithuanian economic, academic, and cultural life. Kaunas was the biggest city and the center of a powiat in Trakai Voivodeship of the Grand Duchy of Lithuania since 1413. During Russian Empire occupation...
,
Lithuania
Lithuania
Lithuania , officially the Republic of Lithuania is a country in Northern Europe, the biggest of the three Baltic states. It is situated along the southeastern shore of the Baltic Sea, whereby to the west lie Sweden and Denmark...
. It was founded in 1919 and from 1922 it was a Faculty of
Medicine
Medicine
Medicine is the science and art of healing. It encompasses a variety of health care practices evolved to maintain and restore health by the prevention and treatment of illness....
of University of Lithuania.
In 1950, after the closure of
Kaunas University
Vytautas Magnus University
Vytautas Magnus University ) is a public university in Kaunas, Lithuania. The university was founded in 1922 during the interwar period as an alternate national university...
, it was reformed into a separate institution and was known as
Kaunas Medical Institute
until 1998. From 1998 to 2010 its name was
Kaunas University of Medicine
.
The university has five faculties: medical, pharmacological, odontological,
nursing
Nursing
Nursing is a healthcare profession focused on the care of individuals, families, and communities so they may attain, maintain, or recover optimal health and quality of life from conception to death....
, and social health, together with four research institutes. It uses the Kaunas University Hospital and the
Kaunas Red Cross Hospital
Kaunas Red Cross Hospital
Red Cross Hospital in Kaunas is the oldest still functioning hospital in the city and in Lithuania.-History:Hospital was founded November 29, 1908 and recently has celebrated its 100 years of activity....
as a
teaching hospital
Teaching hospital
A teaching hospital is a hospital that provides clinical education and training to future and current doctors, nurses, and other health professionals, in addition to delivering medical care to patients...
s.
Lithuanian University of Health Sciences is located in
Kaunas Center
Centras (Kaunas)
Centras is an elderate in the city of Kaunas, Lithuania, based on two neighbourhoods of Kaunas - the Old City and the New City. It lies at the confluence of two major Lithuanian rivers, the Nemunas and the Neris....
, Adomas Mickevičius Street.
External links