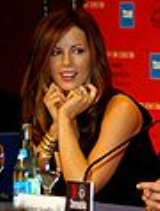 Kate Beckinsale
Kathryn Bailey "Kate" Beckinsale (born 26 July 1973) is an English actress. After some minor television roles, she made her film debut in
Much Ado About Nothing
Much Ado About Nothing (film)
Much Ado About Nothing is a 1993 British/American romantic comedy film based on William Shakespeare's play. It was adapted for the screen and directed by Kenneth Branagh, who also played the role of Benedick....
(1993) while still a student at
Oxford University
University of Oxford
The University of Oxford is a university located in Oxford, United Kingdom. It is the second-oldest surviving university in the world and the oldest in the English-speaking world. Although its exact date of foundation is unclear, there is evidence of teaching as far back as 1096...
. She then appeared in British
costume drama
Costume drama
A costume drama or period drama is a period piece in which elaborate costumes, sets and properties are featured in order to capture the ambiance of a particular era.The term is usually used in the context of film and television...
s such as
Prince of Jutland
Prince of Jutland
Prince of Jutland is a 1994 film adaptation of the Danish legend of prince Amleth, drawing upon the 11th century works of Saxo Grammaticus, which was also the inspiration for Shakespeare's Hamlet....
(1994), Cold Comfort Farm (1995), Emma (1996) and
The Golden Bowl
The Golden Bowl (film)
The Golden Bowl is a 2000 American/British/French drama film directed by James Ivory. The screenplay by Ruth Prawer Jhabvala is based on the 1904 novel of the same title by Henry James, who considered the work his masterpiece.-Plot:...
(2000), in addition to various stage and radio productions. She began to seek film work in the United States in the late 1990s and, after appearing in small-scale dramas
The Last Days of Disco
The Last Days of Disco
The Last Days of Disco is a 1998 sardonic comedy-drama film written and directed by Whit Stillman and loosely based on his travels and experiences in various nightclubs in Manhattan, including Studio 54. The film concerns a group of Ivy League and Hampshire graduates falling in and out of love in...
(1998) and
Brokedown Palace
Brokedown Palace
Brokedown Palace is an American film directed by Jonathan Kaplan, and starring Claire Danes and Kate Beckinsale. It deals with two American friends imprisoned in Thailand for drug smuggling. Because it presents a critical view of the Thai legal system, most scenes were filmed in the Philippines;...
(1999), she had a breakout year in 2001 with starring roles in war epic
Pearl Harbor
Pearl Harbor (film)
Pearl Harbor is a 2001 American action drama war film directed by Michael Bay and produced by Jerry Bruckheimer and Randall Wallace, who wrote the screenplay...
and romantic comedy
Serendipity
Serendipity (film)
Serendipity is a 2001 romantic comedy, starring John Cusack and Kate Beckinsale. It was written by Marc Klein and directed by Peter Chelsom...
.
I sort of ended up in Los Angeles by accident. And it was sort of terrible to be jostled into this position of a fame-hungry starlet. Which is so honestly not me! In fact, I could use a bit more of that because I am such a hermit! So I allowed myself to get really bothered.

Allure magazine, March 2008.
I think that's why I gravitated toward slightly broader... ummm, more conceptual kinds of movies, Underworld and Van Helsing. That was as much as I could actually give. But you're actually more of an animated figure. It does go against the grain, as an actor.

On the effect the arrival of her daughter had on her acting work. Allure magazine, March 2008.
Boyfriends? In my life I have had three. Three. Only a handful of people have seen into the Pharaoh's tomb.

Allure magazine, March 2008.
People still say to me, 'What was it like being in such a huge flop?' The amount of hatred and vitriol was surprising.

Referring to Pearl Harbor (2001). Allure magazine, March 2008.