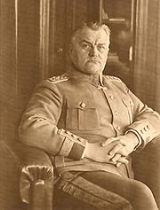 Karl Fredrik Wilkama
Karl Fredrik Wilkama
, born
Wilkman
, (27 March 1876 – 15 July 1947,
Helsinki
Helsinki
Helsinki is the capital and largest city in Finland. It is in the region of Uusimaa, located in southern Finland, on the shore of the Gulf of Finland, an arm of the Baltic Sea. The population of the city of Helsinki is , making it by far the most populous municipality in Finland. Helsinki is...
) was a
Finnish
Finland
Finland , officially the Republic of Finland, is a Nordic country situated in the Fennoscandian region of Northern Europe. It is bordered by Sweden in the west, Norway in the north and Russia in the east, while Estonia lies to its south across the Gulf of Finland.Around 5.4 million people reside...
General of the Infantry
General
A general officer is an officer of high military rank, usually in the army, and in some nations, the air force. The term is widely used by many nations of the world, and when a country uses a different term, there is an equivalent title given....
. He was the supreme commander of the
Finnish Defence Forces
Finnish Defence Forces
The Finnish Defence Forces are responsible for the defence of Finland. It is a cadre army of 15,000, of which 8,900 are professional soldiers , extended with conscripts and reservists such that the standard readiness strength is 34,700 people in uniform...
.
Wilkama became an officer in the
Imperial Russian Army
Imperial Russian Army
The Imperial Russian Army was the land armed force of the Russian Empire, active from around 1721 to the Russian Revolution of 1917. In the early 1850s, the Russian army consisted of around 938,731 regular soldiers and 245,850 irregulars . Until the time of military reform of Dmitry Milyutin in...
in 1899. According to the records, he started his military career on 30 May 1889, when he was only 13.
Wilkama was appointed General Major on 12 April 1918.
Major General Wilkama was appointed Commander-in-chief of the Finnish Army on 31 May 1918, when General of the Cavalry
Mannerheim
Carl Gustaf Emil Mannerheim
Baron Carl Gustaf Emil Mannerheim was the military leader of the Whites in the Finnish Civil War, Commander-in-Chief of Finland's Defence Forces during World War II, Marshal of Finland, and a Finnish statesman. He was Regent of Finland and the sixth President of Finland...
was granted leave from his position.
Our eyes have seen the skies burning red,Angels singing, voices full of dread,We see the lies but never ask why?The seeds of sorrow the blood they cry.

"Deep Down Inside", Dream (album)|Dream.
I've seen this before yeah I've been there too,This aint for me..not what I want,I've loved honestly and it always hurts,Can't feel this no more..it's gotta be true.

"Not Gonna Fall", Dream (album)|Dream.
I knew you are,Just like an angel sent from above,In your embrace,You give me more than,I could ever dream of.

"You Bring Out the Best In Me", Gemilang|Gemilang, 2004