 Kantharos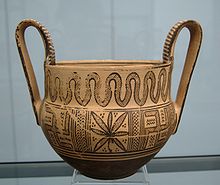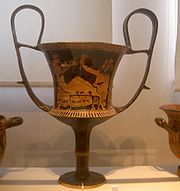 A
kantharos
or
cantharus
is a type of
Greek pottery
Pottery of Ancient Greece
As the result of its relative durability, pottery is a large part of the archaeological record of Ancient Greece, and because there is so much of it it has exerted a disproportionately large influence on our understanding of Greek society...
used for drinking. It is characterized by its high swung handles which extend above the lip of the pot.
The god
Dionysus
Dionysus
Dionysus was the god of the grape harvest, winemaking and wine, of ritual madness and ecstasy in Greek mythology. His name in Linear B tablets shows he was worshipped from c. 1500—1100 BC by Mycenean Greeks: other traces of Dionysian-type cult have been found in ancient Minoan Crete...
had a kantharos which was never empty.