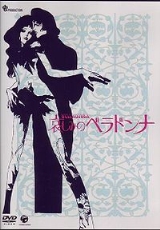 Kanashimi no Belladonna
, also known as "The Tragedy of Belladonna", is a 1973
feature film
Feature film
In the film industry, a feature film is a film production made for initial distribution in theaters and being the main attraction of the screening, rather than a short film screened before it; a full length movie...
produced by the Japanese
animation studio
Animation studio
An animation studio is a company producing animated media. The broadest such companies conceive of products to produce, own the physical equipment for production, employ operators for that equipment, and hold a major stake in the sales or rentals of the media produced...
Mushi Production
Mushi Production
Mushi Production , or Mushi Pro for short, is a Japanese animation studio headquartered in Nerima, Tokyo, Japan....
and distributor Nippon Herald Films. Directed and co-written by
Eiichi Yamamoto
Eiichi Yamamoto
Eiichi Yamamoto is a Japanese film director and screenwriter of Anime. He directed ten films between 1962 and 1986. His 1973 film Kanashimi no Belladonna was entered into the 23rd Berlin International Film Festival....
and inspired by
Jules Michelet
Jules Michelet
Jules Michelet was a French historian. He was born in Paris to a family with Huguenot traditions.-Early life:His father was a master printer, not very prosperous, and Jules assisted him in the actual work of the press...
's
non-fiction
Non-fiction
Non-fiction is the form of any narrative, account, or other communicative work whose assertions and descriptions are understood to be fact...
book
Satanism and Witchcraft
Satanism and Witchcraft
Satanism And Witchcraft is a book by Jules Michelet on the history of witchcraft, published, originally in French, in 1862. The first English translation was published in London in 1863. According to Michelet, medieval witchcraft was an act of popular rebellion against the oppression of feudalism...
, it is the third and final film in the
Animerama
Animerama
is a series of thematically-related adult anime feature films originally conceived and initiated by Osamu Tezuka and made at his Mushi Production animation studio from the late 1960s to early 1970s, perhaps intended as animated counterparts to the then-emergent pink films .As well as the erotic...
trilogy and the only one to be neither written nor directed by
Osamu Tezuka
Osamu Tezuka
was a Japanese cartoonist, manga artist, animator, producer, activist and medical doctor, although he never practiced medicine. Born in Osaka Prefecture, he is best known as the creator of Astro Boy, Kimba the White Lion and Black Jack...
(he left Mushi Production during the film's early stages to concentrate on his
comics
Manga
Manga is the Japanese word for "comics" and consists of comics and print cartoons . In the West, the term "manga" has been appropriated to refer specifically to comics created in Japan, or by Japanese authors, in the Japanese language and conforming to the style developed in Japan in the late 19th...
and his conceptual-stage contribution is uncredited).
Well, their poster child doesn't know it yet, but she's into me.

I guess I'll see you around...'same bat time' or whatever.

[to Janet] Remember when you got drunk and nearly got the chancellor of Bulgaria killed? I covered for you!

[to Lucy] I'm here because I feel more like me when I'm with you, than I do when I'm with me.

I think love should be irresistible, like a drug, you know? I think when it happens you should just not be able to help yourself. I just - I wanted... more. Dominique: You're not as boring as I thought. But you're not as bright, either.

Mr Phipps: You are a perfect liar.

Scud: Knock 'em dead... but not really.

Janet: Have you seen my gun?

They're crime-fighting hotties with killer bodies.