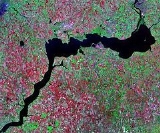 Kakhovka Reservoir
The
Kakhovka Reservoir
is a water reservoir located on the
Dnieper River
Dnieper River
The Dnieper River is one of the major rivers of Europe that flows from Russia, through Belarus and Ukraine, to the Black Sea.The total length is and has a drainage basin of .The river is noted for its dams and hydroelectric stations...
. It covers a total surface area of 2,155 square kilometres in the territories of the
Kherson
Kherson Oblast
Kherson Oblast is an oblast in southern Ukraine, just north of Crimea. Its administrative center is Kherson. The area of the region is 29000 km², its population is 1.12 million.Important cities in the oblast include:...
,
Zaporizhia
Zaporizhia Oblast
Zaporizhia Oblast is an oblast of southern Ukraine. Its capital is Zaporizhia.This oblast is an important part of Ukraine's industry and agriculture.-Geography:...
, and the
Dnipropetrovsk Oblast
Dnipropetrovsk Oblast
Dnipropetrovsk Oblast is an oblast of central Ukraine, the most important industrial region of the country. Its administrative center is Dnipropetrovsk....
s of
Ukraine
Ukraine
Ukraine is a country in Eastern Europe. It has an area of 603,628 km², making it the second largest contiguous country on the European continent, after Russia...
. The reservoir was created in 1956 when the Kakhovka Hydroelectric Power Plant was built.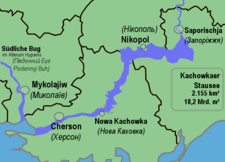 The reservoir is 240 km long, up to 23 km wide, and has an average depth of 8.4 meters (with depth varying from 3 to 26 m). The total water volume is 18.2 km³. It is mainly used to supply hydroelectric stations, the Krasnoznamianka Irrigation System and the Kakhivka Irrigation System, industrial plants, freshwater-fish farms, the North Crimean Canal and the Dnieper–Kryvyi Rih Canal. With its creation, it has created a deep-water route, allowing deep-sea ships to sail up the Dnieper.
The lands of the former Zaporizhian Host now lay under the Kakhovka Reservoir.