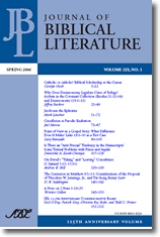 Journal of Biblical Literature
The
Journal of Biblical Literature
(
JBL
) is one of three
theological journals
published by the
Society of Biblical Literature
Society of Biblical Literature
The Society of Biblical Literature, founded 1880, is a constituent society of the American Council of Learned Societies , with the stated mission to "Foster Biblical Scholarship"...
(SBL).
First published in 1881,
JBL
is the flagship journal of the field.
JBL
is published quarterly and includes scholarly articles, critical notes, and book reviews by members of the Society.
JBL
is available on line as well as in print:
"
JBL
has a moving window of Open Access. Aside from the current issue, the past three years of
JBL
are openly available to the public in PDF form on the SBL website. Previous issues, back to 1881, are available in the JSTOR Arts and Sciences III collection."
History
The journal was originally published under the title
Journal of the Society of Biblical Literature and Exegesis
. The current name was adopted with volume 9 (1890).
At the fourth meeting, on 29 December 1881, the SBL council voted to print 500 copies of a journal, including the full text of papers read at the society's annual June meetings.
JBL
was, at first, an annual serial, from 1882 to 1905 (though two serials appeared in each of 1886 and 1887).
JBL
became semiannual from 1906 to 1911, and has been quarterly since 1912 (with a hiatus in 1915 and exceptional years with only two serials).
In 1916, the SBL secretary passed on to the members a communication, from the Third Assistant Postmaster General of the United States, refusing to give the
JBL
the second-class rate discount for scholarly journals, "on the ground that it was not scientific."
"The Journal of the Society for Biblical Literature in the United States was published in Leipzig through World War I down to the Nazi period—yet for the most part this feature showed up only when it became a problem for delivery after Germany began to be devastated after 1916."
Samuel Sharpe
Samuel Sharpe (scholar)
Samuel Sharpe was an English Unitarian Egyptologist and translator of the Bible.-Life:He was the second son of Sutton Sharpe , brewer, by his second wife, Maria , and was born in King Street, Golden Square, London, on 8 March 1799, baptised at St. James's, Piccadilly...
, an English ordained minister and
egyptologist
Egyptology
Egyptology is the study of ancient Egyptian history, language, literature, religion, and art from the 5th millennium BC until the end of its native religious practices in the AD 4th century. A practitioner of the discipline is an "Egyptologist"...
was editor of a journal also called
Journal of Bibilical Literature
, published from London prior to the establishment of SBL and its journal.
Editors
JBL
editors:
1880–1883
Frederic Gardiner
1883–1889
Hinckley Gilbert Thomas Mitchell
1889–1894
George Foot Moore

George Foot Moore

George Foot Moore He graduated from Yale University in 1872, where he was a member of Skull and Bones. He was awarded the highest theological qualifiction – the D.D....



1894–1900
David G. Lyon
1901–1904
Lewis B. Paton
1905–1906
James Hardy Ropes
1907
Benjamin W. Bacon
1908–1909
Julius A. Bewer
1910–1913
James A. Montgomery
1914–1921
Max Leopold Margolis

Max Margolis

Max Leopold Margolis was a Lithuanian-born American philologist. Son of Isaac Margolis; educated at the elementary school of his native town, the Leibniz gymnasium, Berlin, and Columbia University, New York city...



1922–1929
George Dahl
1930–1933
Carl H. Kraeling
1934
George Dahl
1935–1942
Erwin R. Goodenough
1943–1947
Robert H. Pfeiffer
1948–1950
J. Philip Hyatt
1951–1954
Robert C. Dentan
1955–1959
David Noel Freedman

David Noel Freedman

David Noel Freedman , son of the writer David Freedman, was a biblical scholar, author, editor, archaeologist, and ordained Presbyterian minister ....



1960–1969
Morton S. Enslin
1970
John HP Reumann
1971–1976
Joseph Augustine Fitzmyer

Joseph Fitzmyer

Rev. Joseph Augustine Fitzmyer, S.J., is a priest of the Society of Jesus and a New Testament scholar.He entered the Maryland Province, made his novitiate in Wernersville, PA, and was ordained on July 30, 1938. His academic studies were done at Loyola University of Chicago; Facultes St-Albert de...



1977–
John Henry Hayes

John Henry Hayes

John Henry Hayes FRSA is a British Conservative Party politician. He is the Member of Parliament for South Holland and The Deepings, and a member of the socially conservative Cornerstone Group...



Note: the title editor was introduced in 1938, the SBL secretary fulfilling the role in prior years.
External links
Other sources
AE Harvey, 'Learned Journals - New Testament Studies: Journal for the Study of the New Testament. Journal of Biblical Literature.', Times Literary Supplement 5426 (30 March, 2007): 23-24.
Ernest W. Saunders, Searching the Scriptures: A History of the Society of Biblical Literature 1880–1980, (Chico: Scholars Press, 1982).