 John S. Collins
John Stiles Collins
was an
American
United States
The United States of America is a federal constitutional republic comprising fifty states and a federal district...
Quaker
Religious Society of Friends
The Religious Society of Friends, or Friends Church, is a Christian movement which stresses the doctrine of the priesthood of all believers. Members are known as Friends, or popularly as Quakers. It is made of independent organisations, which have split from one another due to doctrinal differences...
farmer
Farmer
A farmer is a person engaged in agriculture, who raises living organisms for food or raw materials, generally including livestock husbandry and growing crops, such as produce and grain...
from
Moorestown Township, New Jersey
Moorestown Township, New Jersey
-Demographics:At the 2000 census, there were 19,017 people, 6,971 households, and 5,270 families residing in the township. The population density was 1,287.3 per square mile . There were 7,211 housing units at an average density of 488.1 per square mile...
who moved to southern
Florida
Florida
Florida is a state in the southeastern United States, located on the nation's Atlantic and Gulf coasts. It is bordered to the west by the Gulf of Mexico, to the north by Alabama and Georgia and to the east by the Atlantic Ocean. With a population of 18,801,310 as measured by the 2010 census, it...
and attempted to grow vegetables and coconuts on the swampy, bug-infested stretch of land between Miami and the ocean, a
barrier island
Barrier island
Barrier islands, a coastal landform and a type of barrier system, are relatively narrow strips of sand that parallel the mainland coast. They usually occur in chains, consisting of anything from a few islands to more than a dozen...
which became
Miami Beach
Miami Beach, Florida
Miami Beach is a coastal resort city in Miami-Dade County, Florida, United States, incorporated on March 26, 1915. The municipality is located on a barrier island between the Atlantic Ocean and Biscayne Bay, the latter which separates the Beach from Miami city proper...
.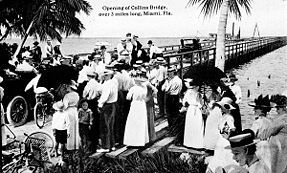 Although the farming venture was not successful, with involvement from his family, notably his sons and sons-in law, John S. Collins also became a land developer. He and his family formed the Miami Beach Improvement Company in 1911, instituted the first recorded use of the term "Miami Beach", and built the
Collins Bridge
Collins Bridge
The Collins Bridge was a bridge that crossed Biscayne Bay between Miami and Miami Beach, Florida. At the time it was completed, it was the longest wooden bridge in the world. It was built by farmer and developer John S. Collins with financial assistance from automotive parts and racing pioneer...
across
Biscayne Bay
Biscayne Bay
Biscayne Bay is a lagoon that is approximately 35 miles long and up to 8 miles wide located on the Atlantic coast of South Florida, United States. It is usually divided for purposes of discussion and analysis into three parts: North Bay, Central Bay, and South Bay. Its area is...
from the established
City of Miami
Miami, Florida
Miami is a city located on the Atlantic coast in southeastern Florida and the county seat of Miami-Dade County, the most populous county in Florida and the eighth-most populous county in the United States with a population of 2,500,625...
in 1913. They built a casino, an oceanfront hotel and began residential development of the island.
The Collins Bridge project ran short of funds and the 2.5 mile (4 km) long wooden
toll bridge
Toll bridge
A toll bridge is a bridge over which traffic may pass upon payment of a toll, or fee.- History :The practice of collecting tolls on bridges probably harks back to the days of ferry crossings where people paid a fee to be ferried across stretches of water. As boats became impractical to carry large...
was in danger of not being completed when 74 year old Collins struck a deal with automotive pioneer and millionaire
Carl G. Fisher
Carl G. Fisher
Carl Graham Fisher was an American entrepreneur. Despite having severe astigmatism, he became a seemingly tireless pioneer and promoter of the automotive, auto racing, and real estate development industries...
(1874–1939) to loan him the needed funds in exchange for 200 acres (800,000 m²) of land. Fisher later described John Collins as "a bantam rooster, cocky and unafraid."
The Collins Bridge was located at the southern terminus of promoter Fisher's
Dixie Highway
Dixie Highway
The Dixie Highway was a United States automobile highway, first planned in 1914 to connect the US Midwest with the Southern United States. It was part of the National Auto Trail system, and grew out of an earlier Miami to Montreal highway. The final result is better understood as a small network of...
project, which brought traffic from the mid-west as part of the
National Auto Trail
National auto trail
The system of auto trails was an informal network of marked routes that existed in the United States and Canada in the early part of the 20th century. Marked with colored bands on telephone poles, the trails were intended to help travellers in the early days of the automobile.Auto trails were...
road system. Collins, his family, and Fisher all became very wealthy with the development of Miami Beach, which had a 400% increase in resident population between 1920 and 1925.
John S. Collins died in 1928 at the age of 90. Collins Avenue and the Collins Canal, both on Miami Beach, are named in his honor.
Further reading
Kennedy, Patricia, Miami Beach, Arcadia Publishing, Images of America series, 2006
External links