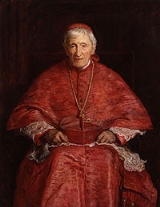 John Henry Cardinal Newman
John Henry Newman
, D.D.,
C.O.
Oratory of Saint Philip Neri
The Oratory of Saint Philip Neri is a congregation of Catholic priests and lay-brothers who live together in a community bound together by no formal vows but only with the bond of charity. They are commonly referred to as Oratorians...
(21 February 1801 – 11 August 1890), also referred to as
Cardinal Newman
and
Blessed John Henry Newman
, was an important figure in the religious history of England in the 19th century. He was known nationally by the mid-1830s.
Originally an evangelical Oxford academic and priest in the
Church of England
Church of England
The Church of England is the officially established Christian church in England and the Mother Church of the worldwide Anglican Communion. The church considers itself within the tradition of Western Christianity and dates its formal establishment principally to the mission to England by St...
, Newman was a leader in the
Oxford Movement
Oxford Movement
The Oxford Movement was a movement of High Church Anglicans, eventually developing into Anglo-Catholicism. The movement, whose members were often associated with the University of Oxford, argued for the reinstatement of lost Christian traditions of faith and their inclusion into Anglican liturgy...
. This influential grouping of Anglicans wished to return the Church of England to many Catholic beliefs and forms of worship traditional in the medieval times to restore ritual expression.
Ex umbris et imaginibus in vertitatem!

Translation: From shadows and symbols into the truth!
After he had gone over the mansion, his entertainer asked him what he thought of the splendours it contained; and he in reply did full justice to the riches of its owner and the skill of its decorators, but he added, "Lions would have fared better, had lions been the artists."

Lecture I, Section 1