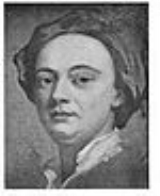 John Gay
John Gay
was an
English
English people
The English are a nation and ethnic group native to England, who speak English. The English identity is of early mediaeval origin, when they were known in Old English as the Anglecynn. England is now a country of the United Kingdom, and the majority of English people in England are British Citizens...
poet
Poet
A poet is a person who writes poetry. A poet's work can be literal, meaning that his work is derived from a specific event, or metaphorical, meaning that his work can take on many meanings and forms. Poets have existed since antiquity, in nearly all languages, and have produced works that vary...
and dramatist and member of the
Scriblerus Club
Scriblerus Club
The Scriblerus Club was an informal group of friends that included Jonathan Swift, Alexander Pope, John Gay, John Arbuthnot, Henry St. John and Thomas Parnell. The group was founded in 1712 and lasted until the death of the founders, starting in 1732 and ending in 1745, with Pope and Swift being...
. He is best remembered for
The Beggar's Opera
The Beggar's Opera
The Beggar's Opera is a ballad opera in three acts written in 1728 by John Gay with music arranged by Johann Christoph Pepusch. It is one of the watershed plays in Augustan drama and is the only example of the once thriving genre of satirical ballad opera to remain popular today...
(1728), set to music by
Johann Christoph Pepusch
Johann Christoph Pepusch
Johann Christoph Pepusch , also known as John Christopher Pepusch and Dr Pepusch, was a German-born composer who spent most of his working life in England....
. The characters, including Captain Macheath and Polly Peachum, became household names.
Gay was born in
Barnstaple
Barnstaple
Barnstaple is a town and civil parish in the local government district of North Devon in the county of Devon, England, UK. It lies west southwest of Bristol, north of Plymouth and northwest of the county town of Exeter. The old spelling Barnstable is now obsolete.It is the main town of the...
, England and was educated at the town's
grammar school
Grammar school
A grammar school is one of several different types of school in the history of education in the United Kingdom and some other English-speaking countries, originally a school teaching classical languages but more recently an academically-oriented secondary school.The original purpose of mediaeval...
. On leaving school he was apprenticed to a silk mercer in
London
London
London is the capital city of :England and the :United Kingdom, the largest metropolitan area in the United Kingdom, and the largest urban zone in the European Union by most measures. Located on the River Thames, London has been a major settlement for two millennia, its history going back to its...
, but being weary, according to
Samuel Johnson
Samuel Johnson
Samuel Johnson , often referred to as Dr. Johnson, was an English author who made lasting contributions to English literature as a poet, essayist, moralist, literary critic, biographer, editor and lexicographer...
, "of either the restraint or the servility of his occupation", he soon returned to Barnstaple, where he was educated by his uncle, the Rev. John Hanmer, the
Nonconformist
Nonconformism
Nonconformity is the refusal to "conform" to, or follow, the governance and usages of the Church of England by the Protestant Christians of England and Wales.- Origins and use:...
minister of the town.
So comes a reckoning when the banquet's o'er,—The dreadful reckoning, and men smile no more.

The What d' ye call it (1715). Compare: "The time of paying a shot in a tavern among good fellows, or Pantagruelists, is still called in France a 'quart d'heure de Rabelais,'—that is, Rabelais's quarter of an hour, when a man is uneasy or melancholy", Life of Rabelais (Bohn's edition), p. 13.
My lodging is on the cold ground,And hard, very hard, is my fare,But that which grieves me moreIs the coldness of my dear.

My Lodging Is on the Cold Ground (1720), st. 1.
No retreat. No retreat. They must conquer or die who've no retreat.

"We've Cheated the Parson" (song), Polly: an Opera (1729), Air 46, Act II, sc. x.
Life is a jest; and all things show it.I thought so once; and now I know it.

My Own Epitaph, inscribed on Gay's monument in Westminster Abbey; also quoted as "I thought so once; but now I know it".
All in the Downs the fleet was moor'd.

Sweet William's Farewell to Black-eyed Susan, reported in Bartlett's Familiar Quotations, 10th ed. (1919).
Adieu, she cried, and waved her lily hand.

Sweet William's Farewell to Black-eyed Susan, reported in Bartlett's Familiar Quotations, 10th ed. (1919).
Remote from cities liv'd a swain,Unvex'd with all the cares of gain;His head was silver'd o'er with age,And long experience made him sage.

Introduction, "The Shepherd and the Philosopher".
Whence thy learning? Hath thy toilO'er books consumed the midnight oil?

Introduction, "The Shepherd and the Philosopher"; "Midnight oil" was a common phrase, used by Quarles, Shenstone, Cowper, Lloyd, and others.
Where yet was ever found a motherWho'd give her booby for another?

Fable III, "The Mother, the Nurse, and the Fairy".
When we risk no contradiction,It prompts the tongue to deal in fiction.

Fable X, "The Elephant and the Bookseller".