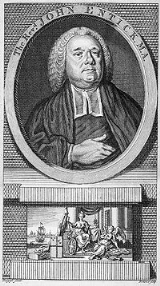 John Entick
John Entick
was an English schoolmaster and author. He was largely a
hack writer
Hack writer
Hack writer is a colloquial and usually pejorative term used to refer to a writer who is paid to write low-quality, rushed articles or books "to order", often with a short deadline. In a fiction-writing context, the term is used to describe writers who are paid to churn out sensational,...
, working for Edward Dilly, and he padded his credentials with a bogus M.A. and a portrait in clerical dress; some of his works had a more lasting value. In the leading case
Entick v Carrington
Entick v Carrington
Entick v Carrington [1765] is a leading case in English law establishing the civil liberties of individuals and limiting the scope of executive power. The case has also been influential in other common law jurisdictions and was an important motivation for the Fourth Amendment to the United States...
of 1765 he won a legal victory as plaintiff that defined the limits of
executive power
Executive Power
Executive Power is Vince Flynn's fifth novel, and the fourth to feature Mitch Rapp, an American agent that works for the CIA as an operative for a covert counter terrorism unit called the "Orion Team."-Plot summary:...
in the view of the English judiciary.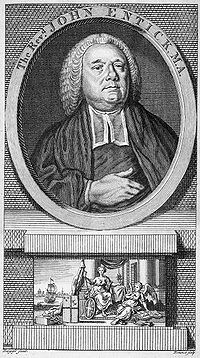 Life
He was probably born about 1703, and resided in the parish of St. Dunstan's, Stepney. In 1755 he agreed with
John Shebbeare
John Shebbeare
John Shebbeare was a British tory political satirist.-Life:He was the eldest son of an attorney and corn-factor of Bideford, Devonshire. A hundred and a village in Devon, where the family had owned land, bear their name...
and Jonathan Scott to write for their anti-ministerial paper,
The Monitor
, appearing every Saturday, at a salary of £200 a year; and his attacks on the government caused his house to be entered and his papers seized under a general warrant in November 1762. He sued the authorities for illegal seizure over this, claiming £2,000 in damages, and obtained a verdict for £300 in 1765.
He died at
Stepney
Stepney
Stepney is a district of the London Borough of Tower Hamlets in London's East End that grew out of a medieval village around St Dunstan's church and the 15th century ribbon development of Mile End Road...
, where he was buried, on 22 May 1773, being about seventy years old.
Works
His first publication, the
Speculum Latinum
(1728), was a simplified scheme to teach Latin. For his
Evidences of Christianity
(1729) he styled himself on its title-page student of divinity. In 1736 he issued a proposal, which fell through, to print Chaucer in two folio volumes, and he put M.A. after his name. In 1754 he published his
Phaedri Fabulae
, with accents and notes.
He published in 1757 a
New Naval History
, with lives and portraits, dedicated to Admiral
Edward Vernon
Edward Vernon
Edward Vernon was an English naval officer. Vernon was born in Westminster, England and went to Westminster School. He joined the Navy in 1700 and was promoted to Lieutenant in 1702 and served on several different ships for the next five years...
. In 1763 he published a
General History of the Late War.
He issued in 1764 his
Spelling Dictionary
, each edition of which comprised twenty thousand copies; in 1766 he brought out an edition of William Maitland's
Survey of London
with additions. In 1771 appeared his
New Latin and English Dictionary
and an
English Grammar
; and he is credited with a
Ready Reckoner
, pamphlets on
freemasonry
Freemasonry
Freemasonry is a fraternal organisation that arose from obscure origins in the late 16th to early 17th century. Freemasonry now exists in various forms all over the world, with a membership estimated at around six million, including approximately 150,000 under the jurisdictions of the Grand Lodge...
, and a share both in the new
Week's Preparation
and the new
Whole Duty of Man
. The
Lexicon manuale græco-latinvm et latino-græcum. Studio atque opera Josephi Hill, necnon Johannis Entick
was a revision of
Cornelis Schrevel
Cornelis Schrevel
Cornelis Schrevel was a Dutch physician and scholar. He studied medicine at Leiden University and replaced his father Theodorus Schrevelius as head of the college faculty at Leiden in 1642; published a Latin-Greek lexicon; and edited many classical authors, including an edition of Curtius Rufus...
's Lexicon as edited by
Joseph Hill
Joseph Hill (lexicographer)
Joseph Hill was an English academic and nonconformist clergyman, mostly in the Netherlands after 1662. He is known as a lexicographer.-Life:...
. He left a large work, in four volumes,
The Present State of the British Empire
, helped by other hands, nearly ready, which was brought out in 1774. In 1776 appeared a new edition of his
Survey and History of London
. William Crakelt and others edited his dictionaries repeatedly, down to 1836.