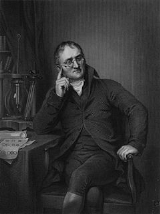 John Dalton
John Dalton
FRS (6 September 1766 – 27 July 1844) was an English
chemist
Chemist
A chemist is a scientist trained in the study of chemistry. Chemists study the composition of matter and its properties such as density and acidity. Chemists carefully describe the properties they study in terms of quantities, with detail on the level of molecules and their component atoms...
, meteorologist and
physicist
Physicist
A physicist is a scientist who studies or practices physics. Physicists study a wide range of physical phenomena in many branches of physics spanning all length scales: from sub-atomic particles of which all ordinary matter is made to the behavior of the material Universe as a whole...
. He is best known for his pioneering work in the development of modern
atomic theory
Atomic theory
In chemistry and physics, atomic theory is a theory of the nature of matter, which states that matter is composed of discrete units called atoms, as opposed to the obsolete notion that matter could be divided into any arbitrarily small quantity...
, and his research into
colour blindness
Color blindness
Color blindness or color vision deficiency is the inability or decreased ability to see color, or perceive color differences, under lighting conditions when color vision is not normally impaired...
(sometimes referred to as Daltonism, in his honour).
John Dalton was born into a Quaker family at
Eaglesfield
Eaglesfield, Cumbria
Eaglesfield is a small settlement in West Cumbria, England. It is near the A5086 road and is four kilometres southwest of the town of Cockermouth....
, near
Cockermouth
Cockermouth
-History:The Romans created a fort at Derventio, now the adjoining village of Papcastle, to protect the river crossing, which had become located on a major route for troops heading towards Hadrian's Wall....
,
Cumberland
Cumberland
Cumberland is a historic county of North West England, on the border with Scotland, from the 12th century until 1974. It formed an administrative county from 1889 to 1974 and now forms part of Cumbria....
, England. The son of a weaver, he joined his older brother Jonathan at age 15 in running a Quaker school in nearby
Kendal
Kendal
Kendal, anciently known as Kirkby in Kendal or Kirkby Kendal, is a market town and civil parish within the South Lakeland District of Cumbria, England...
.