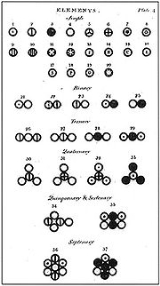 Atomic theory
In
chemistry
Chemistry
Chemistry is the science of matter, especially its chemical reactions, but also its composition, structure and properties. Chemistry is concerned with atoms and their interactions with other atoms, and particularly with the properties of chemical bonds....
and
physics
Physics
Physics is a natural science that involves the study of matter and its motion through spacetime, along with related concepts such as energy and force. More broadly, it is the general analysis of nature, conducted in order to understand how the universe behaves.Physics is one of the oldest academic...
,
atomic theory
is a
theory
Theory
The English word theory was derived from a technical term in Ancient Greek philosophy. The word theoria, , meant "a looking at, viewing, beholding", and referring to contemplation or speculation, as opposed to action...
of the nature of
matter
Matter
Matter is a general term for the substance of which all physical objects consist. Typically, matter includes atoms and other particles which have mass. A common way of defining matter is as anything that has mass and occupies volume...
, which states that matter is composed of discrete units called
atom
Atom
The atom is a basic unit of matter that consists of a dense central nucleus surrounded by a cloud of negatively charged electrons. The atomic nucleus contains a mix of positively charged protons and electrically neutral neutrons...
s, as opposed to the obsolete notion that matter could be divided into any arbitrarily small quantity. It began as a philosophical concept in ancient Greece (
Democritus
Democritus
Democritus was an Ancient Greek philosopher born in Abdera, Thrace, Greece. He was an influential pre-Socratic philosopher and pupil of Leucippus, who formulated an atomic theory for the cosmos....
) and
India
India
India , officially the Republic of India , is a country in South Asia. It is the seventh-largest country by geographical area, the second-most populous country with over 1.2 billion people, and the most populous democracy in the world...
and entered the scientific mainstream in the early 19th century when
discoveries
Discovery (observation)
Discovery is the act of detecting something new, or something "old" that had been unknown. With reference to science and academic disciplines, discovery is the observation of new phenomena, new actions, or new events and providing new reasoning to explain the knowledge gathered through such...
in the field of chemistry showed that matter did indeed behave as if it were made up of particles.
The word "atom" (from the ancient Greek adjective
atomos
, 'indivisible') was applied to the basic particle that constituted a chemical element, because the chemists of the era believed that these were the fundamental particles of matter.