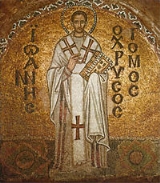 John Chrysostom
John Chrysostom
Archbishop
Archbishop
An archbishop is a bishop of higher rank, but not of higher sacramental order above that of the three orders of deacon, priest , and bishop...
of
Constantinople
Constantinople
Constantinople was the capital of the Roman, Eastern Roman, Byzantine, Latin, and Ottoman Empires. Throughout most of the Middle Ages, Constantinople was Europe's largest and wealthiest city.-Names:...
, was an important Early Church Father. He is known for his eloquence in preaching and
public speaking
Public speaking
Public speaking is the process of speaking to a group of people in a structured, deliberate manner intended to inform, influence, or entertain the listeners...
, his denunciation of abuse of authority by both ecclesiastical and political leaders, the
Divine Liturgy of St. John Chrysostom
Divine Liturgy of St. John Chrysostom
The Divine Liturgy of Saint John Chrysostom is the most celebrated Divine Liturgy in the Byzantine Rite. It is named after the anaphora with the same name which is its core part and it is attributed to Saint John Chrysostom, Archbishop of Constantinople in the 5th century.It reflects the work of...
, and his ascetic sensibilities. After his death in 407 (or, according to some sources, during his life) he was given the
Greek
Greek language
Greek is an independent branch of the Indo-European family of languages. Native to the southern Balkans, it has the longest documented history of any Indo-European language, spanning 34 centuries of written records. Its writing system has been the Greek alphabet for the majority of its history;...
surname
chrysostomos
, meaning "golden mouthed", rendered in English as Chrysostom.
The
Orthodox
Eastern Orthodox Church
The Orthodox Church, officially called the Orthodox Catholic Church and commonly referred to as the Eastern Orthodox Church, is the second largest Christian denomination in the world, with an estimated 300 million adherents mainly in the countries of Belarus, Bulgaria, Cyprus, Georgia, Greece,...
and Eastern Catholic Churches honor him as a
saint
Saint
A saint is a holy person. In various religions, saints are people who are believed to have exceptional holiness.In Christian usage, "saint" refers to any believer who is "in Christ", and in whom Christ dwells, whether in heaven or in earth...
and count him among the
Three Holy Hierarchs
Three Holy Hierarchs
The Three Holy Hierarchs of Eastern Christianity refers to Basil the Great , Gregory the Theologian and John Chrysostom. They were highly influential bishops of the early church who played pivotal roles in shaping Christian theology...
, together with Basil the Great and Gregory Nazianzus.