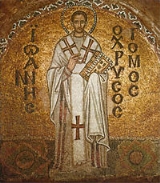 John Chrysostom
Topics
John Chrysostom
Quotations

Quotations
Saint John Chrysostom
Greek
Ioannes Chrysostomos
, early Christian theologian, archbishop of Constantinople, saint. "Chrysostom" means "Golden-mouthed", a tribute to his exemplary talent as an orator. His writings were originally written in Greek. Outside the Christian tradition Chrysostom is noted for eight of his sermons which played a considerable part in the history of Christian antisemitism, and were extensively misused by the Nazis in their ideological campaign against the Jews.
Sourced
[T]he Jewish people were driven by their drunkenness and plumpness to the ultimate evil; they kicked about, they failed to accept the yoke of Christ, nor did they pull the plow of his teaching. Another prophet hinted at this when he said: "Israel is as obstinate as a stubborn heifer." … Although such beasts are unfit for work, they are fit for killing. And this is what happened to the Jews: while they were making themselves unfit for work, they grew fit for slaughter. This is why Christ said: "But as for these my enemies, who did not want me to be king over them, bring them here and slay them." (Luke 19:27)
Before they committed the crime of crimes, before they killed their Master, before the cross, before the slaying of Christ, [Jewish sacrifices were] an abomination.
The festivals of the pitiful and miserable Jews are soon to march upon us one after the other and in quick succession …
Nothing is more miserable than those people who never failed to attack their own salvation. When there was need to observe the Law, they trampled it under foot. … On this account Stephen said: "You stiff-necked and uncircumcised in heart, you always resist the Holy Spirit", not only by transgressing the Law but also by wishing to observe it at the wrong time.
You [Jews] did slay Christ, you did lift violent hands against the Master, you did spill his precious blood. This is why you have no chance for atonement, excuse, or defense.
[T]he Jews are enduring their present troubles because of Christ.
Quotes about Chrysostom
[A]lthough the tradition of Chrysostom continued to cause unbridled vituperation for Jews and Judaism, climaxing in the violence of 1096 and beyond, the modulating Augustinian position became, more or less, the "official" policy of the papacy … [G]overnmental coercion became the instrument though which the Church made its scornful commentary on Judaism. Here is the decisive turn in the history of Christian anti-Judaism, a turn whose ultimate disfiguring consequence was enacted in the political antisemitism of Adolf Hitler.
The diatribes of St Chrysostom against the Jews were rivalled only by Hitler.