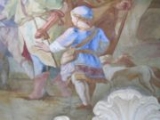 Johann Baptist Zimmermann
Johann Baptist Zimmermann
(3 January 1680 – 2 March 1758) was a German
painter
Painting
Painting is the practice of applying paint, pigment, color or other medium to a surface . The application of the medium is commonly applied to the base with a brush but other objects can be used. In art, the term painting describes both the act and the result of the action. However, painting is...
and a prime
stucco plasterer
Stucco
Stucco or render is a material made of an aggregate, a binder, and water. Stucco is applied wet and hardens to a very dense solid. It is used as decorative coating for walls and ceilings and as a sculptural and artistic material in architecture...
during the
Baroque
Baroque
The Baroque is a period and the style that used exaggerated motion and clear, easily interpreted detail to produce drama, tension, exuberance, and grandeur in sculpture, painting, literature, dance, and music...
.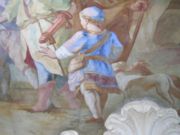 Zimmermann was born in Gaispoint,
Wessobrunn
Wessobrunn
Wessobrunn is a municipality in the district of Weilheim-Schongau in Bavaria in Germany.-Paterzell airfield:Paterzell airfield is located in Wessobrunn. The local aeroclub Luftsportverein Weilheim-Peißenberg competes in glider aerobatics. The German National Champion in 2006, Markus Feyerabend...
. He and his brother
Dominikus Zimmermann
Dominikus Zimmermann
Dominikus Zimmermann was a German Rococo architect and stuccoist.-Life:Dominikus Zimmermann was born in Gaispoint near Wessobrunn in 1685 and became a Baumeister and a stuccoist. His older brother Johann Baptist Zimmermann was an architect and a frescoist...
were descended from an artist family of the
Wessobrunner School
Wessobrunner School
The Wessobrunner School is the name for a group of Baroque stucco-workers that, beginning at the end of the 17th century, developed in the Benedictine Wessobrunn Abbey in Bavaria, Germany....
. He died in
Munich
Munich
Munich The city's motto is "" . Before 2006, it was "Weltstadt mit Herz" . Its native name, , is derived from the Old High German Munichen, meaning "by the monks' place". The city's name derives from the monks of the Benedictine order who founded the city; hence the monk depicted on the city's coat...
.
Work
1701 stucco and fresco for the church Mariä Empfängnis of Gosseltshausen
1707 stucco and fresco for the church Maria Schnee in Markt Rettenbach
vor 1710 und 1728: Stucco for the Tegernsee Abbey

Tegernsee Abbey

Tegernsee Abbey or the Imperial Abbey of Tegernsee is a former Benedictine monastery in the town and district of Tegernsee in Bavaria. Both the abbey and the town that grew up around are named after the Tegernsee, the lake on the shores of which they are located...



1709/1710: Design for the church St. Johannes in Neuburg an der Kammel-Edelstetten
1709/1710-1713/1727 (cooperation with his brother): Fresco of Marienkapelle and stucco and fresco for the library of Reichskartause in Buxheim (Allgäu)
1711-1713: stucco and fresco for the Klosterkirche Maria Saal
1714: stucco and fresco of Pfarrkirche St. Sixtus von Schliersee

Schliersee

Schliersee is a small town and a municipality in the district of Miesbach in Bavaria in Germany. It is named after the nearby Lake Schliersee....



1714-1722: Stucco for the Ottobeuren Abbey

Ottobeuren Abbey

Ottobeuren is a Benedictine abbey, located in Ottobeuren, near Memmingen in the Bavarian Allgäu, Germany.-First foundation:It was founded in 764 by Blessed Toto, and dedicated to St. Alexander, the martyr. Of its early history little is known beyond the fact that Toto, its first abbot, died about...



ca 1715 stucco and fresco for rooms of Maxlrain castle
(since) 1716 stucco and fresco for the Benediktuskirche in Freising

Freising

Freising is a town in Bavaria, Germany, and capital of the district Freising. Total population 48,500.The city is located north of Munich at the Isar river, near the Munich International Airport...



1717: stucco and fresco in the chapel and the dining room of Ismaning

Ismaning

Ismaning is a municipality in Bavaria, Germany, located near Munich. In 2006 it had 14,638 inhabitants. Near Ismaning there is a large broadcasting facility called Transmitter Ismaning....


palace
1718-1722 (cooperation with his brother): decoration of the church Mariä Himmelfahrt in Maria Medingen
1720-1726: Stucco for the Grand Stairway of Schleissheim Palace

Schleissheim Palace

The Schleissheim Palace actually comprises three palaces in a grand baroque park in the village of Oberschleißheim near Munich, Bavaria, Germany. The palace was the summer residence of the rulers of Bavaria.-Old Schleissheim Palace:...


under Joseph Effner

Joseph Effner

Joseph Effner was a German architect and decorator.Effner was born in Dachau as a son of the court gardener Christian Öffner. Effner accompanied the elector of Bavaria Max Emanuel to Bruxelles. In 1706 Effner was retrained by Gabriel Germain Boffrand in Paris. Here he changed his family name to...



1720-1726/1727: Stucco for the Sommerzimmer and the Spiegelsaal of the first northern Pavillon of Nymphenburg Palace

Nymphenburg Palace

The Nymphenburg Palace , i.e. "Nymph's Castle", is a Baroque palace in Munich, Bavaria, southern Germany. The palace was the main summer residence of the rulers of Bavaria.-History:...



1722/1723 (cooperation with his brother): Decoration of St. Mary in Bad Wörishofen

Bad Wörishofen

Bad Wörishofen is a spa town in the district Unterallgäu, Bavaria Germany known for the water-cure developed by Sebastian Kneipp , a Catholic priest, who lived there for 42 years...



1724 und 1731-1733: stucco and fresco for Benediktbeuern Abbey

Benediktbeuern Abbey

Benediktbeuern Abbey is a monastery of the Salesians of Don Bosco, originally a monastery of the Benedictine Order, in Benediktbeuern in Bavaria, near the Kochelsee, 64 km south-south-west of Munich...



1725/1726-1727/1729: Design and stucco of St. Peter und Paul in Buxheim (Allgäu)
1725/1727-1728/1733 (cooperation with his brother): Decoration of St. Markus in Sießen/Saulgau
1726-1733: stucco for the Residenz, Munich

Residenz, Munich

The Munich Residenz is the former royal palace of the Bavarian monarchs in the center of the city of Munich, Germany...



1727-1733: Decoration of St. Peter und Paul in Steinhausen
1727/1730-1731/1733 (cooperation with his brother): Fresco of the church in Steinhausen
1729: stucco and fresco of St. Peter und Paul in Weyarn

Weyarn

Weyarn is a municipality in the district of Miesbach in Bavaria in Germany. It dates back to a monastery that was founded by Siboto II, count of Falkenstein in 1133. It is located 38 km southeast of Munich and can be easily reached on highway A8 running from Munich to Salzburg. Many farming...



1729/1741-1741/1748: stucco and fresco of Mariä Himmelfahrt church in Dietramszell

Dietramszell

Dietramszell is a municipality in the district of Bad Tölz-Wolfratshausen in Bavaria, Germany. The community of 5282 residents sits 685 meters above sea level....



1730 stucco and fresco of the church of Beyharting
1730-1739: Stucco in the Reiche Zimmern of the Residenz, Munich

Residenz, Munich

The Munich Residenz is the former royal palace of the Bavarian monarchs in the center of the city of Munich, Germany...



1732: Fresco of Neumünster church in Würzburg

Würzburg

Würzburg is a city in the region of Franconia which lies in the northern tip of Bavaria, Germany. Located at the Main River, it is the capital of the Regierungsbezirk Lower Franconia. The regional dialect is Franconian....



1733/34: Decoration of the monastery Seligenthal in Landshut

Landshut

Landshut is a city in Bavaria in the south-east of Germany, belonging to both Eastern and Southern Bavaria. Situated on the banks of the River Isar, Landshut is the capital of Lower Bavaria, one of the seven administrative regions of the Free State of Bavaria. It is also the seat of the...



1733/1754-1756/1760: stucco and fresco of St. Dionys und Juliana in Schäftlarn Abbey

Schäftlarn Abbey

Schäftlarn Abbey is a Benedictine monastery on the Isar in Schäftlarn, south of Munich in Bavaria, Germany.-History:The monastery was founded in 762 by Waltrich, a Benedictine monk of noble family, on his own land...



1734-1737/1739: stucco of the Amalienburg in Munich-Nymphenburg
1735/1738-1740: Design of the Mariä Himmelfahrt in Prien am Chiemsee

Prien am Chiemsee

Prien am Chiemsee is a municipality in the district of Rosenheim, in Bavaria, Germany.-Geography:It is situated on the western shore of the Chiemsee lake, 16 km east of Rosenheim.-Famous resident:...



1737/1743-1744/1752: stucco and fresco of St. Michael in Berg am Laim

St Michael in Berg am Laim (München)

St. Michael in Berg am Laim is a church in Munich, southern Germany, built from 1738 to 1751 by Johann Michael Fischer as Court Church for Prince Archbishop Clemens August of Cologne, a son of the Bavarian Elector Maximinial Emmanuel. It was also served by a Brotherhood of St. Michael the Archangel...



1738: House Kern in Wasserburg am Inn

Wasserburg am Inn

Wasserburg am Inn is a town in the district Rosenheim in Upper Bavaria, Germany. The historic centre is a peninsula, formed by the meandering Inn River...



1745-1752: Design and stucco of Ettal Abbey

Ettal Abbey

Ettal Abbey is a Benedictine monastery in the village of Ettal close to Oberammergau and Garmisch-Partenkirchen in Bavaria, Germany. With a community of more than 50 monks, with another five at Wechselburg, the Abbey is one of the largest Benedictine houses and is a major attraction for...



1747/1749-1752: baroque renovation of St. Blasius in Landshut

Landshut

Landshut is a city in Bavaria in the south-east of Germany, belonging to both Eastern and Southern Bavaria. Situated on the banks of the River Isar, Landshut is the capital of Lower Bavaria, one of the seven administrative regions of the Free State of Bavaria. It is also the seat of the...



1748/1752-1752/1754: stucco and fresco of the church "Maria Brünnlein zum Trost" in Wemding
1749 und 1753-1754: fresco in the Wieskirche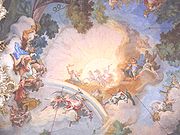 1751-1752/1754: stucco and fresco in Andechs Abbey St. Nikolaus und St. Elisabeth
1751-1761: baroque renovation of the church St. Anna in München-Harlaching
1753/1754: stucco and fresco in St. Peter

St. Peter's Church, München

St. Peter's Church is a Roman Catholic church in the inner city of Munich, southern Germany. It is also the oldest church in the district.-History:...


in Munich
1755/56-1757: stucco and fresco of the Steinerner Saal in Nymphenburg Palace

Nymphenburg Palace

The Nymphenburg Palace , i.e. "Nymph's Castle", is a Baroque palace in Munich, Bavaria, southern Germany. The palace was the main summer residence of the rulers of Bavaria.-History:...


in Munich
1756: Fresco of Prämonstratenserklosterkirche in Neustift
1757: Decoration of Pfarrkirche St. Vitus in Abensberg-Offenstetten
External links