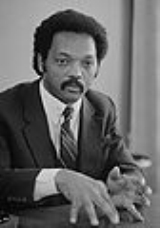 Jesse Jackson
Jesse Louis Jackson, Sr.
(born October 8, 1941) is an African-American
civil rights
Civil rights
Civil and political rights are a class of rights that protect individuals' freedom from unwarranted infringement by governments and private organizations, and ensure one's ability to participate in the civil and political life of the state without discrimination or repression.Civil rights include...
activist
Activism
Activism consists of intentional efforts to bring about social, political, economic, or environmental change. Activism can take a wide range of forms from writing letters to newspapers or politicians, political campaigning, economic activism such as boycotts or preferentially patronizing...
and
Baptist
Baptist
Baptists comprise a group of Christian denominations and churches that subscribe to a doctrine that baptism should be performed only for professing believers , and that it must be done by immersion...
minister
Minister of religion
In Christian churches, a minister is someone who is authorized by a church or religious organization to perform functions such as teaching of beliefs; leading services such as weddings, baptisms or funerals; or otherwise providing spiritual guidance to the community...
. He was a candidate for the
Democratic
Democratic Party (United States)
The Democratic Party is one of two major contemporary political parties in the United States, along with the Republican Party. The party's socially liberal and progressive platform is largely considered center-left in the U.S. political spectrum. The party has the lengthiest record of continuous...
presidential nomination in 1984 and 1988 and served as
shadow senator
Shadow congressperson
The offices of shadow U.S. Representative and shadow U.S. Senator are elective offices created by the District of Columbia as part of their efforts to gain full admittance to the Union as a State. The office originated with the election of the first Shadow Senators in 1796, and the position of...
for the District of Columbia from 1991 to 1997. He was the founder of both entities that merged to form
Rainbow/PUSH
Rainbow/PUSH
Rainbow/PUSH is a non-profit organization formed as a merger of two non-profit organizations — Operation PUSH and the National Rainbow Coalition — founded by Jesse Jackson. The organizations pursue social justice, civil rights and political activism.In December 1971, Jackson resigned from...
. Representative
Jesse Jackson, Jr.
Jesse Jackson, Jr.
Jesse Louis Jackson, Jr. is the U.S. Representative for , serving since the special election in 1995. He is a member of the Democratic Party....
is his eldest son. In an AP-AOL "Black Voices" poll in February 2006, Jackson was voted "the most important black leader".
Jackson was born
Jesse Louis Burns
in
Greenville, South Carolina
Greenville, South Carolina
-Law and government:The city of Greenville adopted the Council-Manager form of municipal government in 1976.-History:The area was part of the Cherokee Nation's protected grounds after the Treaty of 1763, which ended the French and Indian War. No White man was allowed to enter, though some families...
, to Helen Burns Straggs, a 16-year-old single mother.
If my mind can conceive it and my heart can believe it, I know I can achieve it.

As quoted in Psychology Through the Eyes of Faith (1987) by David G. Myers and Malcolm A. Jeeves
We've removed the ceiling above our dreams. There are no more impossible dreams.

As quoted in The Independent (9 June 1988)
If we launch a pre-emptive strike on Iraq we lose all moral authority,

As quoted in "Shades Of The Sixties", CBS News (26 October 2002)
Never look down on anybody unless you're helping him up