 Jean-Baptiste-Siméon Chardin

Jean-Baptiste-Siméon Chardin
(2 November 1699 – 6 December 1779) was an 18th-century
French
France
The French Republic , The French Republic , The French Republic , (commonly known as France , is a unitary semi-presidential republic in Western Europe with several overseas territories and islands located on other continents and in the Indian, Pacific, and Atlantic oceans. Metropolitan France...
painter. He is considered a master of
still life
Still life
A still life is a work of art depicting mostly inanimate subject matter, typically commonplace objects which may be either natural or man-made...
, and is also noted for his genre paintings which depict kitchen maids, children, and domestic activities. Carefully balanced composition, soft diffusion of light, and granular
impasto
Impasto
In English, the borrowed Italian word impasto most commonly refers to a technique used in painting, where paint is laid on an area of the surface very thickly, usually thickly enough that the brush or painting-knife strokes are visible. Paint can also be mixed right on the canvas...
characterize his work.
Life
Chardin was born in
Paris
Paris
Paris is the capital and largest city in France, situated on the river Seine, in northern France, at the heart of the Île-de-France region...
, the son of a cabinetmaker, and rarely left the city. He lived on the Left Bank near Saint-Sulpice until 1757, when Louis XV granted him a studio and living quarters in the
Louvre
Louvre
The Musée du Louvre – in English, the Louvre Museum or simply the Louvre – is one of the world's largest museums, the most visited art museum in the world and a historic monument. A central landmark of Paris, it is located on the Right Bank of the Seine in the 1st arrondissement...
.
Chardin entered into a marriage contract with Marguerite Saintard in 1723, whom he did not marry until 1731. He served apprenticeships with the history painters
Pierre-Jacques Cazes
Pierre-Jacques Cazes
Pierre-Jacques Cazes was a French historical painter, known as the teacher of, among others, Chardin. In 1703, he became part of the Académie, was named as director in 1743 and chancellor in 1746. He also worked in the Galerie d'Apollon in the Louvre in 1727 and produced a large number of...
and
Noël-Nicolas Coypel
Nöel-Nicolas Coypel
Nöel-Nicolas Coypel was a popular French artist.The son of Noël Coypel and half-brother to the more-famous painter Antoine Coypel, he was accredited to the Academie Royale in 1716. He was appointed a professorship in 1733, but died shortly thereafter in a domestic accident.-See also:*A bust of...
, and in 1724 became a master in the Académie de Saint-Luc.
According to one nineteenth-century writer, at a time when it was hard for unknown painters to come to the attention of the Royal Academy, he first found notice by displaying a painting at the "small Corpus Christi" (held eight days after the regular one) on the
Place Dauphine
Place Dauphine
The Place Dauphine is a public square located near the western end of the Île de la Cité in the first arrondissement of Paris. From the "square", actually triangular in shape, one can access the middle of the ancient bridge called the Pont Neuf. The bridge connects the left and right banks of the...
(by the
Pont Neuf
Pont Neuf
The Pont Neuf is, despite its name, the oldest standing bridge across the river Seine in Paris, France. Its name, which was given to distinguish it from older bridges that were lined on both sides with houses, has remained....
).
Van Loo
Jean-Baptiste van Loo
Jean-Baptiste van Loo was a French subject and portrait painter.-Biography:He was born in Aix-en-Provence, and was instructed in art by his father Louis-Abraham van Loo, son of Jacob van Loo...
, passing by in 1720, bought it and later assisted the young painter.
Upon presentation of
The Ray
in 1728, he was admitted to the Académie Royale de Peinture et de Sculpture. The following year he ceded his position in the Académie de Saint-Luc. He made a modest living by "produc[ing] paintings in the various genres at whatever price his customers chose to pay him", and by such work as the restoration of the
fresco
Fresco
Fresco is any of several related mural painting types, executed on plaster on walls or ceilings. The word fresco comes from the Greek word affresca which derives from the Latin word for "fresh". Frescoes first developed in the ancient world and continued to be popular through the Renaissance...
es at the Galerie François I at
Fontainebleau
Fontainebleau
Fontainebleau is a commune in the metropolitan area of Paris, France. It is located south-southeast of the centre of Paris. Fontainebleau is a sub-prefecture of the Seine-et-Marne department, and it is the seat of the arrondissement of Fontainebleau...
in 1731.
In November of 1731 his son Jean-Pierre was baptized, and a daughter, Marguerite-Agnès, was baptized in 1733. In 1735 his wife Marguerite died, and within two years Marguerite-Agnès had died as well.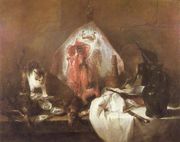 Beginning in 1737 Chardin exhibited regularly at the Salon. He would prove to be a "dedicated academician", regularly attending meetings for fifty years, and functioning successively as counsellor, treasurer, and secretary, overseeing in 1761 the installation of Salon exhibitions.
His work gained popularity through reproductive engravings of his genre paintings (made by artists such as F.-B. Lépicié and P.-L. Sugurue), which brought Chardin income in the form of "what would now be called royalties".
In 1744 he entered his second marriage, this time to Françoise-Marguerite Pouget. The union brought a substantial improvement in Chardin's financial circumstances. In 1745 a daughter, Angélique-Françoise, was born, but she died in 1746.
In 1752 Chardin was granted a pension of 500 livres by Louis XV. At the Salon of 1759 he exhibited nine paintings; it was the first Salon to be commented upon by
Denis Diderot
Denis Diderot
Denis Diderot was a French philosopher, art critic, and writer. He was a prominent person during the Enlightenment and is best known for serving as co-founder and chief editor of and contributor to the Encyclopédie....
, who would prove to be a great admirer and public champion of Chardin's work. Beginning in 1761, his responsibilities on behalf of the Salon, simultaneously arranging the exhibitions and acting as treasurer, resulted in a diminution of productivity in painting, and the showing of 'replicas' of previous works. In 1763 his services to the Académie were acknowledged with an extra 200 livres in pension. In 1765 he was unanimously elected associate member of the Académie des Sciences, Belles-Lettres et Arts of Rouen, but there is no evidence that he left Paris to accept the honor. By 1770 Chardin was the 'Premiere peintre du roi', and his pension of 1,400 livres was the highest in the Academy.
In 1772 Chardin's son, also a painter, drowned in
Venice
Venice
Venice is a city in northern Italy which is renowned for the beauty of its setting, its architecture and its artworks. It is the capital of the Veneto region...
, a probable suicide. The artist's last known oil painting was dated 1776; his final Salon participation was in 1779, and featured several pastel studies. Gravely ill by November of that year, he died in Paris on December 6, at the age of 80.
Work
Chardin worked very slowly and he only painted slightly more than 200 pictures (about four a year) total.
Chardin's work had little in common with the
Rococo
Rococo
Rococo , also referred to as "Late Baroque", is an 18th-century style which developed as Baroque artists gave up their symmetry and became increasingly ornate, florid, and playful...
painting that dominated French art in the 18th century. At a time when history painting was considered the supreme classification for public art, Chardin's subjects of choice were viewed as minor categories. He favored simple yet beautifully textured still lifes, and sensitively handled domestic interiors and genre paintings. Simple, even stark, paintings of common household items (
Still Life with a Smoker's Box
) and an uncanny ability to portray children's innocence in an unsentimental manner (
Boy with a Top
[right]) nevertheless found an appreciative audience in his time, and account for his timeless appeal.
Largely self-taught, he was greatly influenced by the realism and subject matter of the 17th-century Low Country masters. Despite his unconventional portrayal of the ascendant
bourgeoisie
Bourgeoisie
In sociology and political science, bourgeoisie describes a range of groups across history. In the Western world, between the late 18th century and the present day, the bourgeoisie is a social class "characterized by their ownership of capital and their related culture." A member of the...
, early support came from patrons in the French
aristocracy
Aristocracy
Aristocracy , is a form of government in which a few elite citizens rule. The term derives from the Greek aristokratia, meaning "rule of the best". In origin in Ancient Greece, it was conceived of as rule by the best qualified citizens, and contrasted with monarchy...
, including Louis XV. Though his popularity rested initially on paintings of animals and fruit, by the 1730s he introduced kitchen utensils into his work (
The Copper Cistern
, ca.1735, Louvre). Soon figures populated his scenes as well, supposedly in response to a portrait painter who challenged him to take up the genre.
Woman Sealing a Letter
(ca. 1733), which may have been his first attempt, was followed by half-length compositions of children saying grace, as in
Le Bénédicité
Le Bénédicité
Le Bénédicité is a painting by the French artist Jean-Baptiste-Siméon Chardin. Chardin made several versions of the painting, one of which was given as a gift to Louis XV...
, and kitchen maids in moments of reflection. These humble scenes deal with simple, everyday activities, yet they also have functioned as a source of documentary information about a level of French society not hitherto considered a worthy subject for painting. The pictures are noteworthy for their formal structure and pictorial harmony.
Chardin frequently painted replicas of his compositions—especially his genre paintings, nearly all of which exist in multiple versions which in many cases are virtually indistinguishable. Beginning with
The Governess
(1739, in the
National Gallery of Canada
National Gallery of Canada
The National Gallery of Canada , located in the capital city Ottawa, Ontario, is one of Canada's premier art galleries.The Gallery is now housed in a glass and granite building on Sussex Drive with a notable view of the Canadian Parliament buildings on Parliament Hill. The acclaimed structure was...
,
Ottawa
Ottawa
Ottawa is the capital of Canada, the second largest city in the Province of Ontario, and the fourth largest city in the country. The city is located on the south bank of the Ottawa River in the eastern portion of Southern Ontario...
), Chardin shifted his attention from working-class subjects to slightly more spacious scenes of bourgeoise life.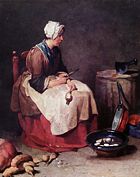 In 1756 he returned to the subject of the still life. In the 1770s his eyesight weakened and he took to painting in pastels, a medium in which he executed portraits of his wife and himself (see
Self-portrait
at top right). His works in pastels are now highly valued. Chardin's extant paintings, which number about 200, are in many major museums, including the
Louvre
Louvre
The Musée du Louvre – in English, the Louvre Museum or simply the Louvre – is one of the world's largest museums, the most visited art museum in the world and a historic monument. A central landmark of Paris, it is located on the Right Bank of the Seine in the 1st arrondissement...
.
Influence
Chardin's influence on the art of the modern era was wide-ranging, and has been well-documented.
Édouard Manet
Édouard Manet
Édouard Manet was a French painter. One of the first 19th-century artists to approach modern-life subjects, he was a pivotal figure in the transition from Realism to Impressionism....
's half-length
Boy Blowing Bubbles
and the still lifes of
Paul Cézanne
Paul Cézanne
Paul Cézanne was a French artist and Post-Impressionist painter whose work laid the foundations of the transition from the 19th century conception of artistic endeavour to a new and radically different world of art in the 20th century. Cézanne can be said to form the bridge between late 19th...
are equally indebted to their predecessor. He was one of
Henri Matisse
Henri Matisse
Henri Matisse was a French artist, known for his use of colour and his fluid and original draughtsmanship. He was a draughtsman, printmaker, and sculptor, but is known primarily as a painter...
's most admired painters; as an art student Matisse made copies of four Chardin paintings in the
Louvre
Louvre
The Musée du Louvre – in English, the Louvre Museum or simply the Louvre – is one of the world's largest museums, the most visited art museum in the world and a historic monument. A central landmark of Paris, it is located on the Right Bank of the Seine in the 1st arrondissement...
.
Chaim Soutine
Chaim Soutine
Chaïm Soutine was a Jewish painter from Belarus. Soutine made a major contribution to the expressionist movement while living in Paris....
's still lifes looked to Chardin for inspiration, as did the paintings of
Georges Braque
Georges Braque
Georges Braque[p] was a major 20th century French painter and sculptor who, along with Pablo Picasso, developed the art style known as Cubism.-Early Life:...
, and later,
Giorgio Morandi
Giorgio Morandi
Giorgio Morandi was an Italian painter and printmaker who specialized in still life. His paintings are noted for their tonal subtlety in depicting apparently simple subjects, which were limited mainly to vases, bottles, bowls, flowers, and landscapes.-Biography:Giorgio Morandi was born in Bologna...
. In 1999
Lucian Freud
Lucian Freud
Lucian Michael Freud, OM, CH was a British painter. Known chiefly for his thickly impasted portrait and figure paintings, he was widely considered the pre-eminent British artist of his time...
painted and etched several copies after
The Young Schoolmistress
(
National Gallery, London
National Gallery, London
The National Gallery is an art museum on Trafalgar Square, London, United Kingdom. Founded in 1824, it houses a collection of over 2,300 paintings dating from the mid-13th century to 1900. The gallery is an exempt charity, and a non-departmental public body of the Department for Culture, Media...
).
External links