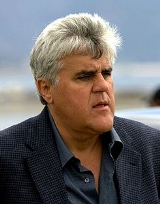 Jay Leno
James Douglas Muir "Jay" Leno ˈ (born April 28, 1950) is an American stand-up comedian and television host.
From 1992 to 2009, Leno was the host of
NBC's
NBC
The National Broadcasting Company is an American commercial broadcasting television network and former radio network headquartered in the GE Building in New York City's Rockefeller Center with additional major offices near Los Angeles and in Chicago...
The Tonight Show with Jay Leno
The Tonight Show with Jay Leno
The Tonight Show with Jay Leno is an American late-night talk show hosted by Jay Leno that initially aired from May 25, 1992 to May 29, 2009, and resumed production on March 1, 2010. The fourth incarnation of the Tonight Show franchise made its debut on May 25, 1992, three days following Johnny...
. Beginning in September 2009, Leno started a primetime talk show, titled
The Jay Leno Show
The Jay Leno Show
The Jay Leno Show is an American comedy show created by and starring Jay Leno, that aired from September 14, 2009 to February 9, 2010 on NBC following the May 29, 2009 conclusion of Leno's first tenure as host of The Tonight Show...
, which aired weeknights at 10:00 p.m. (Eastern Time, UTC-5), also on NBC. After The Jay Leno Show was canceled in January 2010 amid a
host controversy
2010 Tonight Show conflict
In early 2010, American television network NBC and two of its late-night talk show hosts, Conan O'Brien and Jay Leno, engaged in a media and public relations conflict over the host and airtime of The Tonight Show, the network's long-running late night program...
, Leno returned to host The Tonight Show with Jay Leno on March 1, 2010.
James "Jay" Leno was born in
New Rochelle, New York
New Rochelle, New York
New Rochelle is a city in Westchester County, New York, United States, in the southeastern portion of the state.The town was settled by refugee Huguenots in 1688 who were fleeing persecution in France...
, in 1950.
106 [degrees] in the valley… I was sweating like Dan Rather checking for forged documents.

Monologue, September 10, 2004
I was in the ROTC. Of course, ROTC stood for "Running off to Canada".

Monologue, June 24, 2005
How many watched the President's speech last night? [half-hearted audience applause] How many watched American Idol? [thundering applause] Okay, there you go! You get the government you deserve.

Monologue, February 1, 2006
So China's president [Hu Jintao] meets, uh— meets America's president. It's like President "Who?" meeting President "Huh?".

Monologue, April 19, 2006
A new poll shows that Americans now believe that Bill Clinton is more honest than George W. Bush|President Bush. […] At least when Clinton screwed the nation, he did it one person at a time.

Monologue, May 12, 2006
And some sad news… the first lesbian couple to legally get married in the state of Massachusetts has split up. They cited irreconcilable similarities.

Monologue, 24 July 2006
Now, today is the day we honor, of course, the Presidents, ranging from George Washington, who George Washingtoncannot-lie|couldn't tell a lie, to George W. Bush|George Bush, who couldn't tell the truth, to Bill Clinton, who Bill Clintonmeaning-of-is|couldn't tell the difference.

Monologue, 19 February 2007 (Presidents Day (United States)|U.S. Presidents Day)
Women will soon be able to make their own sperm using their own bone marrow. Is that unbelievable? How unfair is that for us guys, huh? I mean, all these years, we've been in charge of manufacturing and distribution, you know what I'm saying? We provide free delivery and installation…

Monologue, 19 April 2007
No, they said they do not believe in evolution, then they said the biggest threat to America: religious radicals living in the Dark Ages|Dark Ages.

Speaking of Sam Brownback, Mike Huckabee, and Tom Tancredo at the 3 May Republican Presidential Debates, 2008|Republican Presidential debate