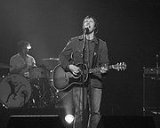 James Blunt
James Hillier Blount
better known by his
stage name
Stage name
A stage name, also called a showbiz name or screen name, is a pseudonym used by performers and entertainers such as actors, wrestlers, comedians, and musicians.-Motivation to use a stage name:...
James Blunt
, is an English singer-songwriter and musician, and former army officer, whose debut album,
Back to Bedlam
and single releases, including "
You're Beautiful
You're Beautiful
"You're Beautiful" is a pop rock song co-written by British singer James Blunt, Sacha Skarbek, and Amanda Ghost for Blunt's debut album Back to Bedlam . It was released as the third single from the album in 2005. In the UK and Australia the song reached number one and number two respectively...
" and "
Goodbye My Lover
Goodbye My Lover
"Goodbye My Lover" is a pop rock song written by Sacha Skarbek for James Blunt's debut album Back to Bedlam. The song was produced by Tom Rothrock and Jimmy Hogarth and received a positive reception from music critics. It was released as the fourth single in November 2005 and reached the top ten in...
", brought him to fame in 2005. His repertoire can be best described as a mix of acoustic-tinged
pop
Pop music
Pop music is usually understood to be commercially recorded music, often oriented toward a youth market, usually consisting of relatively short, simple songs utilizing technological innovations to produce new variations on existing themes.- Definitions :David Hatch and Stephen Millward define pop...
,
rock
Rock music
Rock music is a genre of popular music that developed during and after the 1960s, particularly in the United Kingdom and the United States. It has its roots in 1940s and 1950s rock and roll, itself heavily influenced by rhythm and blues and country music...
and
folk
Folk music
Folk music is an English term encompassing both traditional folk music and contemporary folk music. The term originated in the 19th century. Traditional folk music has been defined in several ways: as music transmitted by mouth, as music of the lower classes, and as music with unknown composers....
. After recording on the independent American label
Custard Records
Custard Records
Custard Records is an American record label, best known for its success with English singer-songwriter and Number 1 recording artist James Blunt...
, Blunt won two
BRIT Awards
Brit Awards
The Brit Awards are the British Phonographic Industry's annual pop music awards. The name was originally a shortened form of "British", "Britain" or "Britannia", but subsequently became a backronym for British Record Industry Trust...
, two
Ivor Novello Awards
Ivor Novello Awards
The Ivor Novello Awards, named after the Cardiff born entertainer Ivor Novello, are awards for songwriting and composing. They are presented annually in London by the British Academy of Songwriters, Composers and Authors and were first introduced in 1955.Nicknamed The Ivors, the awards take place...
, and by 2006 was nominated for five Grammy Awards.
My life is brillant, My love is pure.

"You're Beautiful"
It's time to the face the truth, I will never be with you.

"You're Beautiful"