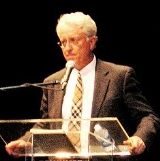 Jack Thompson (attorney)
John Bruce "Jack" Thompson
(born July 25, 1951) is an
American
United States
The United States of America is a federal constitutional republic comprising fifty states and a federal district...
activist and disbarred
attorney
Lawyer
A lawyer, according to Black's Law Dictionary, is "a person learned in the law; as an attorney, counsel or solicitor; a person who is practicing law." Law is the system of rules of conduct established by the sovereign government of a society to correct wrongs, maintain the stability of political...
, based in
Coral Gables
Coral Gables, Florida
Coral Gables is a city in Miami-Dade County, Florida, southwest of Downtown Miami, in the United States. The city is home to the University of Miami....
,
Florida
Florida
Florida is a state in the southeastern United States, located on the nation's Atlantic and Gulf coasts. It is bordered to the west by the Gulf of Mexico, to the north by Alabama and Georgia and to the east by the Atlantic Ocean. With a population of 18,801,310 as measured by the 2010 census, it...
. Thompson is known for his role as an anti-video-game activist, particularly against violence and sex in video games.
During his time as an attorney, Thompson focused his legal efforts against what he perceives as
obscenity
Obscenity
An obscenity is any statement or act which strongly offends the prevalent morality of the time, is a profanity, or is otherwise taboo, indecent, abhorrent, or disgusting, or is especially inauspicious...
in modern culture. This included rap music, broadcasts by
shock jock
Shock jock
Shock jock is a slang term used to describe a type of any radio broadcaster who attracts attention using humor that a significant portion of the listening audience may find offensive. The term is usually used pejoratively to describe provocative or irreverent broadcasters whose mannerisms,...
Howard Stern
Howard Stern
Howard Allan Stern is an American radio personality, television host, author, and actor best known for his radio show, which was nationally syndicated from 1986 to 2005. He gained wide recognition in the 1990s where he was labeled a "shock jock" for his outspoken and sometimes controversial style...
, the content of
computer and video games
Computer and video games
A video game is an electronic game that involves human interaction with a user interface to generate visual feedback on a video device. The word video in video game traditionally referred to a raster display device, but following popularization of the term "video game", it now implies any type of...
and their alleged effects on children.
He is also known for his bizarre filings to the Florida Bar, including challenging the constitutionality of the Florida Bar itself in 1993.