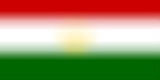 Ishkoshim, Tajikistan
Ishkoshim
also
Ishkashim
, is the capital of
Ishkoshim District
Ishkoshim district
Ishkoshim District or Nohiya-i Ishkoshim is a district in east Tajikistan, in the extreme south-west of the Gorno-Badakhshan Autonomous Province . It borders Afghanistan along the Panj River to the south and to the west...
in
Gorno-Badakhshan Autonomous Province
Gorno-Badakhshan Autonomous Province
Gorno-Badakhshan Autonomous Province is an autonomous, mountainous province in the east of Tajikistan. Located in the Pamir Mountains, it makes up 45% of the land area of the country but only 3% of the population....
in south-east
Tajikistan
Tajikistan
Tajikistan , officially the Republic of Tajikistan , is a mountainous landlocked country in Central Asia. Afghanistan borders it to the south, Uzbekistan to the west, Kyrgyzstan to the north, and China to the east....
. It lies on the
Panj River
Panj River
The Panj River , also known as Pyandzh River or Piandj River , is a tributary of the Amu Darya. The river is 1,125 km long and forms a considerable part of the Afghanistan - Tajikistan border....
, at a point where its direction turns sharply north. Ishkoshim lies opposite a town of the same name in
Afghanistan
Afghanistan
Afghanistan , officially the Islamic Republic of Afghanistan, is a landlocked country located in the centre of Asia, forming South Asia, Central Asia and the Middle East. With a population of about 29 million, it has an area of , making it the 42nd most populous and 41st largest nation in the world...
, although the name of the Afghan town is normally transliterated Ishkashim following
Persian
Persian language
Persian is an Iranian language within the Indo-Iranian branch of the Indo-European languages. It is primarily spoken in Iran, Afghanistan, Tajikistan and countries which historically came under Persian influence...
practice.
A bridge opened in 2006 links the two towns.
There are plans to reconstruct the 100-km highway connecting Ishkoshim to the provincial capital Khorugh, which has been damaged by snow avalanches.