 Irreligion by country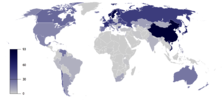 Irreligion
Irreligion
Irreligion is defined as an absence of religion or an indifference towards religion. Sometimes it may also be defined more narrowly as hostility towards religion. When characterized as hostility to religion, it includes antitheism, anticlericalism and antireligion. When characterized as...
(encompassing
agnosticism
Agnosticism
Agnosticism is the view that the truth value of certain claims—especially claims about the existence or non-existence of any deity, but also other religious and metaphysical claims—is unknown or unknowable....
,
atheism
Atheism
Atheism is, in a broad sense, the rejection of belief in the existence of deities. In a narrower sense, atheism is specifically the position that there are no deities...
,
nontheism
Nontheism
Nontheism is a term that covers a range of both religious and nonreligious attitudes characterized by the absence of — or the rejection of — theism or any belief in a personal god or gods...
,
ignosticism
Ignosticism
Ignosticism or igtheism is the theological position that every other theological position assumes too much about the concept of God and many other theological concepts...
,
antireligion
Antireligion
Antireligion is opposition to religion. Antireligion is distinct from atheism and antitheism , although antireligionists may be atheists or antitheists...
,
skepticism
Religious skepticism
Religious skepticism is a type of skepticism relating to religion, but should not be confused with atheism. Religious skeptics question religious authority and are not necessarily anti-religious but are those skeptical of a specific or all religious beliefs or practices. Some are deists, believing...
,
freethought
Freethought
Freethought is a philosophical viewpoint that holds that opinions should be formed on the basis of science, logic, and reason, and should not be influenced by authority, tradition, or other dogmas...
,
antitheism
Antitheism
Antitheism is active opposition to theism. The etymological roots of the word are the Greek 'anti-' and 'theismos'...
,
apatheism
Apatheism
Apatheism , also known as pragmatic atheism or as practical atheism, is acting with apathy, disregard, or lack of interest towards belief or lack of belief in a deity. Apatheism describes the manner of acting towards a belief or lack of a belief in a deity; so applies to both theism and atheism...
, non-belief,
secular humanism
Secular humanism
Secular Humanism, alternatively known as Humanism , is a secular philosophy that embraces human reason, ethics, justice, and the search for human fulfillment...
, or
deism
Deism
Deism in religious philosophy is the belief that reason and observation of the natural world, without the need for organized religion, can determine that the universe is the product of an all-powerful creator. According to deists, the creator does not intervene in human affairs or suspend the...
) varies in the different countries around the world.
Sixteen percent of the world population (1.1 billion people) are considered non-religious.
By proportion
The Gallup poll has the most broad definition of irreligion: the question "Is religion an important part of your daily life?" was asked; the "no" answer is represented below.
Dentsu Communication Institute
Dentsu
is one of the largest advertising agencies in the world. Its headquarters are located in the Dentsu Building in the Shiodome district of Minato, Tokyo....
provides data for respondents who stated they have "no religion". Phil Zuckerman uses the number who describe themselves as atheist or agnostic. The numbers come from different years, and might not be accurate for countries with governments that require or urge religion or secularism.
Country
Gallup (2006–2011)
Dentsu (2006)
Zuckerman (2005)
3%
10%
53%
8%
4%
30%
13%
4–8%
18%
34%
(details

Irreligion in Australia

Atheism, agnosticism, deism, scepticism, freethought, secular humanism or general secularism is increasing in Australia. Post-war Australia has become a highly secularised country...


)
67%
24–25%
48%
12%
18–26%
54%
2%
(details

Irreligion in Belgium

In Belgium, irreligion and atheism holds sway over a large portion of the population, numbering around 25-30%. Due to the Dutch-style pillarization which is in place in Belgium, irreligious individuals and families who desire to receive counseling and celebration for life moments often go to...


)
68%
35%
42–43%
6%
6%
0%
58%
30%
34–40%
2%
38%
50%
48%
17%
33%
13%
10%
16%
1%
(details

Irreligion in Canada

Irreligion is common throughout all provinces and territories of Canada.Irreligious Canadians include atheists, agnostics, and humanists. The surveys may also include those who are spiritual, deists, and pantheists. In 1991, they made up 12.3 percent which, according to the 2001 census, increased...


)
61%
26%
19–30%
6%
57%
17–27%
27%
34%
82%
93%
8–14%
12%
6%
5%
13%
1%
17%
64%
7%
26%
72%
64%
54–61%
59%
25%
41–49%
3%
83%
10%
43–80%
14%
7%
9%
2%
4%
16%
16%
15–24%
78%
76%
49%
10%
69%
12%
28–60%
(details

Irreligion and atheism in France

Irreligion and atheism has a long history and a large demographic constitution in France, with advancement of atheism and the deprecation of theistic religion dating back as far as the French Revolution...


)
74%
43%
43–54%
15%
4%
2%
24%
4%
16%
10%
11%
74%
13%
29%
13%
7%
8%
63%
43%
32–46%
1%
(details)
9%
7%
49%
7%
8%
1%
15%
60%
4%
16–23%
54%
15–37%
30%
18%
6–15%
29%
4%
71%
52%
64–65%
45%
11–12%
3%
36%
7%
3%
52%
37%
30–52%
 Republic of Kosovo
9%
2%
3%
12%
13%
7%
2%
52%
19%
13%
64%
30%
58%
41%
20–29%
6%
21%
7%
(details

Irreligion in Mexico

Irreligion in Mexico may refer to atheism, agnosticism, deism, religious skepticism, secular humanism or general secularist attitudes in Mexico. Mexico was born after its independence as a confessional state...


)
31%
21%
23%
3%
14%
1%
3%
38%
50%
9%
13%
2%
1%
10%
8%
2%
2%
1%
19%
65%
55%
39–44%
78%
31–72%
Northern Ireland

Northern Ireland

Northern Ireland is one of the four countries of the United Kingdom. Situated in the north-east of the island of Ireland, it shares a border with the Republic of Ireland to the south and west...



16%
5%
(details

Irreligion in New Zealand

Irreligion —the absence of religious belief or affiliation— is an increasing trend in New Zealand. Although New Zealand has no established religion, Christianity has been the majority religious affiliation since European settlement in the 19th century...


)
67%
20–22%
11%
4%
15%
5%
6%
11%
24%
5%
13%
11%
15%
33%
11%
4–9%
10%
5%
4%
17%
2%
59%
48%
24–48%
5%
4%
9%
3%
(details

Irreligion in Singapore

As of 2010, 17.0% of Singaporeans have no religious affiliation. Non-religious Singaporeans are found in various ethnic groups and all walks of life in the diverse, multicultural city state. The Singapore non-religious community itself is very diverse, with many calling themselves atheists,...


)
53%
13%
1%
13%
45%
45%
23%
10–28%
51%
30%
35–38%
20%
11%
88%
25%
46–85%
15%
7%
13%
2%
11%
18%
8%
7%
13%
3%
45%
24%
5%
2%
5%
1%
76%
31–44%
46%
42%
20%
64%
12%
(details

Irreligion in the United States

Encompassing agnosticism, atheism, deism, skepticism, freethought, secular humanism or general secularism and even some forms of alternative spirituality such as New Age, various polls have put the population of "non-religious" North Americans at between 20 and 35 million...


)
33%
20%
3–9%
39%
19%
27%
44%
46%
81%
1%
5%
9%
By population
Countries with the greatest number of people without religion (including agnostics and atheists) based on the Total Population of each country as of 2004 compared to the percentage of nonreligious people according to Zuckerman: