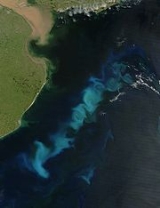 Iron fertilization
Iron fertilization
is the intentional introduction of
iron
Iron
Iron is a chemical element with the symbol Fe and atomic number 26. It is a metal in the first transition series. It is the most common element forming the planet Earth as a whole, forming much of Earth's outer and inner core. It is the fourth most common element in the Earth's crust...
to the upper
ocean
Ocean
An ocean is a major body of saline water, and a principal component of the hydrosphere. Approximately 71% of the Earth's surface is covered by ocean, a continuous body of water that is customarily divided into several principal oceans and smaller seas.More than half of this area is over 3,000...
to stimulate a
phytoplankton
Phytoplankton
Phytoplankton are the autotrophic component of the plankton community. The name comes from the Greek words φυτόν , meaning "plant", and πλαγκτός , meaning "wanderer" or "drifter". Most phytoplankton are too small to be individually seen with the unaided eye...
bloom. This is intended to enhance biological productivity, which can benefit the marine
food chain
Food chain
A food web depicts feeding connections in an ecological community. Ecologists can broadly lump all life forms into one of two categories called trophic levels: 1) the autotrophs, and 2) the heterotrophs...
and
remove carbon dioxide
Biological pump
In oceanic biogeochemistry, the biological pump is the sum of a suite of biologically-mediated processes that transport carbon from the surface euphotic zone to the ocean's interior.-Overview:...
from the atmosphere. Iron is a trace element necessary for
photosynthesis
Photosynthesis
Photosynthesis is a chemical process that converts carbon dioxide into organic compounds, especially sugars, using the energy from sunlight. Photosynthesis occurs in plants, algae, and many species of bacteria, but not in archaea. Photosynthetic organisms are called photoautotrophs, since they can...
in all plants. It is highly insoluble in sea water and is often the limiting
nutrient
Nutrient
A nutrient is a chemical that an organism needs to live and grow or a substance used in an organism's metabolism which must be taken in from its environment. They are used to build and repair tissues, regulate body processes and are converted to and used as energy...
for phytoplankton growth. Large phytoplankton blooms can be created by supplying iron to iron-deficient ocean waters.