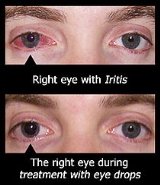 Iritis
Iritis
is a form of anterior
uveitis
Uveitis
Uveitis specifically refers to inflammation of the middle layer of the eye, termed the "uvea" but in common usage may refer to any inflammatory process involving the interior of the eye....
and refers to the
inflammation
Inflammation
Inflammation is part of the complex biological response of vascular tissues to harmful stimuli, such as pathogens, damaged cells, or irritants. Inflammation is a protective attempt by the organism to remove the injurious stimuli and to initiate the healing process...
of the
iris
Iris (anatomy)
The iris is a thin, circular structure in the eye, responsible for controlling the diameter and size of the pupils and thus the amount of light reaching the retina. "Eye color" is the color of the iris, which can be green, blue, or brown. In some cases it can be hazel , grey, violet, or even pink...
of the
eye
Human eye
The human eye is an organ which reacts to light for several purposes. As a conscious sense organ, the eye allows vision. Rod and cone cells in the retina allow conscious light perception and vision including color differentiation and the perception of depth...
.
Types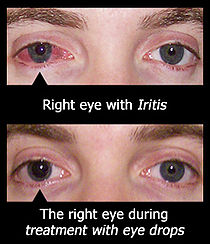 There are two main types of iritis: acute and chronic. They differ in numerous ways.
Acute iritis is a type of iritis that can heal independently within a few weeks. If treatment is provided, acute iritis improves quickly. Chronic iritis can exist for months or years before recovery occurs. Chronic iritis does not respond to treatment as well as acute iritis does. Chronic iritis is also accompanied by a higher risk of serious visual impairment.
Signs and symptoms
Ocular and periorbital pain

Pain

Pain is an unpleasant sensation often caused by intense or damaging stimuli such as stubbing a toe, burning a finger, putting iodine on a cut, and bumping the "funny bone."...



Photophobia

Photophobia

Photophobia is a symptom of abnormal intolerance to visual perception of light. As a medical symptom photophobia is not a morbid fear or phobia, but an experience of discomfort or pain to the eyes due to light exposure or by presence of actual physical photosensitivity of the eyes, though the term...



Consensual photophobia (pain in affected eye when light is shone in unaffected eye)
Blurred or cloudy vision
Reddened eye, especially adjacent to the iris
White blood cells (leukocytes) (seen as tiny white dots, clinically termed cells) and protein (resulting in a grey or near-white haze, clinically termed flare) leak into the anterior chamber

Anterior chamber

The anterior chamber is the fluid-filled space inside the eye between the iris and the cornea's innermost surface, the endothelium. Aqueous humor is the fluid that fills the anterior chamber. Hyphema and glaucoma are two main pathologies in this area. In hyphema, blood fills the anterior chamber...


.
Synechia (adhesion of iris to lens

Lens (anatomy)

The crystalline lens is a transparent, biconvex structure in the eye that, along with the cornea, helps to refract light to be focused on the retina. The lens, by changing shape, functions to change the focal distance of the eye so that it can focus on objects at various distances, thus allowing a...


or cornea

Cornea

The cornea is the transparent front part of the eye that covers the iris, pupil, and anterior chamber. Together with the lens, the cornea refracts light, with the cornea accounting for approximately two-thirds of the eye's total optical power. In humans, the refractive power of the cornea is...


)
Motion sickness
Causes and comorbidities
Inflammatory and Autoimmune Disorders:
Ankylosing Spondylitis

Ankylosing spondylitis

Ankylosing spondylitis , previously known as Bekhterev's disease, Bekhterev syndrome, and Marie-Strümpell disease is a chronic inflammatory disease of the axial skeleton with variable involvement of peripheral joints and nonarticular structures...


and other HLA-B27

HLA-B27

Human Leukocyte Antigen B27 is a class I surface antigen encoded by the B locus in the major histocompatibility complex on chromosome 6 and presents antigenic peptides to T cells...


related disorders
Iridocyclitis

Iridocyclitis

Iridocyclitis, a type of anterior uveitis, is a condition in which the uvea of the eye is inflamed.Iridocyclitis isInflammation of the iris and the ciliary body.- Symptoms :Symptoms include:* Photophobia* Redness* Watering of the eyes* Lacrimation...


, and other forms of uveal tract inflammation.
Rheumatoid arthritis

Rheumatoid arthritis

Rheumatoid arthritis is a chronic, systemic inflammatory disorder that may affect many tissues and organs, but principally attacks synovial joints. The process produces an inflammatory response of the synovium secondary to hyperplasia of synovial cells, excess synovial fluid, and the development...



Behcet's disease

Behçet's disease

Behçet's disease is a rare immune-mediated systemic vasculitis that often presents with mucous membrane ulceration and ocular involvements...



Crohn's disease

Crohn's disease

Crohn's disease, also known as regional enteritis, is a type of inflammatory bowel disease that may affect any part of the gastrointestinal tract from mouth to anus, causing a wide variety of symptoms...



Graves disease
Lupus

Systemic lupus erythematosus

Systemic lupus erythematosus , often abbreviated to SLE or lupus, is a systemic autoimmune disease that can affect any part of the body. As occurs in other autoimmune diseases, the immune system attacks the body's cells and tissue, resulting in inflammation and tissue damage...



Reactive arthritis

Reactive arthritis

Reactive arthritis , is classified as an autoimmune condition that develops in response to an infection in another part of the body. Coming into contact with bacteria and developing an infection can trigger the disease. Reiter's syndrome has symptoms similar to various other conditions collectively...



Chronic psoriasis

Psoriasis

Psoriasis is an autoimmune disease that appears on the skin. It occurs when the immune system mistakes the skin cells as a pathogen, and sends out faulty signals that speed up the growth cycle of skin cells. Psoriasis is not contagious. However, psoriasis has been linked to an increased risk of...



Psoriatic arthritis

Psoriatic arthritis

Psoriatic arthritis is a type of inflammatory arthritis that, according to the National Psoriasis Foundation, will develop in up to 30 percent of people who have the chronic skin condition psoriasis...



Sarcoidosis

Sarcoidosis

Sarcoidosis , also called sarcoid, Besnier-Boeck disease or Besnier-Boeck-Schaumann disease, is a disease in which abnormal collections of chronic inflammatory cells form as nodules in multiple organs. The cause of sarcoidosis is unknown...



Scleroderma

Scleroderma

Systemic sclerosis or systemic scleroderma is a systemic autoimmune disease or systemic connective tissue disease that is a subtype of scleroderma.-Skin symptoms:...



Ulcerative colitis

Ulcerative colitis

Ulcerative colitis is a form of inflammatory bowel disease . Ulcerative colitis is a form of colitis, a disease of the colon , that includes characteristic ulcers, or open sores. The main symptom of active disease is usually constant diarrhea mixed with blood, of gradual onset...



Gout

Gout

Gout is a medical condition usually characterized by recurrent attacks of acute inflammatory arthritis—a red, tender, hot, swollen joint. The metatarsal-phalangeal joint at the base of the big toe is the most commonly affected . However, it may also present as tophi, kidney stones, or urate...



Infections:
Cancers:
Leukemia

Leukemia

Leukemia or leukaemia is a type of cancer of the blood or bone marrow characterized by an abnormal increase of immature white blood cells called "blasts". Leukemia is a broad term covering a spectrum of diseases...



Lymphoma

Lymphoma

Lymphoma is a cancer in the lymphatic cells of the immune system. Typically, lymphomas present as a solid tumor of lymphoid cells. Treatment might involve chemotherapy and in some cases radiotherapy and/or bone marrow transplantation, and can be curable depending on the histology, type, and stage...



Malignant melanoma
Iritis is usually secondary to some other systemic condition, but can be the only apparent somatic symptom.
Complications
Complications of iritis may include the following:
Cataract

Cataract

A cataract is a clouding that develops in the crystalline lens of the eye or in its envelope, varying in degree from slight to complete opacity and obstructing the passage of light...



glaucoma

Glaucoma

Glaucoma is an eye disorder in which the optic nerve suffers damage, permanently damaging vision in the affected eye and progressing to complete blindness if untreated. It is often, but not always, associated with increased pressure of the fluid in the eye...



corneal calcification
posterior uveitis
blindness

Blindness

Blindness is the condition of lacking visual perception due to physiological or neurological factors.Various scales have been developed to describe the extent of vision loss and define blindness...



band keratopathy

Band keratopathy

Band keratopathy is a corneal disease derived from the appearance of calcium on the central cornea. This is an example of metastatic calcification, which by definition, occurs in the presence of hypercalcemia...



cystoid macular oedema.
Treatment

Steroid

Steroid

A steroid is a type of organic compound that contains a characteristic arrangement of four cycloalkane rings that are joined to each other. Examples of steroids include the dietary fat cholesterol, the sex hormones estradiol and testosterone, and the anti-inflammatory drug dexamethasone.The core...


anti-inflammatory

Anti-inflammatory

Anti-inflammatory refers to the property of a substance or treatment that reduces inflammation. Anti-inflammatory drugs make up about half of analgesics, remedying pain by reducing inflammation as opposed to opioids, which affect the central nervous system....


eye drops

Eye Drops

Eye Drops was a television program on TechTV that showcased short computer animation movies and clips made using off the shelf 3D animation software. The show claimed to showcase all different types of animation, but only a very small number of shorts featured non-CG animation...


(such as prednisolone acetate)
Dilating eye drops (to help prevent synechia and reduce photophobia

Photophobia

Photophobia is a symptom of abnormal intolerance to visual perception of light. As a medical symptom photophobia is not a morbid fear or phobia, but an experience of discomfort or pain to the eyes due to light exposure or by presence of actual physical photosensitivity of the eyes, though the term...


)
Pressure-reducing eye drops (such as brimonidine tartrate)
Oral steroids (such as prednisone

Prednisone

Prednisone is a synthetic corticosteroid drug that is particularly effective as an immunosuppressant drug. It is used to treat certain inflammatory diseases and some types of cancer, but has significant adverse effects...


)
Subconjunctival

Conjunctiva

The conjunctiva covers the sclera and lines the inside of the eyelids. It is composed of rare stratified columnar epithelium.-Function:...


steroid injections
Steroid-sparing agents such as methotrexate

Methotrexate

Methotrexate , abbreviated MTX and formerly known as amethopterin, is an antimetabolite and antifolate drug. It is used in treatment of cancer, autoimmune diseases, ectopic pregnancy, and for the induction of medical abortions. It acts by inhibiting the metabolism of folic acid. Methotrexate...


(for prolonged, chronic iritis)
External links
Care of the Patient with Anterior Uveitis (CPG7) (PDF

Portable Document Format

Portable Document Format is an open standard for document exchange. This file format, created by Adobe Systems in 1993, is used for representing documents in a manner independent of application software, hardware, and operating systems....


)