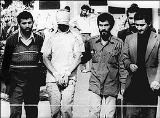 Iran hostage crisis
The
Iran hostage crisis
was a
diplomatic
Diplomacy
Diplomacy is the art and practice of conducting negotiations between representatives of groups or states...
crisis between
Iran
Iran
Iran , officially the Islamic Republic of Iran , is a country in Southern and Western Asia. The name "Iran" has been in use natively since the Sassanian era and came into use internationally in 1935, before which the country was known to the Western world as Persia...
and the
United States
United States
The United States of America is a federal constitutional republic comprising fifty states and a federal district...
where 52 Americans were held hostage for 444 days from November 4, 1979 to January 20, 1981, after a group of
Islamist
Islamism
Islamism also , lit., "Political Islam" is set of ideologies holding that Islam is not only a religion but also a political system. Islamism is a controversial term, and definitions of it sometimes vary...
students and militants took over the American Embassy in Tehran in support of the
Iranian Revolution
Iranian Revolution
The Iranian Revolution refers to events involving the overthrow of Iran's monarchy under Shah Mohammad Reza Pahlavi and its replacement with an Islamic republic under Ayatollah Ruhollah Khomeini, the leader of the...
.
The episode reached a climax when, after failed attempts to negotiate a release, the United States military attempted a rescue operation,
Operation Eagle Claw
Operation Eagle Claw
Operation Eagle Claw was an American military operation ordered by President Jimmy Carter to attempt to put an end to the Iran hostage crisis by rescuing 52 Americans held captive at the U.S. Embassy in Tehran, Iran on 24 April 1980...
, on April 24, 1980, which resulted in a failed mission, the destruction of two aircraft and the deaths of eight American servicemen and one Iranian civilian.