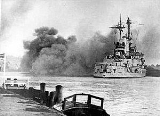 Invasion of Poland (1939)
The
Invasion of Poland
, also known as the
September Campaign
or
1939 Defensive War
(
Polish
Polish language
Polish is a language of the Lechitic subgroup of West Slavic languages, used throughout Poland and by Polish minorities in other countries...
:
Kampania wrześniowa
or
Wojna obronna 1939 roku
) in
Poland
Second Polish Republic
The Second Polish Republic, Second Commonwealth of Poland or interwar Poland refers to Poland between the two world wars; a period in Polish history in which Poland was restored as an independent state. Officially known as the Republic of Poland or the Commonwealth of Poland , the Polish state was...
and the
Poland Campaign
(
German
German language
German is a West Germanic language, related to and classified alongside English and Dutch. With an estimated 90 – 98 million native speakers, German is one of the world's major languages and is the most widely-spoken first language in the European Union....
:
Polenfeldzug
) in Germany, was an invasion of Poland by
Germany
Nazi Germany
Nazi Germany , also known as the Third Reich , but officially called German Reich from 1933 to 1943 and Greater German Reich from 26 June 1943 onward, is the name commonly used to refer to the state of Germany from 1933 to 1945, when it was a totalitarian dictatorship ruled by...
, the
Soviet Union
Soviet Union
The Soviet Union , officially the Union of Soviet Socialist Republics , was a constitutionally socialist state that existed in Eurasia between 1922 and 1991....
, and a small
Slovak
Slovak invasion of Poland (1939)
The Slovak invasion of Poland occurred during Nazi Germany's invasion of Poland in 1939. The recently-created Slovak Republic joined the attack, and the Slovak field army contributed over 50,000 soldiers in three divisions...
contingent that marked the start of
World War II
World War II
World War II, or the Second World War , was a global conflict lasting from 1939 to 1945, involving most of the world's nations—including all of the great powers—eventually forming two opposing military alliances: the Allies and the Axis...
in
Europe
Europe
Europe is, by convention, one of the world's seven continents. Comprising the westernmost peninsula of Eurasia, Europe is generally 'divided' from Asia to its east by the watershed divides of the Ural and Caucasus Mountains, the Ural River, the Caspian and Black Seas, and the waterways connecting...
. The invasion began on 1 September 1939, one week after the signing of the Molotov–Ribbentrop Pact, and ended on 6 October 1939 with Germany and the Soviet Union dividing and annexing the whole of Poland.
The morning after the
Gleiwitz incident
Gleiwitz incident
The Gleiwitz incident was a staged attack by Nazi forces posing as Poles on 31 August 1939, against the German radio station Sender Gleiwitz in Gleiwitz, Upper Silesia, Germany on the eve of World War II in Europe....
, German forces invaded Poland from the north, south, and west.