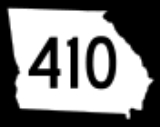 Interstate 485 (Georgia)
Interstate 485
was a proposed U.S. Interstate Highway in
Atlanta, Georgia
Atlanta, Georgia
Atlanta is the capital and most populous city in the U.S. state of Georgia. According to the 2010 census, Atlanta's population is 420,003. Atlanta is the cultural and economic center of the Atlanta metropolitan area, which is home to 5,268,860 people and is the ninth largest metropolitan area in...
, heading eastwards and then northwards from downtown. The 5.9 mile-long (9.5 km) route would have begun at the
Downtown Connector
Downtown Connector
In Atlanta, Georgia, the Downtown Connector or 75/85 is the concurrent section of Interstate 75 and Interstate 85 through the core of the city. Beginning at the I-85/Langford Parkway interchange, the Downtown Connector runs generally due north, meeting the east-west Interstate 20 in the middle....
(Interstate 75 / Interstate 85) and used the proposed State Route 410 east to the junction with the also-proposed State Route 400. There it would have turned north to end at
Interstate 85
Interstate 85
Interstate 85 is a major interstate highway in the Southeastern United States. Its current southern terminus is at an interchange with Interstate 65 in Montgomery, Alabama; its northern terminus interchanges with Interstate 95 in Petersburg, Virginia, near Richmond...
near Lindbergh Drive (State Route 236). Each of those freeways would have continued beyond the ends of I-485. SR 410, the
Stone Mountain Freeway
Stone Mountain Freeway
The Stone Mountain Freeway is a limited-access highway that connects Interstate 285 on the east side of Atlanta, Georgia, with the suburbs of Stone Mountain and Snellville before transitioning into an arterial road that continues to Athens. The freeway is signed as U.S...
, would continue east beyond the I-285 perimeter highway, and SR 400 would extend both north and south outside the perimeter. A short piece of I-485 (SR 410) was constructed from I-75 / I-85 east to Boulevard.
Revolt against construction of I-485
Activists in the neighborhood of Morningside, along the SR 400 portion of I-485, were the first to fight the road, and formed coalitions with other areas. After I-485 and parts of SR 400 and SR 410 were canceled, a portion of the right-of-way was used to build the "Freedom Parkway", now part of State Route 10. SR 400 north of I-85 has been built, as has the part south of I-285; the latter has become
Interstate 675
Interstate 675 (Georgia)
Interstate 675 was built in southeast metro Atlanta during the mid-1980s to alleviate Interstate 75 to the west, for traffic bound to Interstate 285 east. It is 11.04 miles in length, running from I-75 in the south from the city of Stockbridge to I-285 at its north end...
. Part of SR 410 near I-285 has also been built.
See also
State Route 400
State Route 410
Interstate 420