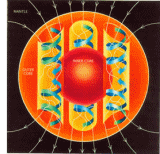 Inner core
The
inner core
of the
Earth
Earth
Earth is the third planet from the Sun, and the densest and fifth-largest of the eight planets in the Solar System. It is also the largest of the Solar System's four terrestrial planets...
, its innermost hottest part as detected by
seismological studies
Seismology
Seismology is the scientific study of earthquakes and the propagation of elastic waves through the Earth or through other planet-like bodies. The field also includes studies of earthquake effects, such as tsunamis as well as diverse seismic sources such as volcanic, tectonic, oceanic,...
, is a primarily
solid
Solid
Solid is one of the three classical states of matter . It is characterized by structural rigidity and resistance to changes of shape or volume. Unlike a liquid, a solid object does not flow to take on the shape of its container, nor does it expand to fill the entire volume available to it like a...
ball
Ball (mathematics)
In mathematics, a ball is the space inside a sphere. It may be a closed ball or an open ball ....
about 1220 kilometre in radius, or about 70% that of the
Moon
Moon
The Moon is Earth's only known natural satellite,There are a number of near-Earth asteroids including 3753 Cruithne that are co-orbital with Earth: their orbits bring them close to Earth for periods of time but then alter in the long term . These are quasi-satellites and not true moons. For more...
. It is believed to consist of an
iron
Iron
Iron is a chemical element with the symbol Fe and atomic number 26. It is a metal in the first transition series. It is the most common element forming the planet Earth as a whole, forming much of Earth's outer and inner core. It is the fourth most common element in the Earth's crust...
–
nickel
Nickel
Nickel is a chemical element with the chemical symbol Ni and atomic number 28. It is a silvery-white lustrous metal with a slight golden tinge. Nickel belongs to the transition metals and is hard and ductile...
alloy
Alloy
An alloy is a mixture or metallic solid solution composed of two or more elements. Complete solid solution alloys give single solid phase microstructure, while partial solutions give two or more phases that may or may not be homogeneous in distribution, depending on thermal history...
, and may have a temperature similar to the
Sun
Sun
The Sun is the star at the center of the Solar System. It is almost perfectly spherical and consists of hot plasma interwoven with magnetic fields...
's surface, approximately 5778
K
Kelvin
The kelvin is a unit of measurement for temperature. It is one of the seven base units in the International System of Units and is assigned the unit symbol K. The Kelvin scale is an absolute, thermodynamic temperature scale using as its null point absolute zero, the temperature at which all...
(5505 °C).
The existence of an inner core distinct from the liquid
outer core
Outer core
The outer core of the Earth is a liquid layer about 2,266 kilometers thick composed of iron and nickel which lies above the Earth's solid inner core and below its mantle. Its outer boundary lies beneath the Earth's surface...
was discovered in 1936 by seismologist
Inge Lehmann
Inge Lehmann
Inge Lehmann FRS , was a Danish seismologist who, in 1936, argued that the Earth's core is not one single molten sphere, but that an inner core exists which has physical properties that are different from those of the outer core.-Life:Inge Lehmann was born and grew up in Østerbro, a part of...
using observations of earthquake-generated
seismic wave
Seismic wave
Seismic waves are waves of energy that travel through the earth, and are a result of an earthquake, explosion, or a volcano that imparts low-frequency acoustic energy. Many other natural and anthropogenic sources create low amplitude waves commonly referred to as ambient vibrations. Seismic waves...
s that partly reflect from its boundary and can be detected by sensitive seismographs on the Earth's surface.