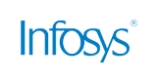 Infosys
Infosys Limited
, formerly
Infosys Technologies Limited
is a global technology services company headquartered in
Bangalore
Bangalore
Bengaluru , formerly called Bengaluru is the capital of the Indian state of Karnataka. Bangalore is nicknamed the Garden City and was once called a pensioner's paradise. Located on the Deccan Plateau in the south-eastern part of Karnataka, Bangalore is India's third most populous city and...
,
India
India
India , officially the Republic of India , is a country in South Asia. It is the seventh-largest country by geographical area, the second-most populous country with over 1.2 billion people, and the most populous democracy in the world...
. It is the second largest IT exporter in India with 133,560 employees as of March 2011. It has offices in 33 countries and development centers in India, China, Australia, UK, Canada, Brazil and Japan. Infosys provides business consulting, technology, engineering and outsourcing services to help clients in over 30 countries. The company also provides software products to the banking industry. Through Infosys business process outsourcing (BPO), it provides business process management services, such as offsite customer relationship management, finance and accounting, and administration and sales order processing.
History
Infosys was founded on 2 July 1981 by seven entrepreneurs:
N. R. Narayana Murthy
N. R. Narayana Murthy
Nagavara Ramarao Narayana Murthy , better known as N. R. Narayana Murthy, is an Indian industrialist and software engineer. He and six other engineers founded Infosys in 1981. Mr. Murthy served as CEO from 1981 to 2002. From 2002 to 2011, he served as Chairman...
,
Nandan Nilekani
Nandan Nilekani
Nandan Nilekani born is an Indian entrepreneur. He currently serves as the Chairman of the new Unique Identification Authority of India , after a successful career at Infosys Technologies Ltd...
,
Kris Gopalakrishnan
Kris Gopalakrishnan
Senapathy Gopalakrishnan , popularly known as Kris Gopalakrishnan is the President of Infosys Technologies a global consulting and IT services company based in India. He is also one of its seven founders.- Early days :...
,
S. D. Shibulal
S. D. Shibulal
S.D. Shibulal, better known as Shibu, is the co-founder and current Chief Executive Officer of Infosys, a consulting and Consulting and IT services company based in India.Shibulal is a member of the Board of Directors of Infosys Limited...
,
K. Dinesh
K. Dinesh
K. Dinesh is a co-founder and was a Member of the Board of Infosys Limited until July 2011. He was the Head of Quality, Information Systems and the Communication Design Group. He was also the Chairman of Infosys Technologies Australia Pty Ltd., an Infosys subsidiary and is a trustee of the Infosys...
,Ashok Arora, and with
N. S. Raghavan
N. S. Raghavan
Nadathur Sarangapani Raghavan is an Indian industrialist, and one of the seven founders of Infosys Technologies, a global consulting and IT services company based in India. In 1981, Narayana Murthy started the company by borrowing INR 10,000 from wife Sudha Murthy...
officially being the first employee of the company. The founders started the company with an initial investment of
INR
Indian rupee
The Indian rupee is the official currency of the Republic of India. The issuance of the currency is controlled by the Reserve Bank of India....
10,000. The company was incorporated as "Infosys Consultants Pvt Ltd." in Model Colony,
Pune
Pune
Pune , is the eighth largest metropolis in India, the second largest in the state of Maharashtra after Mumbai, and the largest city in the Western Ghats. Once the centre of power of the Maratha Empire, it is situated 560 metres above sea level on the Deccan plateau at the confluence of the Mula ...
as the registered office.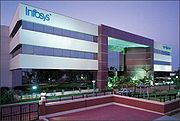 According to
Forbes
magazine, since its 1993 public listing on the
Bombay Stock Exchange
Bombay Stock Exchange
The Bombay Stock Exchange is a stock exchange located on Dalal Street, Mumbai and is the oldest stock exchange in Asia. The equity market capitalization of the companies listed on the BSE was 1.63 trillion as of December 2010, making it the 4th largest stock exchange in Asia and the 8th largest...
until the year 2000, Infosys' sales and earnings compounded at more than 70% a year. In the year 2000, US President
Bill Clinton
Bill Clinton
William Jefferson "Bill" Clinton is an American politician who served as the 42nd President of the United States from 1993 to 2001. Inaugurated at age 46, he was the third-youngest president. He took office at the end of the Cold War, and was the first president of the baby boomer generation...
complimented India on its achievements in high technology, citing the example of Infosys along with Wipro and Satyam Computers. Infosys will invest $100 million (Rs 440 crore) on establishing a 20,000-seater campus in Shanghai.
In 2001, it was rated the by
Business Today
Business Today
Business Today may refer to:*Business Today , an American, non-profit student organization*Business Today , an Indian fortnightly business magazine* Business Today...
. Infosys was rated best employer to work for in 2000, 2001, and 2002 by Hewitt Associates. In 2007, Infosys received over 1.3 million applications and hired fewer than 3% of applicants.
Infosys was the only Indian company to win the Global MAKE (Most Admired Knowledge Enterprises) award for the years 2003, 2004 and 2005, and is inducted into the Global Hall of Fame for the same.
Infosys was also ranked as the 15th most trusted brand in India by
The Brand Trust Report
The Brand Trust Report
The Brand Trust Report, India Study, 2011 is published by Trust Research Advisory . The book is a result of a syndicated primary research on Brand Trust that generated 10,00,000 data points and 16,000 unique brands from over 10,000 hours of fieldwork conducted in 9 cities TRA's study partners in...
in 2011.
The first development center outside Bangalore was setup in the coastal city of Mangalore in the year 1995.
Current share holding
Life Insurance Corporation of India
Life Insurance Corporation of India
The Life Insurance Corporation of India is the largest state-owned life insurance company in India, and also the country's largest investor. It is fully owned by the Government of India. It also funds close to 24.6% of the Indian Government's expenses. It has assets estimated of...
with 3.84% is the single largest shareholder.
Abu Dhabi Investment Authority
Abu Dhabi Investment Authority
The Abu Dhabi Investment Authority is a sovereign wealth fund owned by Abu Dhabi, United Arab Emirates founded for the purpose of investing funds on behalf of the Government of Abu Dhabi....
, a sovereign wealth fund owned by Abu Dhabi, and the
Government of Singapore
Government of Singapore
The Government of Singapore is defined by the Constitution of the Republic of Singapore to mean the Executive branch of government, which is made up of the President and the Cabinet of Singapore. Although the President acts in his personal discretion in the exercise of certain functions as a check...
also hold significant shareholdings. The remaining public shares are owned by financial institutions and individual investors.
Initiatives
In 1996, Infosys created the Infosys Foundation, operating in the areas of health care, social rehabilitation and rural uplift, education, arts and culture. Since then, this
foundation
Foundation (charity)
A foundation is a legal categorization of nonprofit organizations that will typically either donate funds and support to other organizations, or provide the source of funding for its own charitable purposes....
has spread its activities from its headquarters in
Karnataka
Karnataka
Karnataka , the land of the Kannadigas, is a state in South West India. It was created on 1 November 1956, with the passing of the States Reorganisation Act and this day is annually celebrated as Karnataka Rajyotsava...
to the Indian states of
Tamil Nadu
Tamil Nadu
Tamil Nadu is one of the 28 states of India. Its capital and largest city is Chennai. Tamil Nadu lies in the southernmost part of the Indian Peninsula and is bordered by the union territory of Pondicherry, and the states of Kerala, Karnataka, and Andhra Pradesh...
,
Andhra Pradesh
Andhra Pradesh
Andhra Pradesh , is one of the 28 states of India, situated on the southeastern coast of India. It is India's fourth largest state by area and fifth largest by population. Its capital and largest city by population is Hyderabad.The total GDP of Andhra Pradesh is $100 billion and is ranked third...
,
Maharashtra
Maharashtra
Maharashtra is a state located in India. It is the second most populous after Uttar Pradesh and third largest state by area in India...
,
Kerala
Kerala
or Keralam is an Indian state located on the Malabar coast of south-west India. It was created on 1 November 1956 by the States Reorganisation Act by combining various Malayalam speaking regions....
,
Orissa
Orissa
Orissa , officially Odisha since Nov 2011, is a state of India, located on the east coast of India, by the Bay of Bengal. It is the modern name of the ancient nation of Kalinga, which was invaded by the Maurya Emperor Ashoka in 261 BC. The modern state of Orissa was established on 1 April...
and Punjab. The Infosys Foundation is chaired by the wife of company founder
Narayana Murthy
Narayana Murthy
* N. R. Narayana Murthy is an Indian industrialist, software engineer and founder and Chairman Emeritus of Infosys Technologies Limited.* R. Narayana Murthy is an Indian film actor, director and producer of Telugu films....
, Mrs. Sudha Murthy.
Since 2004, Infosys has embarked on a series of initiatives to consolidate and formalise its academic relationships worldwide under the umbrella of a program called AcE – Academic Entente. Infosys' Global Internship Program, known as InStep, is one of the key components of the Academic Entente initiative. It offers live projects to interns from universities around the world. InStep recruits undergraduate and graduate students from business, technology, and liberal arts universities to take part in an 8 to 24 week internship at one of Infosys' global offices. InStep interns are also provided career opportunities with Infosys.
In 1997, Infosys started the "Catch them Young Program", to expose urban youth to information technology by conducting a summer vacation program. The program is aimed at developing an interest and understanding of
computer science
Computer science
Computer science or computing science is the study of the theoretical foundations of information and computation and of practical techniques for their implementation and application in computer systems...
and information technology. This program is targeted at students in Grade IX level.
In 2002, the Wharton Business School of the
University of Pennsylvania
University of Pennsylvania
The University of Pennsylvania is a private, Ivy League university located in Philadelphia, Pennsylvania, United States. Penn is the fourth-oldest institution of higher education in the United States,Penn is the fourth-oldest using the founding dates claimed by each institution...
and Infosys started the Wharton Infosys Business Transformation Award. This technology award recognises enterprises and individuals who have transformed their businesses and the society leveraging information technology. Past winners include
Samsung
Samsung
The Samsung Group is a South Korean multinational conglomerate corporation headquartered in Samsung Town, Seoul, South Korea...
,
Amazon.com
Amazon.com
Amazon.com, Inc. is a multinational electronic commerce company headquartered in Seattle, Washington, United States. It is the world's largest online retailer. Amazon has separate websites for the following countries: United States, Canada, United Kingdom, Germany, France, Italy, Spain, Japan, and...
,
Capital One
Capital One
Capital One Financial Corp. is a U.S.-based bank holding company specializing in credit cards, home loans, auto loans, banking and savings products...
,
RBS
Royal Bank of Scotland
The Royal Bank of Scotland Group is a British banking and insurance holding company in which the UK Government holds an 84% stake. This stake is held and managed through UK Financial Investments Limited, whose voting rights are limited to 75% in order for the bank to retain its listing on the...
and ING Direct.
Infosys houses the largest corporate education center in the world in Mysore. The facility can accommodate 14,000 candidates at one time.
In 2009, Infosys created
Infosys Prize
for excellence in physical and mathematical sciences, engineering and computer science, life sciences and social sciences.
Infosys developed a corporate
R&D
Research and development
The phrase research and development , according to the Organization for Economic Co-operation and Development, refers to "creative work undertaken on a systematic basis in order to increase the stock of knowledge, including knowledge of man, culture and society, and the use of this stock of...
wing called Software Engineering and Technology Labs (SETLabs). SETLabs was founded in 2000 to carry out applied research for the development of processes, frameworks and methodologies to effectively capture customer requirements and to iron out common critical issues during a project life cycle. Various broad groups are Software Engg Lab, Convergence Lab, Innovation Lab, Center for KDIS, Security and Privacy Lab and Distributed Computing Laboratory.
Charity
In 2005, Infosys donated 10 million (about $226,000) to help with the effects of the
2005 Kashmir earthquake
2005 Kashmir earthquake
The 2005 Kashmir earthquake was a major earthquake centered in Pakistan-administered Kashmir known as Azad Kashmir, near the city of Muzaffarabad, affecting Gilgit-Baltistan and Khyber Pakhtunkhwa province of Pakistan. It occurred at 08:52:37 Pakistan Standard Time on 8 October 2005...
in Pakistan.
External links