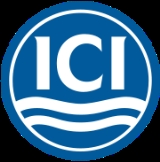 Imperial Chemical Industries
Imperial Chemical Industries
(
ICI
) was a British chemical company, taken over by AkzoNobel, a
Dutch
Netherlands
The Netherlands is a constituent country of the Kingdom of the Netherlands, located mainly in North-West Europe and with several islands in the Caribbean. Mainland Netherlands borders the North Sea to the north and west, Belgium to the south, and Germany to the east, and shares maritime borders...
conglomerate
Conglomerate (company)
A conglomerate is a combination of two or more corporations engaged in entirely different businesses that fall under one corporate structure , usually involving a parent company and several subsidiaries. Often, a conglomerate is a multi-industry company...
, one of the largest chemical producers in the world. In its heyday, ICI was the largest manufacturing company in the
British Empire
British Empire
The British Empire comprised the dominions, colonies, protectorates, mandates and other territories ruled or administered by the United Kingdom. It originated with the overseas colonies and trading posts established by England in the late 16th and early 17th centuries. At its height, it was the...
, and commonly regarded as a "bellwether of the British economy". It produced paints and speciality products (including ingredients for
food
Food
Food is any substance consumed to provide nutritional support for the body. It is usually of plant or animal origin, and contains essential nutrients, such as carbohydrates, fats, proteins, vitamins, or minerals...
s, specialty
polymer
Polymer
A polymer is a large molecule composed of repeating structural units. These subunits are typically connected by covalent chemical bonds...
s, electronic materials, fragrances and flavours).