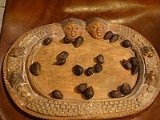 If—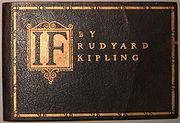 "
If—
" is a poem written in 1895 by British Nobel laureate
Rudyard Kipling
Rudyard Kipling
Joseph Rudyard Kipling was an English poet, short-story writer, and novelist chiefly remembered for his celebration of British imperialism, tales and poems of British soldiers in India, and his tales for children. Kipling received the 1907 Nobel Prize for Literature...
. It was first published in the "Brother Square Toes" chapter of
Rewards and Fairies
Rewards and Fairies
Rewards and Fairies is a historical fantasy book by Rudyard Kipling published in 1910. The title comes from the poem Farewell, Rewards and Fairies by Richard Corbet. The poem is referred to by the children in the first story of the preceding book Puck of Pook's Hill...
, Kipling's 1910 collection of short stories and poems. Like
William Ernest Henley
William Ernest Henley
William Ernest Henley was an English poet, critic and editor, best remembered for his 1875 poem "Invictus".-Life and career:...
's "
Invictus
Invictus
"Invictus" is a short Victorian poem by the English poet William Ernest Henley .- Background :At the age of 12, Henley contracted tuberculosis of the bone. A few years later, the disease progressed to his foot, and physicians announced that the only way to save his life was to amputate directly...
", it is a memorable evocation of
Victorian
Victorian era
The Victorian era of British history was the period of Queen Victoria's reign from 20 June 1837 until her death on 22 January 1901. It was a long period of peace, prosperity, refined sensibilities and national self-confidence...
stoicism
Stoicism
Stoicism is a school of Hellenistic philosophy founded in Athens by Zeno of Citium in the early . The Stoics taught that destructive emotions resulted from errors in judgment, and that a sage, or person of "moral and intellectual perfection," would not suffer such emotions.Stoics were concerned...
and the "
stiff upper lip
Stiff upper lip
One who has a stiff upper lip displays fortitude in the face of adversity, or exercises great self-restraint in the expression of emotion. The phrase is most commonly heard as part of the idiom "keep a stiff upper lip", and has traditionally been used to describe an attribute of British people ,...
" that
popular culture
Popular culture
Popular culture is the totality of ideas, perspectives, attitudes, memes, images and other phenomena that are deemed preferred per an informal consensus within the mainstream of a given culture, especially Western culture of the early to mid 20th century and the emerging global mainstream of the...
has made into a traditional
British
United Kingdom
The United Kingdom of Great Britain and Northern IrelandIn the United Kingdom and Dependencies, other languages have been officially recognised as legitimate autochthonous languages under the European Charter for Regional or Minority Languages...
virtue
Virtue
Virtue is moral excellence. A virtue is a positive trait or quality subjectively deemed to be morally excellent and thus is valued as a foundation of principle and good moral being....
. Its status is confirmed both by the number of
parodies
Parody
A parody , in current usage, is an imitative work created to mock, comment on, or trivialise an original work, its subject, author, style, or some other target, by means of humorous, satiric or ironic imitation...
it has inspired, and by the widespread popularity it still enjoys amongst Britons. It is often voted Britain's favourite poem. The poem's line, "If you can meet with Triumph and Disaster and treat those two impostors just the same" is written on the wall of the
Centre Court
Centre Court
Centre Court is the main court at the Wimbledon Championship, the 3rd annual Grand Slam event of the tennis calendar. It is situated adjacent to Aorangi Terrace and is home to the All England Lawn Tennis and Croquet Club. Its only regular use is for the two weeks a year that the Championships take...
players' entrance at the British tennis tournament,
Wimbledon
The Championships, Wimbledon
The Championships, Wimbledon, or simply Wimbledon , is the oldest tennis tournament in the world, considered by many to be the most prestigious. It has been held at the All England Club in Wimbledon, London since 1877. It is one of the four Grand Slam tennis tournaments, the other three Majors...
, and the entire poem was read in a promotional video for the Wimbledon 2008 gentleman's final by Roger Federer and Rafael Nadal.
According to Kipling in his autobiography
Something of Myself
, posthumously published in 1937, the poem was inspired by Dr.
Leander Starr Jameson
Leander Starr Jameson
Sir Leander Starr Jameson, 1st Baronet, KCMG, CB, , also known as "Doctor Jim", "The Doctor" or "Lanner", was a British colonial statesman who was best known for his involvement in the Jameson Raid....
, who in 1895 led a
raid
Jameson Raid
The Jameson Raid was a botched raid on Paul Kruger's Transvaal Republic carried out by a British colonial statesman Leander Starr Jameson and his Rhodesian and Bechuanaland policemen over the New Year weekend of 1895–96...
by British forces against the
Boer
Boer
Boer is the Dutch and Afrikaans word for farmer, which came to denote the descendants of the Dutch-speaking settlers of the eastern Cape frontier in Southern Africa during the 18th century, as well as those who left the Cape Colony during the 19th century to settle in the Orange Free State,...
s in
South Africa
South Africa
The Republic of South Africa is a country in southern Africa. Located at the southern tip of Africa, it is divided into nine provinces, with of coastline on the Atlantic and Indian oceans...
, subsequently called the
Jameson Raid
Jameson Raid
The Jameson Raid was a botched raid on Paul Kruger's Transvaal Republic carried out by a British colonial statesman Leander Starr Jameson and his Rhodesian and Bechuanaland policemen over the New Year weekend of 1895–96...
. This defeat increased the tensions that ultimately led to the
Second Boer War
Second Boer War
The Second Boer War was fought from 11 October 1899 until 31 May 1902 between the British Empire and the Afrikaans-speaking Dutch settlers of two independent Boer republics, the South African Republic and the Orange Free State...
. The British press, however, portrayed Jameson as a
hero
Hero
A hero , in Greek mythology and folklore, was originally a demigod, their cult being one of the most distinctive features of ancient Greek religion...
in the middle of the disaster, and the actual defeat as a British victory.
Text
If you can keep your head when all about you

Are losing theirs and blaming it on you;

If you can trust yourself when all men doubt you,

But make allowance for their doubting too:

If you can wait and not be tired by waiting,

Or being lied about, don't deal in lies,

Or being hated don't give way to hating,

And yet don't look too good, nor talk too wise;


If you can dream—and not make dreams your master;

If you can think—and not make thoughts your aim,

If you can meet with Triumph and Disaster

And treat those two impostors just the same:

If you can bear to hear the truth you've spoken

Twisted by knaves to make a trap for fools,

Or watch the things you gave your life to, broken,

And stoop and build 'em up with worn-out tools;


If you can make one heap of all your winnings

And risk it on one turn of pitch-and-toss,

And lose, and start again at your beginnings

And never breathe a word about your loss:

If you can force your heart and nerve and sinew

To serve your turn long after they are gone,

And so hold on when there is nothing in you

Except the Will which says to them: 'Hold on!'


If you can talk with crowds and keep your virtue,

Or walk with Kings—nor lose the common touch,

If neither foes nor loving friends can hurt you,

If all men count with you, but none too much:

If you can fill the unforgiving minute

With sixty seconds' worth of distance run,

Yours is the Earth and everything that's in it,

And—which is more—you'll be a Man, my son!
External links
George Horne's typographic animation of "If—" (read by Des Lynam

Des Lynam

Desmond Michael "Des" Lynam, OBE is an Irish television and radio presenter based in the UK.He has hosted television coverage of high profile events for many years...


, music by Fauré

Pavane (Fauré)

The Pavane in F-sharp minor, Op. 50, is a composition by the French composer Gabriel Fauré, written in 1887. It was originally a piano piece, but is better known in Fauré's version for orchestra and optional chorus...


).
Reading of "If—" in Wikimedia
Free human-read audio recordings of "If—"
Authentic digital editions archive of "If—" multiform editions at Dalhousie University Library, Canada - Original Author Autographed, Calligraphed/Typed Broadsides, Collector Multipage and Human Voice, Enhanced Video based Multimedia"